Beach Reviews: Long Strand
Long Strand

This long, empty and uninterrupted stunning stretch of sand is buffered from the winding road to Clonakilty by a belt of gently undulating grassy dunes.
Also known as 'Castlefreake' the beach itself lies on the westerly side of Galley Head offering a sooped-up version of Red Strand to the east of the peninsula and a quieter alternative to next-door neighbour Owenahincha. The waves glide ashore at Red but they crash, bang and wallop on Long so swimming is not recommended and the council have erected numerous angry looking signs to discourage submersion of any kind.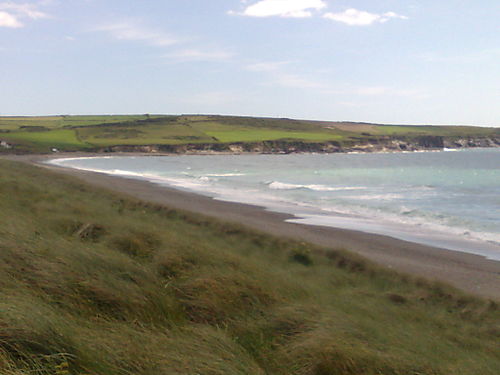 Grassy dunes: handy for skinning up
Usually such warnings attract a particular set of people in their droves: the adrenaline junkies. There's a mura-dhea walk way down to the beach with space to park at the very eastern end (Dunore) and it's there you'll spot the black dots of neoprene and their surfboards in the water patiently queuing to harness the Atlantic's ferocious energy as it arrives on the south-west facing shores of the People's Republic.
Balming out on Long Strand isn't what Jah had in mind when He designed this one. The wind is far too busy whipping up a haze of sand that would grate sunbathers' nerves but walkers will relish its beautiful vastness especially when a stroll is accompanied by the hypnotic repetition of waves loudly pounding the shore before withdrawing in slurping silence to mount their next assault. Note that if you have a dog of medium-low intelligence this dramatic tidal chaos may drive them around the bend - barking at the sea and other such inexplicable pointlessness.
You can puck a ball around here with no fear of clobbering a child or an angry scobe with a criminal record that includes GBH but the narrow strand does lean heavily towards the water. That might pose an enticing challenge to the more accomplished hurler but if your sliothar goes in the water you won't get away with just getting wet up to your ankles to retrieve it. Like Kilkenny's notorious fouler-in-chief Tommy Walsh, the sea will climb all over you if you go near it.
Sand: 7/10 (not wet enough for sandcastle material)
Swimming: Don't. (Surfing: 7/10)
Parking: 5/10
Puck around space: 2/10
Scobe factor: none
Flies: none
99 Cones: Supervalu in Clon.
Top tip: there are some cosy secluded spots on the dunes facing the sea that are very well sheltered from the wind but that still allow you an almost complete view of the beach. Fierce romantic like. And warm.

Posted on Jun 11th, 2013
Only forty minutes from the city beautiful Coolmaine beach is a safe bet if you want to avoid cider partying scobes and smelly chip vans...
Posted on Jul 14th, 2011
Tops off, fishin rods out and flagons at the ready: some anthropological observations on the scobe species when the sun comes out...
Posted on Jun 15th, 2010
Less than 15 minutes from Clonakilty cosy Red Strand is one of Cork's best kept secrets...
Posted on May 24th, 2010
One of the county's top blue flag beaches, this spot just beyond Kinsale has it all..
Posted on Aug 30th, 2007
Small and pokey but with lots of hidden extras...