Beach Review: Garretstown
Beach reviews: Garretstown
Back in 2006 we wrote that Garretstown was among the G8 of Cork beaches and we're happy to declare that it still holds its ranking firm as one of the top beaches in the Rebel County and thus in Ireland.
Spread out over more than a kilometre 'Garretstown' is, officially at least, two separate beaches. Garretstown itself to the west closer to Ballinspittle and Garrylucas to the west nearer the old head. For balming out the latter is your destination whereas the western end of this beachopolis is more for surfers. In general Corkonians refer to both beaches as just Garretstown.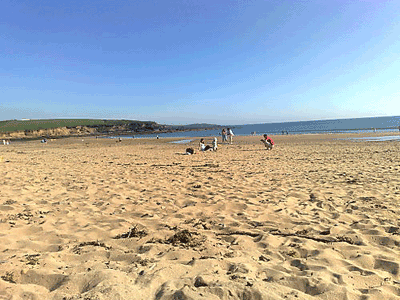 Garrylucas looking east towards the Old Head of Kinsale
The general area is stunning when viewed from the hilly Old Head Road in particular and with the demolition of the awful looking pink hotel a few years ago the place is looking much better again.
Parking is generally plentiful, the beaches are both very clean and there is a well kept public toilet at the pitch and putt course near Garrylucas.
A sore point for extremist Corkonians is the sight of the beautiful Old Head peninsula to the west that was closed off to the public in 1997 for the benefit of the golf swinging elite who fly in aboard helicopters to play a round. We suggest erecting your wind breaker to shield the sight of the headland to keep it off your mind while you're trying to balm out.
Bit a'Balls
At half-tide or lower Garrylucas can facilitate hurlers and ball game lovers and for those intent on catching some sun in the horizontal position there are very few seaweed chomping flies either which makes for pretty peaceful toasting.
Wackers are generally filtered out by the amusement arcade and other entertainment in Kinsale but don't expect Garretstown to be completely scobe-free either. With such a long strand though it's not hard to find a space far away from the occasional school of hyperactive cider swilling youths who are usually identifiable from distance by white athletic gear.

Surfing
G-Town Surf School run regular classes and have a branded van on the shore most weekends and there are a number of other private operators. The swell is mighty most of the year but check for wave heights and periods on magicseaweed.com before you pack up your troubles and set your bearing for G-Town. As well as the usual ice cream vans and chippers that keep scobe children overweight Garretstown has a healthy supply of coffee and tea outlets for the perished bodies that emerge from the tide.

~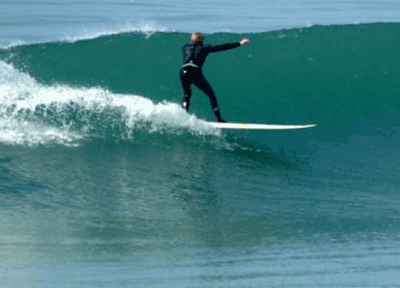 A Cork surfer showboating at Garretstown
Swimming is generally safest at the Garrylucas end with far less waves than Garretstown and the blue flag covers both strands so no floating crisp bags here.
Both beaches tend to exhibit colder water than other pleasure spots especially compared to similar locations in East Cork so even with a wetsuit on you might find you have to keep your extremities as out of the water as you can. Certainly until June anyway.
Do This Bubbila
When you've had your fill of the sea grab a fish and chips at Dino's and head up to the picnic tables at Charlesfort to watch the sun going down as poshies in their boats sail back into harbour.
How to get there
Drive to Kinsale and follow the coast road around the harbour. Take the bridge (officially entitled the Archdeacon T.F. Duggan Bridge - after the man who was an influential peacemaker during the War of Independence) over the Bandon river and keep right.
Follow the signs to Ballinspittle (or Old Head) and beach is sign-posted from there.
Sand: 7/10 (bit stoney in places)
Swimming: 8/10
Parking: 7/10
Puck around space: 6/10
Scobe factor: medium
Flies: low irritation
99's: Only from mobile ice cream vans on weekends.

---
More beach reviews here

G-Town Surf School
www.surfgtown.com
Posted on Jun 11th, 2013
Only forty minutes from the city beautiful Coolmaine beach is a safe bet if you want to avoid cider partying scobes and smelly chip vans...
Posted on Jul 14th, 2011
Tops off, fishin rods out and flagons at the ready: some anthropological observations on the scobe species when the sun comes out...
Posted on Jun 21st, 2010
Perfect for surfing, Long Strand is the quiet next door neighbour of celebrity beach Owenahincha....
Posted on Jun 15th, 2010
Less than 15 minutes from Clonakilty cosy Red Strand is one of Cork's best kept secrets...
Posted on Aug 30th, 2007
Small and pokey but with lots of hidden extras...