Another lorry stopped before tunnel.
This shit does my head in, have a look at the picture :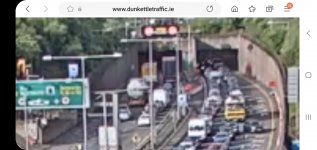 Here we can see a blue truck in the outside lane heading southbound and he is obviously higher than the truck next to it in the inside lane.
Now why the fuck is the yellow truck just stopped there like a fucking idiot ?
There is no technical reason whatsoever as to why that yellow truck cannot proceed and at least move one of the lanes.
Where is common fucking sense gone ?