Love is love I guess.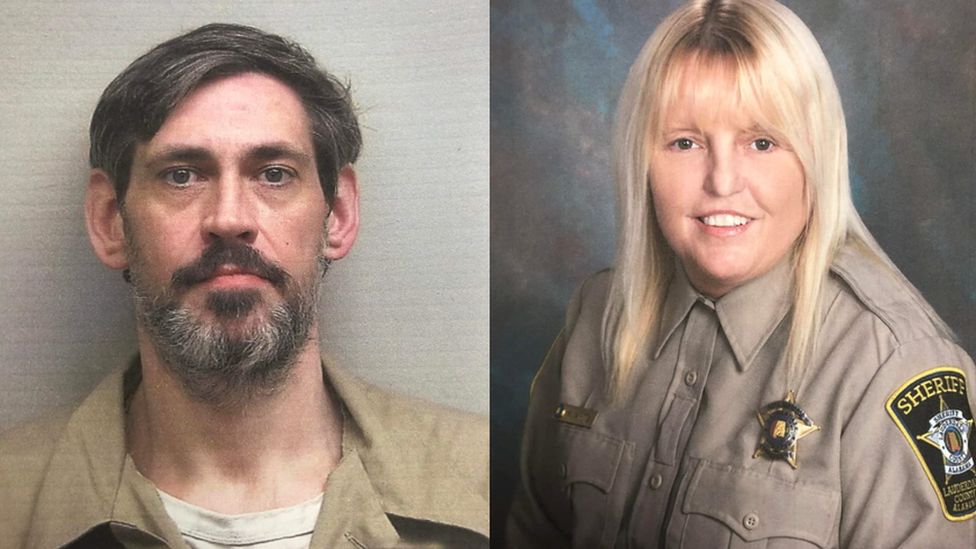 US police are searching for an escaped inmate who is facing murder charges, and a guard who may have helped him.
Inmate Casey White and corrections officer Vicki White were last seen on Friday morning at the Lauderdale County Sheriff's Office in Alabama.
Ms White said she was taking him to a mental evaluation, but officials later realised it had not been scheduled.
Police now believe Ms White helped orchestrate the escape and have issued a warrant for her arrest.
Speaking at a news conference on Friday, Lauderdale County Sheriff Rick Singleton noted that Ms White had sold her house about a month ago and had "talked about going to the beach".
Friday - the day the pair went missing - was supposed to be her final day at work.

Despite their matching surnames, the pair are not related. Authorities say Casey White should be considered "armed and extremely dangerous" - in part because he may now have access to the officer's gun.
Mr Singleton said Ms White left the detention centre with the prisoner at about 09:30 CDT (15:30 BST).


She had told after colleagues she was going to drop him at the courthouse for a mental health evaluation.
Ms White said she would then get some medical attention because she was not feeling well, Sheriff Singleton added. Authorities now believe this appointment was not real and formed part of the escape plan.
Shortly after 11:00 someone found her vehicle in a shopping centre car park.
At about 15:30 officials realised the prisoner had not been returned to custody, and no one could contact the officer.

On Monday, Sheriff Singleton said that authorities believe the escape was "orchestrated", and that Ms White participated, although the exact circumstances remain unclear.
"Whether she did that willingly or was coerced somehow, we're not really sure," he said.

Casey White, 38, was charged with two counts of capital murder in September 2020 over the stabbing of 58-year-old Connie Ridgeway, according to the US Marshals Service.
The US federal law enforcement agency said he was already serving time for a series of crimes in 2015, including burglary, vehicle theft, and a police chase.
He confessed to the murder and was awaiting trial at the Lauderdale County Jail when he disappeared, authorities added.
White has planned to escape from prison before, Sheriff Singleton told ABC News. But officials found out about the plan - which involved taking a hostage - before he could attempt it in 2020.