Daily Telegraph 17-01-23 'Britain is going to rejoin EU far sooner than anyone now imagines It is the Tories' greatest betrayal: they have made such a hash of the project it is probably unsalvageable' The thing that we solidly backed for years is actually rubbish and there are now not going to be any "Sunlit uplands" or "Unicorns".................
OH Conan, where art thou ????
This from " The Torygraph "
Meanwhile
https://www.bbc.com/news/business-64303149
UK battery start-up Britishvolt has collapsed into administration, with the majority of its 232 staff made redundant with immediate effect.
Employees were told the news at an all-staff meeting on Tuesday morning.
The firm had planned to build a giant factory to make electric car batteries in Blyth, Northumberland.
Ministers had hailed it as a "levelling up" opportunity that would boost the region's economy and support the future of UK car making.
But Britishvolt struggled to turn a profit and ran out of money. Its board is believed to have decided on Monday that there were no viable bids to keep the company afloat.
Plans for the £3.8bn factory in Blyth were part of a long-term vision to boost UK manufacturing of electric vehicle batteries and create around 3,000 skilled jobs.
The project was championed by government ministers due to the area being one of the main so-called "red wall" seats to change hands from Labour to the Conservatives in the 2019 General Election.
The UK currently only has one Chinese-owned battery plant next to the Nissan factory in Sunderland, while 35 plants are planned or already under construction in the European Union.
Industry experts have said the UK will need several battery factories to support the future of UK car making as pure petrol and diesel engines are phased out over the next decade.
EY, who were appointed joint administrators, described the move as "disappointing", and said all impacted staff were being offered support.
Dan Hurd, joint administrator and partner at EY, said the firm had offered "a significant opportunity to create jobs and employment, as well as support the development of technology and infrastructure needed to help with the UK's energy transition".
Mr Hurd said the administrators would now explore options for a sale of the business and assets.
An existing shareholder added: "It's madness, I have been offering a variety of possible solutions. Falls on deaf ears. It appears, to me, that management wants the company to go into administration. A real shame."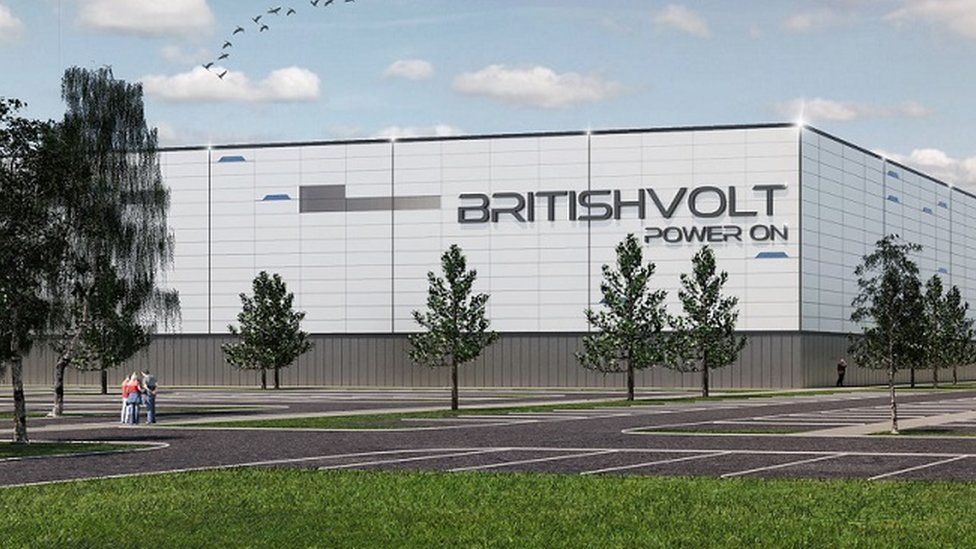 Image source, Britishvolt/PA Media
Image caption,
Another artist's impression of the planned factory
Britishvolt had also planned to open a new battery development centre.
The ambitious, but financially troubled, start-up only narrowly avoided collapse at the end of last year after an emergency lifeline was extended by one of its investors, the commodity trading giant Glencore.
Last year, Britishvolt asked the government to advance £30m of a promised £100m in support, but was refused as the company had not hit agreed construction milestones to access the funds.
But both industry and government sources remain confident that this plant will eventually be built - whoever ends up owning it.
The Department for Business, Energy and Industrial Strategy (BEIS) said the government had "remained hopeful" that Britishvolt would find a suitable investor and was disappointed to hear it had not been possible".
It said it would work with the local authority in the area and potential investors to "ensure the best outcome for the site".
However, the Labour chairman of the Commons Business, Energy and Industrial Strategy Committee said the government needed to do more to support the UK's electric vehicle industry.
Darren Jones told BBC Radio 4's World At One programme: "There is a case to be made here in the UK for ministers and the government to be much more closely involved in delivering a successful battery manufacturing factory.
"If we want cars to continue to be made in the UK, we're going to have to build electric vehicle batteries here as well. So ministers needs to roll up their sleeves, not just write cheques."