I don't have that info to hand but if you consider a countries currency to act as a form of proxy for its economic health then you will see EUR/GBP is more or less where it was 6 years ago, so I would think on a comparative basis with Europe not a hell of a lot has changed. I suppose you could argue the UK would have been roaring ahead without Brexit but all that is, is an opinion, I'm not sure political ineptitude makes a huge difference to an overall economy (only an opinion also) as the markets generally act as a deterrent to sheer stupidity and act accordingly i.e forcing a U-Turn on Truss's recent budget.

As for not mentioning Brexit, my apologies, I was mislead by the thread title!!
I think that market correction of government incompetence is highly limited.
There is no doubt the UK is underperforming relative to its peers on GDP terms:
Alvaro Pereira, OECD chief economist, said the U.K. was falling behind on investment and consumption.
www.cnbc.com
2019 - today, UK GDP 0.4% down, OECD average 3.7%, G7 average 2.5%
The UK historically has generally been ahead of G7 average growth rates, but that changed in 2017 and hasn't regained that position: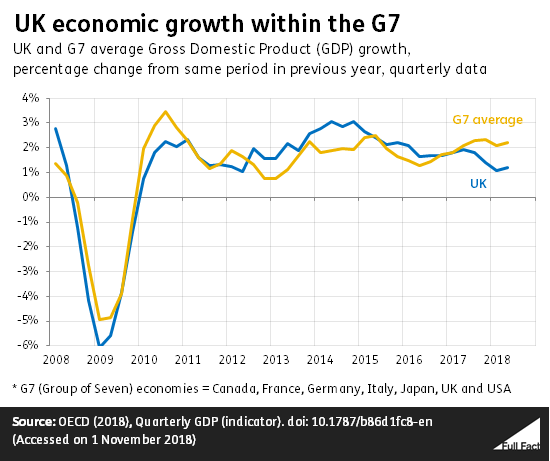 Same is true for the EU/Eurozone, UK used to be one of the highest growers, it no longer is: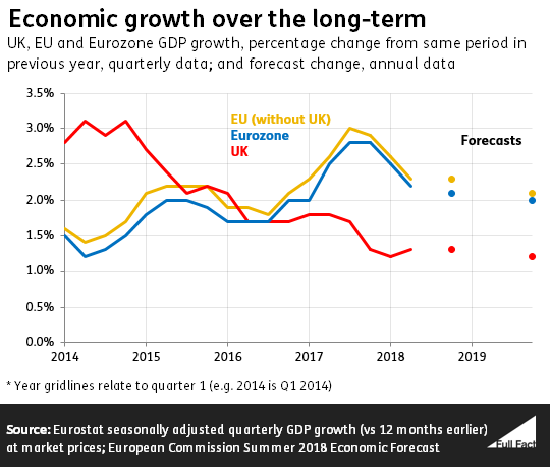 There does appear to be a long term drop in GBP vs EUR since Brexit but not catastrophically so. Really depends your baseline is, looks bad if you compare it to 2015-H1 2016, about standard for 2009 - 2014. Complete car crash territory compared to pre 2009 (where 1.4 was about the range for GBP/EUR)
Government ineptitude is definitely a factor in both wellbeing and growth. Tories don't seem to understand fiscal multipliers. Nor do they seem to be able to run a public utility competently.
The NHS isn't underfunded by historic standards, but incompetent leadership and moronic allocation of capital (especially pumping large amounts of money into private suppliers instead of properly funding core services) is clearly not working. Exact figures are hard to come by, because the government isn't transparent on figures. Not surprising considering Matt Hancock gave his pub landlord £40 million for Covid work that was almost entirely wasted.