Don't stop believing.

It's a good investment, very sensible, will definitely pay off.

Or not. Who knows?

I think Bitcoin will remain a supported pyramid scheme.

The new Ethereum looks very interesting though, with the shift to proof of stake.

It addresses a number of the fundamental problems with crypto currencies and means that they might start actually being useful.
Morgan Stanley: "Systemic spillover risks of crypto weakness to the fiat banking system currently appear limited, as the leveraged crypto companies have generally borrowed from each other."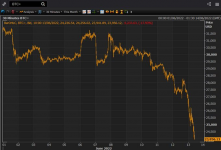 Great reassurance.........nothing to see here.................definitely not a ponzi scheme.