Osama Bin Murphy Articles
Posted on May 03rd, 2007
The right to silence in a taxi, magic keys for all checkout girls and the end of gammy looking buildings..
Posted on Apr 26th, 2007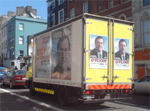 Noelies truck might be booming around town but can he match the PROC's election promises..

Posted on Apr 03rd, 2003
Could Bob Marley's music be the answer to reducing insurance premiums for young drivers?

Posted on Apr 03rd, 2003
Osama Bin Murphy gives a few instructions on manning a new uninsured vehicle and shows the positives by far outweigh the negatives.....

Posted on Apr 03rd, 2003
Driving a low cost vehicle is essential for young drivers being ridden by the insurance industry....
Posted on Nov 26th, 2002
There's mayhem on Maylor Street as an attempted invasion of Cork by the FAI is taking place. Its time for you to go into action against the enemy in our New† Shoot 'Em Up Game.

Posted on Oct 11th, 2002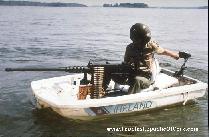 Don't poo in your pants just yet : we talk to Cork's expert on military affairs Osama Bin Murphy and try to deal with the rising fear of a possible military attack by a foreign nation on our turf.