22-10-2007, 01:15 PM
Junior Member

Join Date: Oct 2007

Posts: 3
Tunguska/Putrefaction/El Bastardo@Fredz Sat 10th NOV
---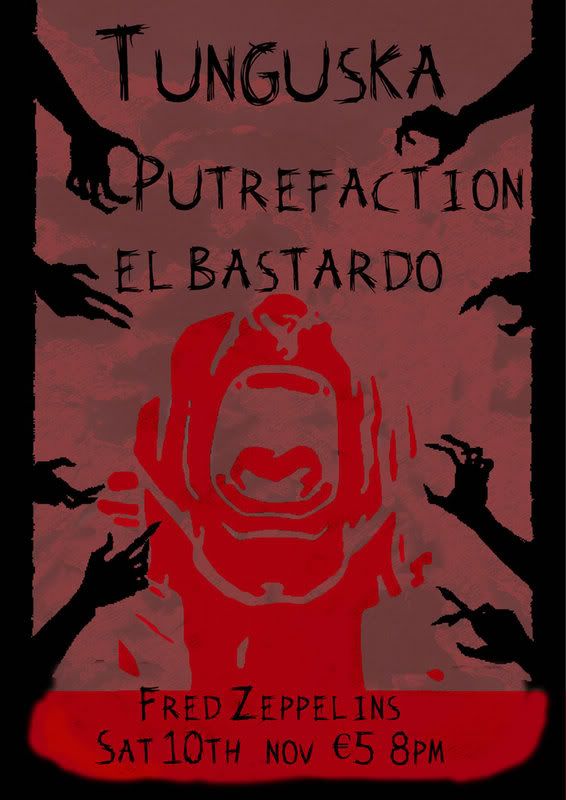 TUNGUSKA
are from Dublin with Irish and Polish personnel who have been/are in a variety of bands from both countries including Easpa Measa, Silence, De Novissimis, Juliette, Scientific Bong, Antichrist. Their style is a more melodic take on the From Ashes Rise/Tragedy/Remains of the Day crusty hardcore. They have released a split 7" with De Novissimis which is available from Rimbaud records. This is their first gig in Cork since they dominated last Paddy's day.
PUTREFACTION
Don't do the internet so you'll have to come and see for yourself. Crust metal from the twins and Eric.
EL BASTARDO
The number 1 Cork super-group containing members of such better bands as, The New Messiahs, Captain Insano, Section Eight and Headbored.
http://www.myspace.com/tunguskapunk
http://www.myspace.com/elbastardo
http://www.myspace.com/rimbaudrecords
---
Last edited by cog; 23-10-2007 at

10:59 AM

..
07-11-2007, 04:26 PM
Member

Join Date: Apr 2003

Posts: 191
---
For anyone that liked Divisions Ruin when they were down earlier in the year the Tunguska lads will have copies of their just released 7" with them on Saturday night along with copies of their own releases as well Im sure, which is a split 7" with De Novissimis and a split lp with The bold and the Beautiful
http://www.myspace.com/divisionsruin
Posting Rules

You may not post new threads

You may not post replies

You may not post attachments

You may not edit your posts

---

HTML code is Off

---
<! ----------------------- FOCAL.ie ----------------------------!> <! ----------------------- / FOCAL.ie ----------------------------!>
<! ----------------------- Murphys Vid ------------ !> <! ------------ http://www.peoplesrepublicofcork.com/eventguide/monthly_video.html -------- !> <! ------------ See vbull admin / plugin manager / monthly_vid -------- !>



<! ----------------------- MURPHYS / BEAMISH ------------ !>


<! ----------------------- MURPHYS / BEAMISH -------- !> <! ---------------------- Event Guide ---------- !>






Saxy Lady Boys
The Pavilion, Carey's Lane, 9pm

Purling Hiss with Grave Lanterns
The Pavilion, Carey's Lane, 9pm

A Band Called Wanda
Crane Lane Theatre, Phoenix St., 11:30 pm

Clann Eireann
Clancy's, Marlborough St., 5:30 pm

The Lee Sessions
Sin É, Coburg St, 6:30 pm

Tommy Mcnulty
The Oliver Plunkett, Oliver Plunkett St., 9pm

'Late Nite Riffs' Classic Rock & Blues Sessions
The Oliver Plunkett, Oliver Plunkett St., 11:30 pm

Berlin Philharmonic - Live Screening Hd
Cork Opera House, Emmet Place, 6:30 pm

Boogie Band
Reardens, Washington St., 10pm

Live Trad Music Session Johnny & Friends
The Gables, Douglas St., 9:30 pm

The Lee Sessions
Charlie's, Union Quay, 3pm

The Lee Sessions
The Ovens Bar, Oliver Plunkett St, 7pm

Vinnie's Tv
Pine Lodge, Myrtleville, 6pm

Cormac O'Caoimh and Stuart Wilde
The Gateway Bar, 7:30 pm

Tom Clark & Craig Chester
Coughlan's, Douglas St., 8:30 pm

Indigo
The Grafton, Oliver Plunkett St., 10pm

Ricky Lynch Trio
Coughlan's, Douglas St., 10pm

The Dance Of Making
Firkin Crane, 10am

Kids Arts and Crafts Classes 6 Weeks
Blackrock Community Centre, 2pm

New Beginnings- Caring For Our Well Being
We Made This- South Pres, Evergreen St., 2pm

Flea Market
Mother Jones Flea Market, 11am



<! ----------------------------- MUSIC ROOM ------------------------ !> <! ----------------------------- / MUSIC ROOM ------------------------ !> <! ----------------------------- PROC extra Ad ------------------------ !> <! ----------------------------- / PROC extra ad ------------------------ !>