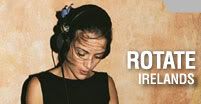 20 Henrietta Street Waterford City Ireland
Tel: +353-51-843858
Fax: +353-51-843858
Email: kevin@rotaterecords. com
Web: www.rotaterecords.com

ROTATE RECORDS UPDATE
Freestyle & John Glover
Peoples Movers 3
Grab
The Grab gang bringing the heat once again with the third installment of their ace People Movers series. Some familiar and new faces sharing space this one, with Freestlyle and Glover going deep on "Looking for Teddy" and label boss Daddy Jrocking the driving dirty acid funk. On the flip Aaron Roberts' "On a Rant" is a thumping cut-up Midas-style undergroundbanger, while the hypno-disco of Ralphski and Justice's "Formality" will appeal to the Inland Knights/Troydon fans.
Kids In The Streets Ft. Chez Damier
Keep On Turning
Stir 15
STIR 15 ARE BACK!! with long-time defender of classic kick ass house C-ROCK and his MOTORCITYSOUL partner MATTHIAS VOGT by the side CHEZ DAMIER lays down his reduced stmping chicago/detroit deep house prance over a sleazy groove and meaty layers of synth that will gently push you back to the classic house dancestep. GLANCE cuts-up the vocal over a more percussive riddim and gives you a good full-body whipping in Wild Pitch style. accordant to Kerri Chandler's recent motto "back to the raw" this is the new leader of the pack!!
BRYAN JONES & MARIO FABRIANI
23 Candles EP
Fetish
Bryan Jones and Joey Youngman, in his Mario Fabriani guise, combining talents for this latest release from the Fetish recordings label 2 tracks from Joey first, with "Headrush" blending a rubbery wandering bassline, crisp beats, and filtered jazzy loops for some low-slung house grooves "The Haunting" keeps the grooves going with a slightly techier outing, with more great beats, of a more shuffling kind this time out, funky bass, textured synths, and distant vocal snippet On the reverse, Bryan serves up "Look Around", leading in with jumpin hi-hats before the tech-house groove hits it s stride with a stellar bassline and choppy vocals rounding the track out nicely "Just Gotta" centers on a deep, funky bassline, ably assisted by more choppy vocals and pumpin tech-house beats on another floor-pleasing cut .
Bloom
Comin Out Swing
Dot Bleep
On side A we have 'Slip Slip' which is a one man electronic band jam as Bloom is also on the vocals as well as rockin' his guitar in totally twisted fashion. All fans of early Brett Johnson and the Freaks, this is for you. Track 2 is one for all you fans of the Inland Knights and Natural Rhythm. Seeing much love from Raoul of Swirl People, Dan X of No Assembly Firm and Jason Hodges. Bloom is not messing about, pulling out the big guns on the B-side for 'Jackin The Funkstalk', a true boompty-boomp jam for ya. Heavy drums and bass lines again with vocals from another planet. Seeing much play from Derrick Carter, DJ Sneak, Phil Weeks and Justin Long, this is one to smash up the speakers at your party. To wrap this one up on is one for the minimalist jackers out there. It's part mike ink and part old school acid house in its own way. Fans of clicks and rips, this ones for you.
Ron Trent
Dub Life
Atal
RON TRENT presents Ital Foods ... "Dub Life" is a deep piece of dubbed house with an afro-carribean feel, african hi-fi vox of Ron Trent himself and a special 'compass point' atmosphere

RON BASEJAM
For The People, By The People
Winding Road
One of the dudes from Crazy Penis well Jim Baron to be exact here with some of the low slung deep stuff on Winding Road Originally the tracks sounds just like something you would expect on the first Crazy Penis full length "A Long Hot Bath With" and rides some jacking basslines and old funk samples Remix comes from DIY s Schmoov and all in all a rocking package Mixes Original/ Schmoov Remix/ We Got Magic
DJ MINX
Fuzzy Navel
Women On Wax
The one DJ Minx is at it again with her latest "Fuzzy Navel" for hte women on Wax imprint Original Navel is a minimal moody tune with robotic arangement that and tamely swooshed pads Check the Meltdown dub for some space echo action as minx drops the 4/4 for a more more leftfield rthythm arrangement On the Flip, an unlikely remixer is chosen in Piranahead who works out the a mix that will most likely have the west london massive jumping for joy broken beat nu jazz sensibilities with a serious overdriven guitar solo work the 1st have of the track, then a transformation into an osunlade esque ending will give the deep house heads something to chew on
Explicit Theory
Sonar Sessions
Movim
Making major waves since the WMC goes the latest must-have jam from PATRICK TURNER and the Movim imprint. Teaming up with Formidable Force's Atnarko, the debut release for ExplicitTheory is a belter - a teched-up funky houser that mingles cut-up R&B vocal samples with a hypnotic synth loop and some excellent drum work. B-side drops two mixes, a deep and chunky electronic houser a la Dessous/Poker Flat, and a stripped-down Inland Knights-styled that makes for a killer mixing tool. Massive track getting charted from Tony Thomas, Harold Heath, Stadius and more
Trademarq
32 Peice Set
Bananza
The heat from this release has been building since Farina shredded the OM Party at WMC with it. Now it's here in full effect - a mighty strong release for this budding house imprint from Boston. The heater here is "Broken Wagon", a catchy cut-up house groove that mixes a cool vocal with some wobbly bassline, sax bits and a sturdy 4/4 thump - Heather, Diz andHodges all banging it. "Work For Me" heads into darker and deeper twisted tech territory, before the NO ASSEMBLY FIRM boys bring things back with their nasty Chi-town rework of "Work For Me". Bumping stuff on an old-schol Paul Johnson/Relief kick, with an extended NAF bonus beat that works great as amixing tool. Big time underground house record right here.
Metrosoul
Club Delicious
Auris
Super Dirty Deep House from Germany.......
Dj Flex
Mysterious Conversation
Dessous
DJ FEX aka Frank Xavier, drops his debut single Mysterious Conversation on Dessous with two additional remixes.Starting with rattling drums the original mix is a kicking house-track with a pushing baseline and a magic synth accent. Whispering vocals carry on a conversation adding a mysterious atmosphere to the multilayered though straightforward track. Moon Harbours Matthias Tanzmann and Daniel Stefanik contribute a cinematic remix with deep house strings and bubbling basslines for A1, while the one and only Mazi from Chicago who is seen as one of the re-inventors of modern House music, adds a punchy remix with amazing sounds and patterns..
Troydon
Three Steps Forward
Aroma
This is one talented South African producer who is making a big impact in the underground house scene on a global scale! Charted and played by DJ Heather, Fred Everything, East Coast Boogiemen, Slater Hogan, …
-------------------------------------------------------------------------------------------------------------------------------------------------------------
Post on 3 or More Vinyls Is Free
Ireland and U.K.Only
Kevin Jacob
Rotate Records
20 Henrietta Street
Waterford City
Ireland