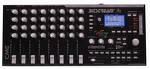 CME Bitstream eu300 euros
with limited edition custom flightcase.
Studiocare supplies Professional audio recording broadcast sound and Pro music studio equipment.
The CME Bitstream 3X is a high-quality USB MIDI controller equipped with sliders, knobs, buttons, joystick, ribbon controller, cross fader and much more. "3X" stands for "3 Axis" because the Bitstream 3X features full control over three different Axis- X, Y and Z. A joystick allows control over two (X and Y), while an ribbon controller is used for the Z axis.
With 35 knobs, 8 Sliders and 16 buttons, the CME Bitstream 3X gives you total hands-on control of any DAW (Digital Audio Workstation) software and comes with an astounding 13,000 presets for Reason, Live, Reaktor, Traktor, Absynth, Cakewalk and of course Steinberg's Cubase. Digital DJ's will love the MIDI Cross-fader and the 8-track motion sampler which allows automated recording of the movements of the knobs, joystick, crossfader and ribbon controller.
Key Features
Hands-on MIDI control
Unique dual axis analogue joystick
Ribbon controller
Cross-fader
35 knobs
8 sliders
16 buttons
Foot switch input
7 curve models per control
Transport functions
Automated MIDI controls
Programmable LFO
8-track motion sampler
Enhanced arpeggiator
Large graphic display (with backlight)
13,000 Presets for a huge variety of synths and software
100 snapshot scenes
21 fully programmable groups
Jump-less potentiometer mode
Mackie control emulation
MIDI In / Thru / Out 1 / Out 2
Built-in MIDI merger & filter
SYNC-24 Output
USB compatible (no driver required) and USB powered
All software compatible with Mac, Windows and Linux
4U metallic enclosure
...and much more!
All the hands-on control you need
The CME Bitstream 3X features lots of analogue and digital controls, including 35 knobs, 8 sliders, 16 buttons, a two axis analogue joystick, a ribbon controller, a cross-fader and more! Each of these controls is fully programmable and thus allows the Bitstream 3X to easily integrate into any MIDI setup.
A dedicated transport section makes for easy hand-on control of any software or hardware sequencer and 100 scene memories allow the user to quickly call back any saved configuration in real-time.
A 6.35mm jack input is provided on the rear panel to connect an external foot switch / pedal. With this, you could generate any on/off MIDI event as per the front panel buttons.
Automated Control - Arpeggiator / Motion Sampler / LFO
The Bitstream 3X's hands-on control facilities are very comprehensive, but what if you need more real-time control than your two hands can give you? The Bitstream 3X has the answer with it's automated controllers. These include an LFO (low frequency oscillator), an advanced arpeggiator (which can generate some amazing grooves!), and an 8 track motion sampler...
Multiple MIDI Inputs and Outputs and USB Interface
The CME Bitstream 3X features both conventional MIDI connections (MIDI In, MIDI Thru and two MIDI Outputs on 5-pin DIN sockets) and a built-in USB interface (which carries an additional MIDI Input and two additional MIDI Outputs). Each control of the Bitstream 3X can generate MIDI events that can be routed anywhere you like - to the conventional MIDI outputs or USB outputs.
The two MIDI inputs feature a 'merge' function to merge their data with the data generated by the Bitstream 3X's own controllers. Each of the two MIDI inputs can also be used to synchronize the Bitstream 3X with any external sequencer.
All this flexibility allows the Bitstream 3X to act as an USB MIDI Interface for your computer if necessary. For example - this would allow you to connect any MIDI keyboard / MIDI sound module / MIDI synthesizer to a computer that doesn't have it's own USB MIDI interface.
The Bitstream 3X is fully 'MIDI over USB' compliant, so no driver is required to use the Bitstream 3X with your computer. Just connect your CME Bitstream 3X to a Mac or a PC and you are ready to play! The two USB MIDI outputs and the input will appear as new MIDI devices on your computer.
The USB connector also powers the Bitstream 3X, so you do not need to use the provided external transformer when connected to a computer via USB.
Sync-24 Output
The CME Bitstream 3X also features a SYNC-24 output that allows you to synchronize "vintage" equipment such as the famous Roland TB-303 Bassline Synthesizer, the Roland MC-202 MicroComposer and Roland TR-808 and TR-909 analogue drum machines - and many other pieces of equipment too.
As per the vintage machines, the SYNC-24 signal is provided on a 5-pin DIN socket which sends all the required signals to the vintage equipment for perfect synchronization.
The Bitstream 3X is able to generate SYNC-24 signals from real-time MIDI messages received on either of the MIDI inputs (MIDI In connector or USB connector) which means the CME Bitstream 3X can also be considered as a 'MIDI to SYNC-24' and 'USB MIDI to SYNC-24' converter.
Standard Mode
The Standard Mode is for anyone who wants to get on with making music without the need to make detailed controller assignments first. The CME Bitstream 3X comes ready programmed to control software such as Reason, Fruity Loops, Reaktor, Live, Cubase and the other MIDI controllable softwar too. With the Bitstream 3X, no programming is needed to control your software!
Programmable Mode
The Programmable Mode has been designed for power users who want to go further with their controller. This mode gives you full control allowing you to configure every parameter via menus on the Bitstream 3X itself or via the dedicated configuration software.
These parameters give access to minimum & maximum values for every control, curve evolving models, chained control functions, SysEx, MIDI delays, and much more. There is also the option of assigning a name/comment to every control, which is displayed on the LCD to improve ergonomics - with the Bitstream 3X you will always know exactly what you are controlling.
Propellerheads Reason Mode
In addition to the standard mode, the CME Bitstream 3X also features a dedicated Propellerheads Reason Mode, compliant with the Propellerheads remote technology (available from Reason version 3 and higher).
The Bitstream 3X will be automatically detected and configured to fully control all Reason devices, with absolutely no programming whatsoever. When a Bitstream 3X group is changed, the controlled device in Reason also changes automatically, so the user has all knobs, sliders, buttons, ribbon controller etc available to control each device in Reason.
This Reason mode also features the jump-less hook mode available for all Wave Idea MIDI controllers.
Configuration Software
This user-friendly configuration software included with the CME Bitstream 3X gives you access to the most advanced parameters. The software can act as a library for presets and allows the creation of your own custom presets too. Once created, presets can easily be downloaded to the Bitstream 3X via USB.
More than 13,000 presets have already been programmed, covering the most popular MIDI samplers, synths, and software. Just choose the synth you wish to control in the list of presets, click on 'Download' and you're done!
Advanced users will be interested to hear that the configuration software communicates with the Bitstream 3X using SysEx. This means that the Bitstream 3X can be reconfigured on-the-fly by a sequencer without having to stop the music by inserting the appropriate SysEx commands into the sequence!
Specifications - In Detail...
Hardware
35 knobs
8 sliders
Ribbon controller
Analogue joystick
Cross-fader
28 push buttons
21 groups
100 scene memories
FULLY programmable
Direct access to MIDI channels
MIDI I/O, USB, Foot switch, SYNC-24
2 RISC processors inside
Expansion port
MIDI merger and filter
Self-powered via USB
Backlit graphic LCD
Rock solid 4U metal case
Firmware / Software
Advanced arpeggiator
Programmable LFO
8-track motion sampler
Dedicated MIDI processor, no latency
MIDI over USB compatible
Plug and Play, no extra driver required
Dedicated configuration software
Firmware upgrader software
All software available for Mac, Windows and Linux
Other
Wave Idea CD-ROM included
9-12V / 400 mA power supply included
Dimensions: 420 x 180 x 26/40 mm
Weight: 4.4 KG