Comedy Cavern & Coughlans Live
are delighted to announce the first
Cavern Comedy Festival
November 5th - 10th
Tickets go on sale this Friday
August 16th at 9am from
http://www.coughlans.ie/whats-on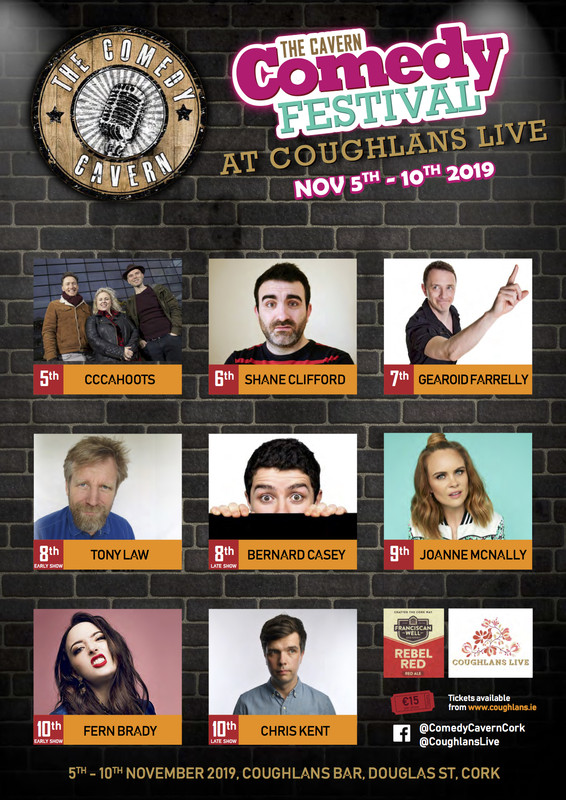 5th Nov - Cavern Comedy Festival : CCCahoots 8pm, €15
Cork's finest, CCCahoots bring their sell out Cork Opera House show to the Comedy Cavern for a one-off intimate gig! With added new characters and sketches, you'd be mad not to go. Sher, I'll go with ya!
"Widely regarded as the most exciting troupe in Irish comedy at the moment" The Sunday Times
6th Nov - Cavern Comedy Festival : Shane Clifford 8pm, €15
In the 3 years since he nervously stepped on stage in a tiny room in Killarney and told jokes to 4 American tourists, he has risen quickly performing all over Ireland and appearing at major Irish comedy festivals including Castlepalooza, Cork Comedy Festival and the Vodafone Comedy Festival.
In 2018 Shane was a finalist at the prestigious So You Think You're Funny? final at the Edinburgh Fringe Festival and in october he performed his first solo hour, "Shanes Brilliant Stand Up Show", to a sold out audience in Whelans, Dublin. Having achieved so much in such a short period it is clear that Shane has become one of the most original and exciting new acts in Irish comedy.
"The best comedian in Ireland, hands down" - Blindboy Boatclub
7th Nov - Cavern Comedy Festival : Gearoid Farrelly 8pm, €15
Alchemy is a new show from comedian Gearóid Farrelly in which he is pretty certain he will be able to solve all of the worlds problems. To start with Science needs more laughs, we need more superstar comebacks and Conor McGregor should just stop talking.
Gearóid has appeared at comedy festivals all over the world, touring with the likes of Joan Rivers, Patton Oswalt and Sarah Millican. He recently appeared on the BBC radio 4 panel show "An Elephant in the Room" and can be heard on his podcast "Fascinated" where he tracks down his childhood heroes!
8th Nov - Cavern Comedy Festival : Tony Law 7:30pm, €15
Tony Law identifies as a hominid. Homo sapiens, Neanderthal, Indo-European horse tribesman, an Englishman, a Canadian, a Norn Iron man and a Trinidadian and a Tobagonian. A dog, a dog owner, owned by a dog, a surrealist, an absurdist and an artist who is comedy of person. A parent, a thrower, a catcher, a reader and a farmer.
His 16th show is turning out to be his best yet. For connoisseurs of comedy who have seen it all and are funny in their own bones. Top drawer Tony. Comedian's comedian comedian for the comedy nerd.
Tony has appeared on Have I Got News For You, The Alternative Comedy Experience, 8 Out Of 10 Cats and Never Mind The Buzzcocks.
"Takes post-modern stand-up to a dangerously funny new level" The Guardian
8th Nov - Cavern Comedy Festival : Bernard Casey 10pm, €15
Bernard Casey's live show is a bold and brilliant mix of stand-up comedy and character performance. His videos including the Irish Oral, the Polish Barman and the hugely popular Local Gossip. Brilliant accents, wild impressions and amazing storytelling mixed with expertly crafted jokes make this live show a must see.
"A wonderfully well crafted performer with a great old school style of storytelling" Tommy Tiernan

9th Nov - Cavern Comedy Festival : Joanne McNally 7:30pm, €15
Ireland's comedy sweetheart (self-titled) and Dublin Fringe Best Performer nominee is coming to Coughlan's with her solo show The Prosecco Express.
As seen in Sharon Horgan's Women on The Verge (UKTV) and The Tommy Tiernan Chat Show.(RTÉ).
'Hilarious & brutal' (Lyn Gardner). 'Joyously nuts' ***** (Irish Examiner).
10th Nov - Cavern Comedy Festival : Fern Brady 5:30pm, €15
As seen on Live from the BBC, Live from the Comedy Store, The Russell Howard Hour, and Live at the Apollo Fern is one of the UK's hottest comedy stars. Known for being totally unique and completely fearless her new show will tackle sexuality, feminism, power, Brexit, Britishness, Scottishness and nationality all with her caustic wit, exceptional writing and electric stage craft. Fern is embarking on her biggest tour to date with the show debuting in Australia before heading out across the UK and Europe.
Featured in Vogue as one of the Top 5 Female Comedians as well as the Telegraphs top 5 young comedians to watch, Fern's career has gone stratospheric in the last 18 months. She's had viral success with her BBC Life Lessons, stormed the Australian comedy scene and supported Frankie Boyle and Katherine Ryan on Tour.
10th Nov - Cavern Comedy Festival : Chris Kent 8pm, €15
What better way to bring the first ever Cavern Comedy Festival to an end than with one of the best comedians to ever emerge from the Rebel county.
Chris is one of the most highly regarded Irish comics performing anywhere in the world, and it is no surprise to see him going from strength to strength.
Chris has been on Russell Howard's Good News and regularly tours in the UK and Ireland. Here are a just a few of the quotes to Chris's name:
"Fresh and original material, extremely endearing performer" Broadway Baby.