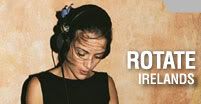 20 Henrietta Street Waterford City Ireland
Tel: +353-51-843858
Fax: +353-51-843858
Email:
kevin@rotaterecords. com
Web:
www.rotaterecords.com
ROTATE RECORDS UPDATE
Suppliers in Quality Dj Equipment
---------------------------------------------------------------------------
Technic - Pioneer - Vestax - Sony - Numark - Gemini - Stanton - Shure - Ortofon - Kam - Denon - UDG- Road Ready - Tannoy - JBL - Allen & Heath
---------------------------------------------------------------------------
DEEP - FUNKY - TECH - HOUSE
V/A / On The Line Rmx / Greenskeepers
Greenskeepers Music proudly spits hot fire with the all-star studded release of GKM 015. VA "On the Line remixes" . featuring J.Dub on vocals and remixed by four of house music's most celebrated luminaries : MARK FARINA, MEMBERS ONLY, PETE MOSS and J.T. DONALDSON
Manoo & Francois .A / Traffic E.P. / Buzzin Fly
Miami buzz still surrounds this second single from acclaimed French underground duo Manoo and Francois A. 'Traffic', with its squared-off thudding bass, dancefloor swing and syncopated acid stabs had the crowd whistling and Charles Webster, Marques Wyatt
Dj Homewrecker / Go Mobile / Aj
Fresh new talent DJ Homewrecker aka Tom Feiza currently resides in Colorado as a house DJ and producer. Born and raised in Wisconsin, Tom has played all over the Midwest with the likes of Derrick Carter, Miles Maeda and Lego. With musical roots coming from punk, industrial and metal, Tom expresses his hard-edge style and technique with in-your-face Chicago House. For the fans of Derrick Carter!! Don't sleep on "Go Mobile", jackin' grooves fly around your ears making it unresistable to not nod your head to this. For the B-side "Digivitis" takes you to a Brett Johnson meets DLC voyage… Nuff said!
Patrick Turner / Your House / Agave
New single on the Agave imprint from Patrick Turner. "Your House" gets the ball rolling with some chunky house grooves, with a dubby bumping bassline leading the way, ably assisted by crisp beats, stabbing piano chords, a great spoken female vocal, and some subtle disco harmonies, before a soulful female vocal arrives late on to top off this surefire primetime floor-pleaser. On the reverse, "Only The High" goes for some trippier house grooves, with sweeping delayed synths, a rubbery analog bassline, shuffling house beats, and warm chords all combining nicely alongside some great electric keys on a late night house winner.
Block Committee / California Dreams / Detour
San Fran's Hector Morales, well known for his Chris Carrier and Phil Weeks collabs, teams up with newcomer Cubase Dan for this slamming outing of chunky, trippy jacked-up house. A-side "Uh Huh" captures the vibe perfectly, with a rolling bass line, grooving drums and well-timed vocal and key stabs working a frenzy on the floor. B-side features two mixes of"You Can't Get None", a cool stripped-down cut with tripped out key melodies and dubby vocals doing the damage. Jacking, floor-filling tracks with some heavy-duty bump for the bodies
Lost Tribes Of Ibadan / Orixas Revisited / Gotsoul
New gotsoul records release featuring remixes of Orixas, This is a brasilian infused cut with sexy vocals and lush instrumention, a project originally produced by Kerri Chandler, Dennis Ferrer and Jerome Sydenham. 3 slammin' mixes, including unreleased mixes by Fred Everything, Dennis Ferrer and Kaje.
Dennis Ferrer / Son Of Raw / Ibadan
Dennis Ferrer making a welcome return with this new release for the Ibadan imprint. "Son Of Raw" blends a funky bassline groove with some superbly jazzy keys, riffing synths, and shuffling house beats, before a late-arriving "you don't know" vocal loop comes in to top the whole thing off, as Dennis lays down some of fine deep house for the floor crowds to whet their whistles to
Chris Grant / Jimmy Jam / Jackin Tracks
The unstoppable Joey Youngman empire shows no signs of slowing down, with the 4th release for Joey's Jackin Tracks label, a slamming three-tracker of party cuts and remixes. The original comes from Chicago's Chris Grant, aquality groover oof bass-heavy filtered grooves and hypnotic loops that'll work for maximum dancefloor damage. Joey himself handles remixduties on A1, upping the percussion for a new-school funky disco rub with a load of hot basslines and nice key solos to round out the mix. On the B-side the hot Sound Republic do their thing with a nasty cut-up flipping-the-script mix that is an absolute peak hour dancefloor banger. Some of the new school's finest just wrecking the floor on this one.
Kerri Chandler / Bar A Thyme / Nitegrooves
2 of the biggest names in US house music, King Street and Kerri Chandler, team up for this cracking new release on King Street s Nite Grooves imprint "Bar A Thym" is a percussive house gem, with Kerri letting a cowbell take centerstage on this outing, ably assisted by a steady bassline and very Detroit-flavored synths, all filtered nicely in and out of the mix while the percussion remains a constant On the reverse, "Sunshine & Twilight" combines some stellar Afro-rhythms with drifting synths, soulful harmonies, deep chords, and shuffling house beats for some quality late night house grooves
The Littlemen / Loose That Hat / Tango
The Littlemen just going from strength to strength with morehot house releases on Drop, Aroma and Mobile Trax. Now they're making their Tango debut with one serious set of funky, jazzy house EPs. A-side "Make Me Dream" is trademark Littlemen - bouncing bass, cut-up horn stabs, and somefloor-friendly samples; getting good support from Heather and Farina rightnow. B-side goes for more hypnotic deep grooves, with bothcuts working some tasteful filtered loops, sizzling guitar work and dusty, dubby afterhours vibes. One of the best crewsin house right now doing it proper

Dj Fluid / Loud & Clear / Utensil
DJ Fluid with the latest release from the Utensil imprint. "Loud & Clear" combines a rubbery bassline groove with crisp beats, disco-flavored stabs, and some killer synth congas on a surefire peaktime houser. On the flip, Swirl Peepz jack things up in a very Basement Jaxx style, with the bassline more prominently featured, while Alland Byallo serves up a gritty electro-funk take that should have the big room crowds up and moving in no time
Zoo Brazil / The Talk / Dessous
Dessous welcomes Zoo Brazil! John Andersson and Johan Emmoth, the duo also stands behind the aliases Laid, Cuba Computers, Nars and Outcold and is responsible for more than 100 releases on labels like Music For Freaks, Get Physical, Ministry Of Sound, Kass, Skint, Spacefunk and many many others. "The Talk" is Zoo Brazil's first EP for Dessous. The title track kicks off with some dry dub influenced beats before some beautiful keys and a warm bass come in. Percussive elements and nice strings complete a deep and cosy track. Next on is "Rush", a thrilling track with nervous acidic multi-layered synth attacks and punching beats. "Doing It" on the b-side completes the package with a hypnotizing acid influenced house tune. Bubbling synth-lines, clapping beats, a full-on bass drum and interesting turns in the structure of the track make this a sure shot for advanced dancefloors.
Home & Garden / 1984 / Icon
Chicago housers Home and Garden (Tim Shumaker and Tim Kvasnosky) storm back on the scene with a fantastic late night ode George Orwell's "1984″. This is one of the rare records that defines genres and descriptions - but let's say it's a deep and haunting synth groover that recalls early Detroit techno, Metro Area and some of the weirder Italo-disco stuff. Who better to remix than Brennan Green, who brings his own twisted genre-bending sensibility to the mix - stretching out the groove to a 12-minute display of flawless eclectic electronic composition. Fans of the Modal, Rong and Bear Funk label will be feeling this ace two-tracker big time. Be on the lookout for Disc 2
TECHNO
False / Wave Pool / Plus 8/81

Teste / The Wipe / Plus 8/85

Christian Vogel / 1968.holes / Novamute

Jeff Mills / Three Ages Vol .2 / Mk2 Music

Steve Pointdexter / Work that motherfuck / Djax Up

Ron Trent / Altered States Rmx 2x12 / Djax Up

Al Ferox / voodoo project / Dk2

Secret Cinema / Tmeless altitude rx / Ec Records

Brian Sanhaji / History / Highland Beats

Richard Bartz / Ghettoblaster / Kurbel

Solieb / circus maximus / Maschine

Patrick Raddatz / everglade reshape/rx / Weave

Tony Rohr / were you dreaming / Weave
Suppliers in Quality Dj Equipment
---------------------------------------------------------------------------
Technic - Pioneer - Vestax - Sony - Numark - Gemini - Stanton - Shure - Ortofon - Kam - Denon - Tannoy - JBL - Allen & Heath
---------------------------------------------------------------------------