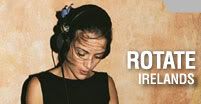 20 Henrietta Street Waterford City Ireland
Tel: +353-51-843858
Fax: +353-51-843858
Email:
kevin@rotaterecords. com
Web:
www.rotaterecords.com
ROTATE RECORDS UPDATE
Suppliers in Quality Dj Equipment
---------------------------------------------------------------------------
Technic - Pioneer - Vestax - Sony - Numark - Gemini - Stanton - Shure - Ortofon - Kam - Denon - Tannoy - JBL - Allen & Heath
---------------------------------------------------------------------------
House
Kerri Chandler Sunset & So Let The Wind Come - Nitegrooves
After the worldwide, runaway success of "Bar A Thym", it was only natural for us to let loose some more floor-fillers from Mr. Chandler. This time he gets deep, deep as in that late-night-trippy-afterhours-vibe-kinda-deep. "Sunset" might be for when the sun goes down, but probably is best for when it comes back up. Check it out, you'll see what I mean. On the flip, you find "So Let The Wind Come". A pumpy, peak hour banger featuring a filtered disco loop that will twist a crowd into a knot. Perfect for making people loose there sh*t, Kerri Chandler does it once again.
Ion - Everything - Aroma
The Swirl People display their A&R prowess with this incredible debut offering from Brian Michael aka ION. "Ain't Missing You" encompasses everything we've come to expect from an Aroma record, bumping swinging beats, booming bottom end and catchy bits of vocals and melodies that drawyou into the luxuriously smooth grooves. We certainly understand why thePeepz picked this one up as it sounds exactly like their rocking house tunes. On the flip "Everything" has more of a Da Sunlounge feel with chunky analog Chitown bass, beautiful vocal, warm key stabs and tight swinging beats.
Vincenzo - What It Is And What It Ain´t - Winding Road
We're marking our tenth release with an EP from one of our favourite artists, and sometime partner-in-crime, Vincenzo. This EP winds through a broad mixture of styles - from instrumental hip-hop to Moodymann-esque jazz house, and rolling tech-house - showing Vincenzo's versatility as a producer…and a healthy open-minded attitude to music.
Mazi - Origin 2005 ( Joey Youngman Rmx) - Rique
Mazi's killer "Origin" track from a few years back on Ri'Quegets a fresh 2005 makeover from the main man JOEY YOUNGMAN on this hot new slammer fromRi'Que. Two mixes on offer here,with the A-side working a big room jacking house groove thatmakes major use of the sax line and funky key stabs throughout. B-side is a pumping bass and drum workout that makes forgreat mixing gear or a floor-filler in its own right. Another hot release withthat Youngman touch, so don't sleep on this one!
John Larner & Slater Hogan - Acid Planet - Doubledown
John Larner and Slater Hogan break cover with their first offering in a while for Doubledown. "Acid Planet" blends a heavy kick and stabbing analog elements alongside crisp techy beats and a wonderfully acidic bassline, while Redeye provides a twisted vocal track atop it all on a jacked up tech-house winner full of old school flavor. John Larner goes it alone on the remix, with the vocal even more sinister, and the groove more bumping, with a retooled bassline and more jackin' beats. On the flip, label-mates Dizzy and Funky Transport take the track into slightly deeper tech-house territory, with the bassline now in a deep, throbbing form, and the beats a little more laidback on a low-slung late night floor pleaser.
David Murray Ft. P. Sanders - Gwotet ( Osunlade Rmxs ) - Just In Time
Special limited edition 12'' vinyl issue of remixes by OSUNLADE, the revered DJ and founder of seminal New York deep house label Yoruba, whose productions have crossed over into the broken beat, Nu soul and UK garage scenes. On the B side is a remix by radio Nova Contest winner Alex Zul, a promising Paris based newcomer. This explosive release, a typically infectious Osunlade take on the latest cross-cultural exporation from jazz legend David Murray, and unquestionably one of his finest, reunites him with legendary Pharoah Sanders, with whom he last collaborated on the grammy Award-winning recordings « Blues For Coltrane ». « Gwotet » is, from the moment the « needle » hits the records, a big party : propulsive percussion, driving bass, horns are fused with Gwa-Ka singer / percussionists (Guadeloupean Gwo-ka drums are hand instruments that date back to slave days) to make for a record that will move your spirit and you body.
Home & Garden - Broken - Icon
Home and Garden returns for this second of the 2-disc series with Broken, a song that employs an arpeggiated synth line and deep analog bass punctuated with a haunting spoken word acapella,finalizing a great series to add to their remix of Les Umin's Star de la Nuit from last Fall (icon.01
. The remixes here are courtesy of Luke Sardello and Modal and Balihu recording artist Brennan Green.Luke's Persian Fog Mix offers a slight nod to Mood to Swing with its ethereal keys and bass tones,keeping the vocal and synth line from the original, transforming it more into a late-night deep housetune.Brennan Green's reprise strips the beats from the original, adding some nuances and touches of his own, and reminds one of something from Pink Floyd's Darkside of theMoon.
Dj Sneak & Chuck Daniels - Funky Rhythm Rmxs - Leg
DJ Sneak's massive "Funky Rhythm" hit from last year getting a fresh pair of new mixes. The up-and-coming underground star Chuck Daniels drops a bleepy, jacky Chi-town bomb - definnitely up there with the No Assembly Firm and Cajmere gear -on the A-side. Flip for more floor-filling fun as Sneak himsself rips it up with a bouncy, jazzy mix. A nice injection on this classic.
Stacey Kidd - Houseman Ep - Odds & Ends
Chicago's Stacey Kidd's been popping up everywhere recently (Bumpin' City,Muzique Boutique and Red Hot to name a few), and now he drops a huge one on the Odds and Ends imprint. Stacey's unique jazz-inflected Chi-town vibe is on full display with A-side "House Crusade", working some hot keys, a chunky percussive Latin swing, and some cool filtered drops and builds. VintageFarina throw-back material. Flip for a cool "Houseman" dub and the slamming filtered hypnotic builder "F4″, a total DJ Sneak/Phil Weeks/Raoul Belmans party track. another ACE EP for the crew at Odds and Ends!
Lefunken Ft. Tyrah - Angel/ Franck Roger Rmx - Spacekat
We've enlisted French producer Franck Roger to re-vamp this Spacekat release from last year. Franck's reputation has risen to great heights over the past couple of years working with labels such as MAW, King St, Defected, Seasons, Straight Up as well…
Techno
Oliver Ho - Sculpture - META022

Cirez D - Knockout - Love Lost - MOUSE002

Collins & Behman - Solid Beats - Rot0550

icarus - Changes - Jel035

Kevin Sanderson - Inner City - Concept

Marco Corola - Domino - Dmn004

Oliver Ho - Change Remixes - Metar001

Paco Osuna - Noiser /Jack - Noise Music

Patrick Skoog - Valentino remixes - White
Suppliers in Quality Dj Equipment
---------------------------------------------------------------------------
Technic - Pioneer - Vestax - Sony - Numark - Gemini - Stanton - Shure - Ortofon - Kam - Denon - Tannoy - JBL - Allen & Heath
---------------------------------------------------------------------------