Win Tickets to Potted Potter
The international smash hit Harry Potter parody is coming to Cork for one week only, as part of a sell-out world tour. The Best Entertainment & Family Show Olivier Award Nominee Potted Potter takes on the ultimate challenge of condensing all seven Harry Potter books (and a real-life game of Quidditch) into seventy hilarious minutes.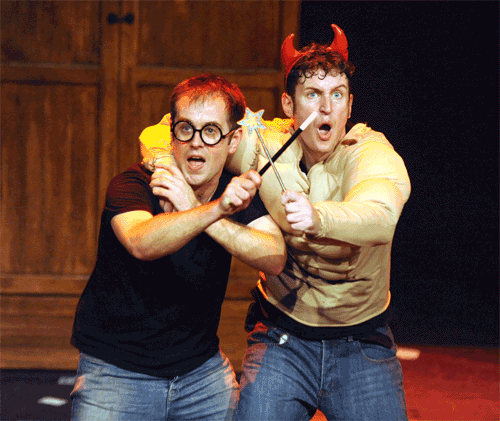 WIN TICKETS
To win tickets to the opening night show on Tues April 22nd at 8pm email

.(JavaScript must be enabled to view this email address)

with Potted Potter in the subject line along with your name, mobile number (so we can conact you if you win) and approx location.

Even if you don't know the difference between a Horcrux and a Hufflepuff, this brilliant comedy will make you roar with laughter. This show is perfect for ages six to Dumbledore (who is very old indeed).
"Inventive, daft fun for all the family that doesn't feel the slightest bit cynical. A winner in every way." The Guardian
"The duo casts the perfect spell over the audience."
The New York Times – Critics' Picks
"Gloriously irreverent. A very lovable romp through Rowling's back catalogue."
Time Out London – Critics' Choice
"I guarantee you'll go positively potty over Potted Potter. Muggle or master wizard, you're going to love this show."
Toronto Star
"A fabulously funny parody."
Daily Telegraph
Posted on Oct 23rd, 2018
No sleeping in tents, no worries about the weather, your car won't get stuck in the mud and best of all you don't even have to leave Cork...
Posted on Oct 22nd, 2018
If you're coming to Cork to show off your pentatonic scales, we're really looking forward to seeing you but don't forget to practice your banter and leave the jazz orgasm face at home...
Posted on Oct 8th, 2018
The building boom is back. Are you a hospital consultant thinking of getting into attic conversions or the CEO of a Fortune 500 company that fancies a career in roofing? Then know how proper langers treat their customers....
Posted on Oct 1st, 2018
In Europe's friendliest city more than one bicycle is stolen every..eh....several days. That's a whopping 0.05% of the population. Be careful out there....
Posted on Sep 17th, 2018
An 83 year old man foiled a three-man raid in Glanmire last Saturday evening and in the process delivered a beautiful kick up the arse to one of the humiliated raiders. Who else needs a Dinny Funt?