Win Tickets to Potted Potter
The international smash hit Harry Potter parody is coming to Cork for one week only, as part of a sell-out world tour. The Best Entertainment & Family Show Olivier Award Nominee Potted Potter takes on the ultimate challenge of condensing all seven Harry Potter books (and a real-life game of Quidditch) into seventy hilarious minutes.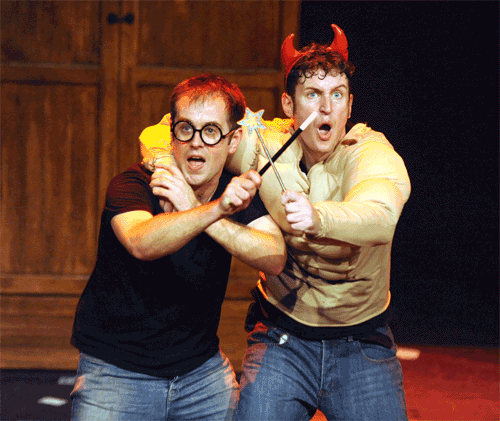 WIN TICKETS
To win tickets to the opening night show on Tues April 22nd at 8pm email

.(JavaScript must be enabled to view this email address)

with Potted Potter in the subject line along with your name, mobile number (so we can conact you if you win) and approx location.

Even if you don't know the difference between a Horcrux and a Hufflepuff, this brilliant comedy will make you roar with laughter. This show is perfect for ages six to Dumbledore (who is very old indeed).
"Inventive, daft fun for all the family that doesn't feel the slightest bit cynical. A winner in every way." The Guardian
"The duo casts the perfect spell over the audience."
The New York Times – Critics' Picks
"Gloriously irreverent. A very lovable romp through Rowling's back catalogue."
Time Out London – Critics' Choice
"I guarantee you'll go positively potty over Potted Potter. Muggle or master wizard, you're going to love this show."
Toronto Star
"A fabulously funny parody."
Daily Telegraph
Posted on Jul 16th, 2018
It's time to hand the event centre tender over to the Peeple'a'Cork. Just give us 100 Saturdays and we'll knock it together. Anyone have a spare trowel?
Posted on Jul 2nd, 2018
It has been very dry over the last few weeks and things are tough all over the country but did you hear about how bad the drought is up in Clare? They haven't won a Munster title now in 20 years.
Posted on Jun 29th, 2018
We have the weather so now all we need is to drive like lunatics, make siestas legal and look a lot more philosophical whilst smoking....
Posted on Jun 19th, 2018
We turn the slightest, most tenuous Cork connections to other countries and their players into blind loyalty so you have a reason to scream 'C'MON ON D'REBELS!' at your telly every night for the next month...
Posted on Jun 12th, 2018
Read our guide to holding up traffic, driving at terrifying speeds through villages and sleeping in your tractor....all so Chinese women can give up breastfeeding...