Win Tickets to Potted Potter
The international smash hit Harry Potter parody is coming to Cork for one week only, as part of a sell-out world tour. The Best Entertainment & Family Show Olivier Award Nominee Potted Potter takes on the ultimate challenge of condensing all seven Harry Potter books (and a real-life game of Quidditch) into seventy hilarious minutes.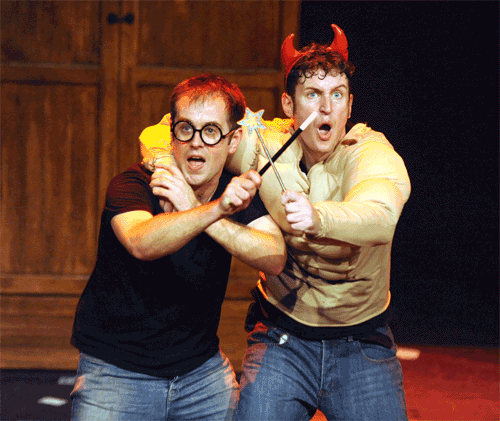 WIN TICKETS
To win tickets to the opening night show on Tues April 22nd at 8pm email

.(JavaScript must be enabled to view this email address)

with Potted Potter in the subject line along with your name, mobile number (so we can conact you if you win) and approx location.

Even if you don't know the difference between a Horcrux and a Hufflepuff, this brilliant comedy will make you roar with laughter. This show is perfect for ages six to Dumbledore (who is very old indeed).
"Inventive, daft fun for all the family that doesn't feel the slightest bit cynical. A winner in every way." The Guardian
"The duo casts the perfect spell over the audience."
The New York Times – Critics' Picks
"Gloriously irreverent. A very lovable romp through Rowling's back catalogue."
Time Out London – Critics' Choice
"I guarantee you'll go positively potty over Potted Potter. Muggle or master wizard, you're going to love this show."
Toronto Star
"A fabulously funny parody."
Daily Telegraph
Posted on Mar 13th, 2018
Make your Paddy's Day in the Rebel County one to remember for all the right and the wrong reasons...
Posted on Mar 1st, 2018
If there's bitterness coming from the east pointing the finger at Siberia and Russia isn't fair. The blame for this weather lies with Waterford...
Posted on Feb 5th, 2018
The ERSI have produced another report saying Dublin is a dump and it shouldn't hog the country's resources but nothing will change because of one hidden line in the report...
Posted on Feb 5th, 2018
How to get the most from your compo claim! Plus read our guide on the best corners to ignorantly leave bags of rubbish once your gaf becomes part of the city...
Posted on Feb 5th, 2018
How often will you be mugged when your area becomes part of the city? And will you still be able to have ten pints and drive home after dropping your kids off to school?