Win Tickets to Maeve Higgins
Win Tickets for Maeve Higgins at the Opera House
Saturday September 1st 2007
It's been non-stop lately for the star of RTE's Naked Camera, Maeve Higgins, who is now set to return home to Cork to perform a 'best of' show at the Opera House on Saturday, 1 September at 8pm. Maeve has decided this gig would be the one to record her first ever DVD, due for release later this year.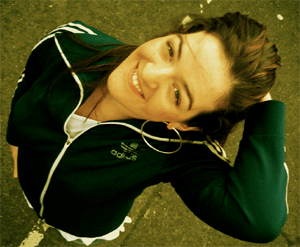 Higgins: the return
After hughly successful gigs at the Edinburgh Fringe Festival this month as well as a sell-out season in Dublin's prestigious Andrews Lane Theatre and various locations throughout Ireland, Maeve has packed up her bags (and perhaps her cake recipe) and is on the road bound for Cork to perform a collection of her best stand up work yet.
In her debut show, 'Ha Ha Yum', at the Edinburgh Fringe Festival last year; Maeve did stand-up while her sister Lilly made cakes. People thought it was hilarious and delicious!
Originally from Cobh, Co. Cork, Maeve began stand up three years ago, and has since performed in comedy festivals around the world, including Edinburgh, Melbourne, Adelaide and Kilkenny.

Maeve rapidly rose to an uncomfortable level of notoriety on Irish television in the past two years, on the most watched comedy show in the country, RTE's Naked Camera. She is also a regular contributor to the Ray D'Arcy show on Today FM and recently appeared as a central character on 'The Modest Adventures of David O'Doherty'.

"a master of edgy comedy" - The Sunday Times
WIN WIN WIN WIN WIN WIN WIN WIN
Being self proclaimed big PROC fan Maeve has given us a bunch of tickets to give away to loyal PROC users so if you'd like to win a pair of tickets for Maeve Higgins live at Cork Opera House on Sept 1st email .(JavaScript must be enabled to view this email address) with:

1. Maeve Higgins tickets - in the subject line (so we can search for entries easily)
2. Your full name and mobile number (so we can contact you if you win)

TIP: It always helps to say something nice or give us some feedback, suggestion or ideas for the website with your entry!

LISTING INFORMATION
Venue: Cork Opera House
Date: Saturday, 1 September, 8pm
Tickets: €25
Bookings:www.corkoperahouse.ie or 021 4270022
Posted on Jan 23rd, 2007
Fancy yourself as a big name comedian with a top spot at the Kilkenny Fringe Comedy Festival? The Craichouse want you...
Posted on Jan 19th, 2007
Alternative Corkonians wanted to represent the Rebel County in the All Ireland Final....
Posted on Jan 15th, 2007
Prince Niall is honoured with his own PROC soundboard....click here
Posted on Dec 14th, 2006
We've fired together some of the legendary quotes from Roy Keane in the media...
Posted on Jul 18th, 2005
When the ship goes down you better be ready - especially if its your daddy's yacht...