Why is Cork So Daycint at Science?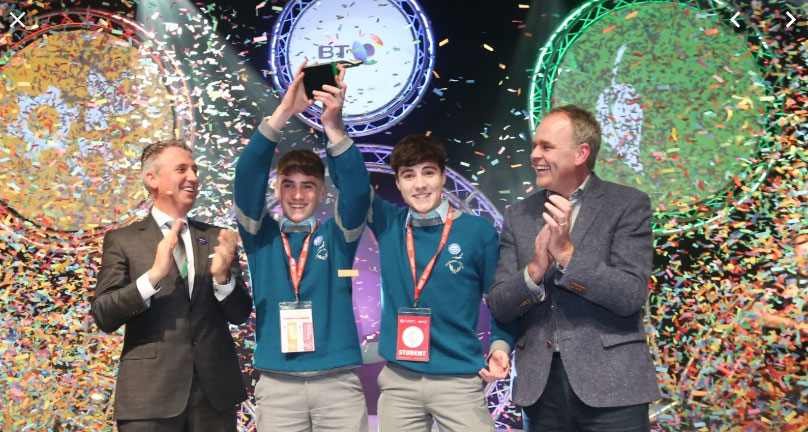 If there are any budding young scientists or secondary school teachers out there looking for an idea for next year's BT Young Scientist competition we have a suggestion. How about doing some detailed research into why Cork students keep on winning the top prize?

We're not joking. After Cormac Harris & Alan O'Sullivan from Coláiste Choilm in Ballincollig picked up the Rebel County's ninth win in 22 years on Friday night in Dublin (where else?), you'd have to start wondering is there something in the water. Corkonians have long suspected they are cleverer than everyone else and who would blame us? The judges presiding over the evidence for our greatness have been the country's top scientists. They know stuff, like.

Since 1998, Cork students have won the award nine times. Dublin, for all its thousands of students attending private schools with eye-watering annual fees and more than twice the population of Cork, has managed a mere seven.

That's some going isn't it? Fair play to us. If you're reading this whilst sitting next to another Corkonian, give them an unannounced slap on the back or a #metoo-compatible consensual hug. Like the day after a Munster final win, maybe you should even take a day off work as a treat. You deserve it.

One of the challenges now for the organisers of the BT Young Scientist exhibition must be to bring the competition to Cork. It has never been outside Dublin so it is long overdue a one-way trip south to the People's Republic of Science.

Look at it this way, every one of Dublin's victories, like their footballers' All-Ireland titles, have been won on home soil while Cork students have always had to play away. This discrimination against us is scandalous.

And they'll say, 'oh Cork is a bit far now for the wee boys and girls from wee Donegal, to travel', but minnows cannot be allowed to dictate. When 'County Wee Daniel' or any other outpost have even half the number of titles Cork has bagged, then they can have a say, but from next year on the competition should be on Leeside.

As we are feeling sciency, we'll call it 'national geographical realignment', but if we have a Cork Taoiseach after the election next month then moving big competitions out of Dublin down to Cork is the absolute bare minimum we will expect from him - we must make hay while the sun shines on Michéal's glistening crown.

Looking down through the list of winning Cork projects over the last twenty years, it is striking how diverse they are but also how relevant they are to everyday life. Some like Liam McCarthy & John D. O'Callaghan's looked at somatic cell count in milk production, others like Aisling Judge came up with a biological food spoilage indicator while this year's winning project looked at gender-stereotyping in 5-7 year olds.

After a few well publicised incidents last year involving teenagers, the doom about Ireland's youth posted by adults on social media is in stark contrast to the mind-blowingly clever and articulate young people who take part in this competition every year.

How could you be worried about Cork's youth when two young fellas, curious about why when it comes to choosing Leaving Cert subjects in transition year so many girls shied away from science subjects, not only showed that gender stereotyping occurs as young as 5 years old but also came up with a 'toolkit' for teachers to counter the problem. Why haven't the well paid mandarins in the Department of Education ordered this research to be done years ago and why haven't primary school teachers been given the means to counter gender bias?

It might be something to do with the fact that the government department is in Dublin and led by a Minister from Donegal– neither a science stronghold. There have been fourteen Cork students involved in our nine wins, eight boys and six girls – just one short of perfect gender bias. With statistics like that moving the department to Cork and putting Corkonians in charge of must should surely be another one of any Cork Taoiseach's priorities.

And if you think the next generation has been forever hypnotised by their phones and face a lifetime of social isolation, cyber-bulling and twitchy eyelids, enter fourteen year-old Cork's Ava Hynes from Coláiste Treasa in Kanturk who won the individual runner-up prize on Friday night.

She collected data from a whopping 792 secondary schools around the island on just that – with young self-aware scientists like these (just like the climate change protests that are largely down to secondary students) there is no fear that the next generation will not be able to solve new problems that affect people their age. Cork's future is in very safe hands.

Rebels Abú!
Posted on Sep 21st, 2020
Our low-key 20 year celebrations begin with a flyover of the city centre by the PROC air force and a military parade...
Posted on Sep 14th, 2020
With ten times more covid in Dublin than in Cork, public health officials should try to communicate with Dubs in a language they understand...
Posted on Sep 3rd, 2020
Military drone will detect suspected student parties by searching for clusters of tik tok app users and cross referencing it with the smell of bedsit mould and puke...
Posted on Aug 3rd, 2020
And beours too, obviously, like. A few words about our new traffic box art piece on South Mall...
Posted on Jul 31st, 2020
Rule no.1 if you're coming down from the NTMA in Dublin to show your street train plans: don't photoshop a Dublin LUAS on to Cork streets. We are better than that, feen..