Who Now? Kingston's Resignation Should Teach Us A Lesson
The rumours had been flying around for the last few weeks. They came on the back of very upbeat assessments of the 2017 hurling season: no All-Ireland for Cork but a Munster title and coming within a sending off of getting to play Galway in the final is a far cry from the disastrous 2016 season. We were sceptical.

Had we been three goals down to Waterford after fifteen minutes in the All-Ireland semi-final or evaporated in the white heat of battle in the Munster final against Clare you'd say something. Fans would have had their doubts that Kingston was the one to lead us to ultimate glory next year. Instead fans have considered him a saviour.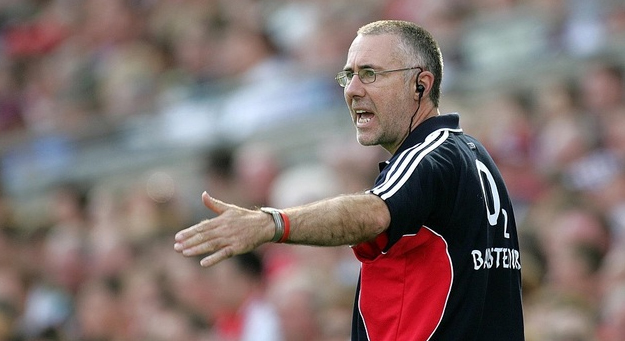 John Allen was the last teacher to manage the Cork hurlers.
Even if he packed it in last year you could make some sense of it. Trudging out of Semple Stadium having been knocked about by minnows Wexford, Cork fans might have understood if Kingston decided he had had enough – there were thousands of us who felt pretty resigned leaving Thurles that day too.

Seemingly premature resignations are a trend in Cork hurling however. It was a surprise when Donal O'Grady called it a day after winning the All-Ireland back in 2004. O'Grady nearly got there in 2003 – his team just pipped by Kilkenny in the final but he came roaring back the following year. The Cork team he had nurtured looked invincible after beating Kilkenny in '04 but the temptation of bagging back-to-back titles wasn't enough to keep him in the job.

Despite the rumours suggesting it might happen, when Kieran Kingston decided not to accept the county board's offer of a further two year term last Saturday morning it still came as a shock to most Cork fans. When banisteoirí step down there's always a 'hurling reason' – usually they have reached a natural conclusion - they've given it all they can for a few years, it's not working, they move on.

If you drew a graph of progress under Kingston between 2016 and 2017 it would feature a steep upward curve. If you went back and included the 2014 and 2015 seasons under JBM it looks just as impressive. If there was a simple short phrase on every Cork fan's lips that summarised the 2017 season under Kingston it would be "we're back". Back in contention. Back putting real fear into the opposition. Back lifting silverware.

The team's performances this year ensured many fans slept easy knowing Kieran was pulling all the right strings. Three wins in a row in the Munster Championship left even the most cynical, doom merchants among Cork fans in no doubt that things couldn't be as bad as 2016 and 'Wexfordgate'.

From abandoning the brief flirtation with a sweeper system to bringing in a swathe of superb young bloods like Mark Coleman, Darragh Fitzgibbon and his own son Shane, we were all sure Cork hurling was back on an upward trajectory. It may still be, but now without the steady hand that steered us out of troubled waters fans will not winter as comfortably as we might have had Kingston stayed on.

The mild mannered, ever likeable, Tracton club man has given five years to the cause (two in charge and three as selector and coach under JBM) and it has been cited that he has to spend more time working on his business. With the commitment required of inter county managers these days who can argue with that?

Kingston did not have the luxury of being able to take a year long career break from teaching like Waterford manager Derek McGrath nor have the long holidays and shorter working days afforded to school principals like Brian Cody.

Sure, look at St. Finbarr himself – a teacher by trade. He had so much time off he founded the greatest city in the world.

Easy for him.

If he had been an medieval innkeeper in Gougane Barra dealing with wild Kerry bandits or running his own alchemy business out of a darkened den near Macroom he wouldn't have had the time to follow the River Lee and set up his own personal paradise on the big marsh.

Having the spare time to pour over statistics, video footage and deal with media queries is grand if you work only half the hours of your rivals. Notably, the last three Cork managers, Jimmy Barry Murphy, Gerald McCarthy or Denis Walsh are not teachers either.

In fact, the last two teachers that took charge of the Cork hurlers won All-Irelands – Donal O'Grady and John Allen. No teacher has taken up the post since.

Maybe there's a lesson in that for those choosing the next Cork hurling manager.
Posted on Oct 8th, 2018
The building boom is back. Are you a hospital consultant thinking of getting into attic conversions or the CEO of a Fortune 500 company that fancies a career in roofing? Then know how proper langers treat their customers....
Posted on Oct 1st, 2018
In Europe's friendliest city more than one bicycle is stolen every..eh....several days. That's a whopping 0.05% of the population. Be careful out there....
Posted on Sep 17th, 2018
An 83 year old man foiled a three-man raid in Glanmire last Saturday evening and in the process delivered a beautiful kick up the arse to one of the humiliated raiders. Who else needs a Dinny Funt?
Posted on Aug 27th, 2018
A buskers' code agreed between buskers, traders and residents is well worth pursuing before wrapping ourselves up in legal knots and slapping low-income buskers with fines...
Posted on Aug 15th, 2018
It has been rumoured for years that Bob Marley lived in Cork...and possibly still does. Only that can explain the manic devotion to the reggae superstar on Leeside...