'What About My Right to Jaywalk, Neil?'
Cork City Council recently started implementing a well flagged three hour ban on private vehicles on the world famous street known for its beauty and charm from Tubbercurry to Tibet.

Gardaí from the traffic core and traffic wardens have been out in force flapping madly at confused motorists while high vis armies erect the final few signs around the area to prevent motorists from entering the street. The signage declares that only buses, taxis and bikes can be on Pana from 3.30pm until 6.30pm every day. Forever.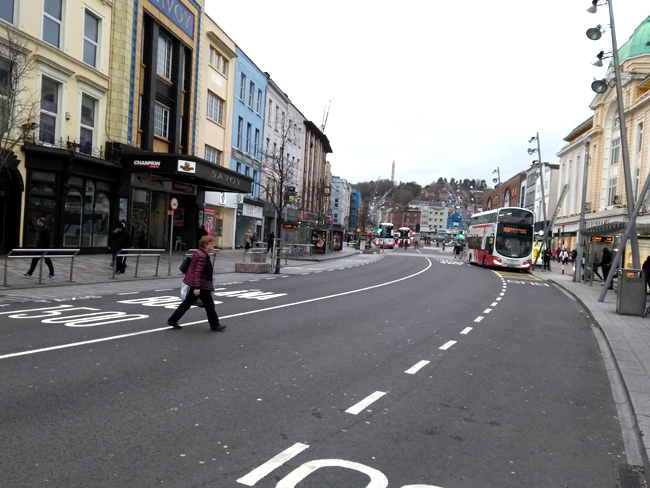 Mrs. Tumbleweed crossing Pana at 5.30pm

Yes, that's a seven day week thing, feen. No more Saturday afternoons cruising from Patrick's Bridge to Daunt Square revving the Roy Keane out of your mam's 98-C ford focus at old dolls who don't even register it.

Cork Jaywalking Federation has come out strongly against the new rules. The C.J.F. is the umbrella group for a number of groups including Cork City Jaywalker & Joyriders Association, Munster Street Mincing Group, The Rebel County Gait Club, Newmarketonians With Attitude (NWA) and the Marsh Action Group for Jaywalkers Rights - Grattan Street Battalion (as many readers will know The Portney's Lane Battalion recently withdrew over a dispute involving a blackthorn stick and a pedestrian light).

The C.J.F. are incensed by the reduction of traffic on the city's main thoroughfare seeing it as an affront to the jaywalking tradition. The federation's spokesman Stephen Walkman from Turner's Cross, himself a two-time Premier Intermediate jaywalking champion (Seandún Division) has been vocal in his criticism of the new initiative.

"If one of our members wants to cross Patrick Street while checking their phone they expect cars to screech to a halt but what are they going to do now with a vastly reduced threat to their safety? What about their right to the risk of being permanently paralysed from the neck down?"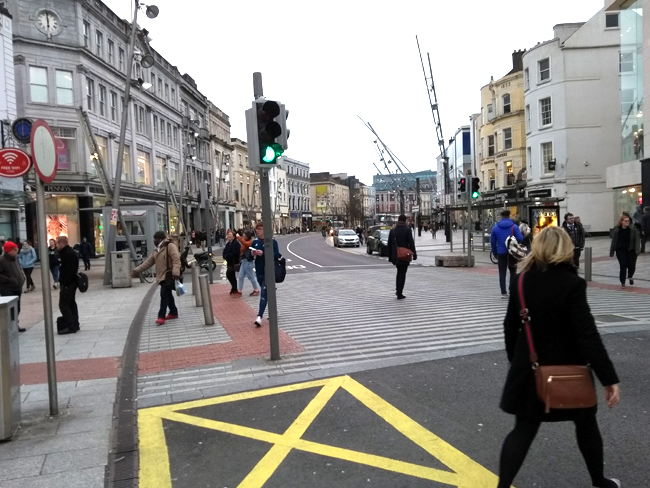 Disorientated jaywalkers wandering aimlessly around Pana during midweek rush hour

Walkman believes this is another nail in the coffin for Cork's precious heritage and culture and that the council are destroying it by taking the cars out off the street.

"Walking blindly without a care in the world across our main street is a God given right that we are prepared to go to prison for," he says, "we're not going to move to Dublin like the council seem to want us to".

The new arrangement has also sparked fears among many prominent jaywalkers about the decision making process by the local authority.

"They haven't a clue, that crowd," says Imelda Legger, from Sunday's Well who claims to have a degree from 'the university of life'.

"Don't mind your properly researched evidence, lists of economic benefits seen by similar schemes in other cities, the clear advantages of pedestrianising urban spaces, improved air quality and reduced risk of fatal accidents involving pedestrians. We were grand the way we were!".

The car ban will also have a positive effect on loading and taxi bays on the street which are often obstructed by private cars pulling in "for tooooo seckinds there lah." Despite this, well-known Leeside taxi driver, Matty Hornbeeper from Fair Hill, is also outraged.

"Was there a ban on cars in the 1700's and 1800's? Course not. Back then Cork people had proper freedoms. We are being oppressed by the fat cats. They're turning Cork into a police state now. What's next? Banning Northsiders from Shandon Street? If they do, I'll be gettin' on to PJ and Neil. They're the boys to sort out the city council."

"And while we're at it they turned me down for planning for a greyhound hotel in my back garden. Sure, what do they know about dog racing? I'll tell you what I do know though boy, Cork is gone to the dogs altogether."

The Cork Jaywalking Federation are considering a mass protest and could encourage their members to abandon the city and move to another, more dangerous, traffic hot spot sparking fears of greatly reduced footfall among traders.

"I don't like saying it," says Walkman, "but we've had offers from Carrigaline and Ballincollig where our members could exercise their right to jaywalk in proper traffic chaos. Those places are choked with traffic most afternoons where we could walk blindly across the street nearly being hit by cars."

Should there be protests Mr. Walkman says the council will have drawn the resistance on themselves.

"They'll have walked themselves into it."
Posted on Mar 27th, 2018
At Shaky Bridge Analytica we throw more shapes than a Midleton dance school and more balls than a Southside driving range. We specialise in data analytics and metaphors...
Posted on Mar 27th, 2018
At Shaky Bridge Analytica we throw more shapes than a Midleton dance school and more balls than a Southside driving range. We specialise in data analytics and metaphors...
Posted on Mar 20th, 2018
The campaign for a second series of the hilarious Cork comedy starts here....
Posted on Mar 13th, 2018
Make your Paddy's Day in the Rebel County one to remember for all the right and the wrong reasons...
Posted on Mar 1st, 2018
If there's bitterness coming from the east pointing the finger at Siberia and Russia isn't fair. The blame for this weather lies with Waterford...