'Welcome to Cork' Street Art - Part 2

If you take a look at Not Cork these days you might find it scarier than usual. There are political langballs all over the shop trying to divide nations and reverse integration and tolerance. We shouldn't take Cork's contrasting harmony for granted. Let's make sure all our foreign visitors and residents feel welcome...and let's have a bitta craic doing it!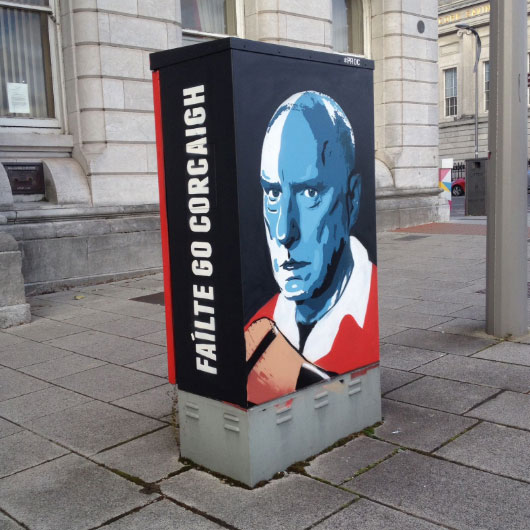 Australia
South Mall (Parnell Place junction)
Australian box features Alf Stewart from Home & Away, an Australian soap much loved in Cork for decades. We reimagined him as a Corkonian playing hurling alongside Christy Ring with his characteristic no nonsense attitude delighting Rebel fans.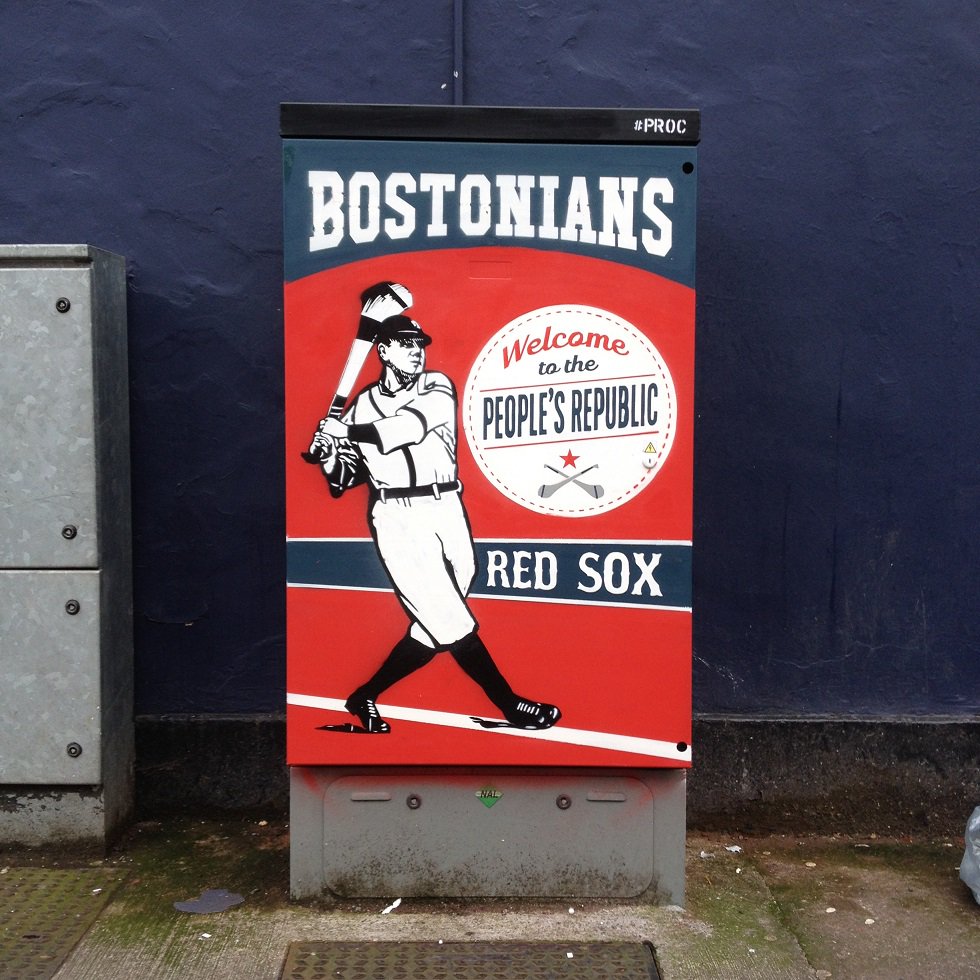 Boston
Washington Street (side of Chambers bar opposite the courthouse)
Finally Cork has transatlantic flights and there was such a battle to get them that we need to make sure we keep them! We wanted to extend a big Cork welcome to Bostonians visiting the city so we gave one of their much-loved Red Sox baseball heroes a hurley to see how he fared.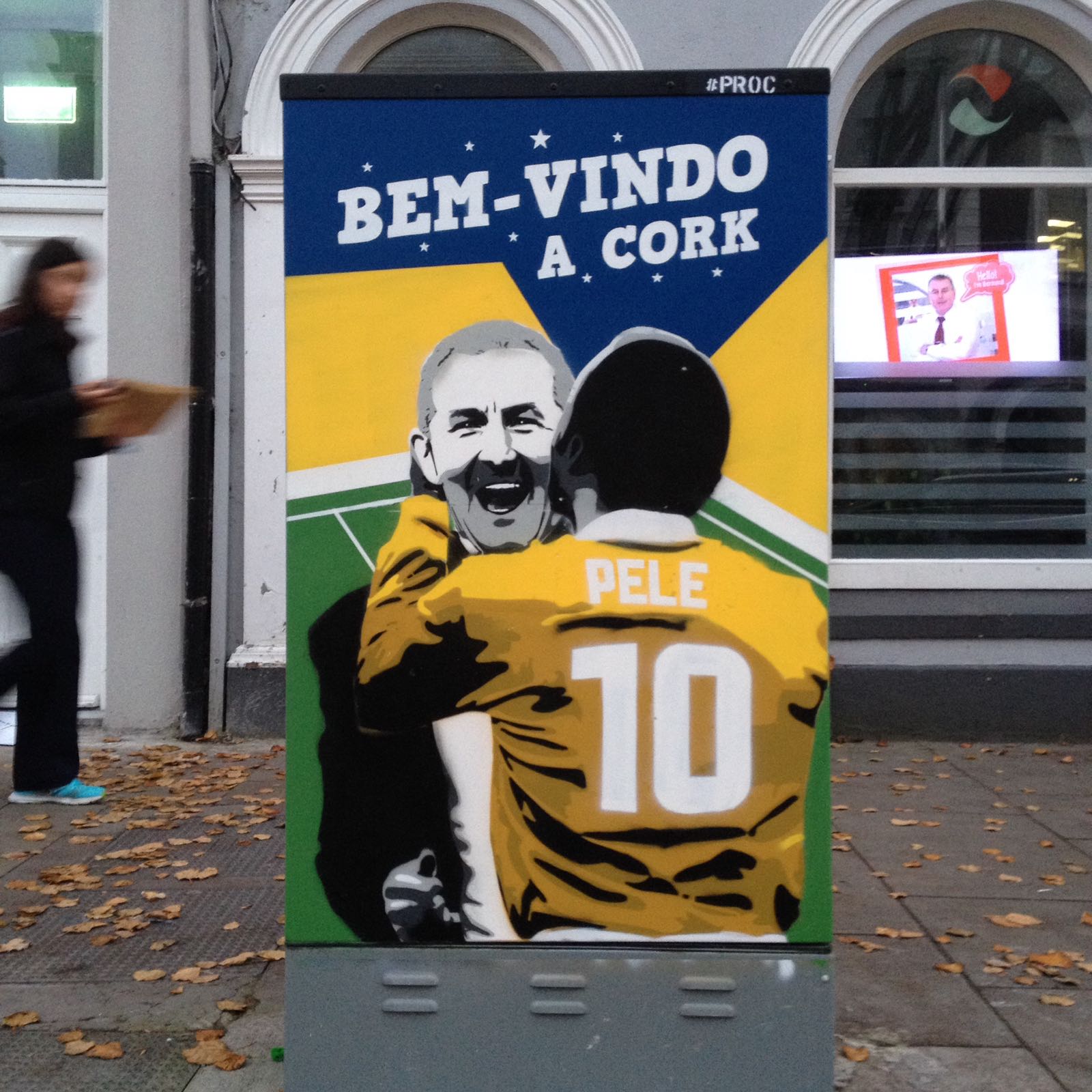 Brazil
South Mall (a few doors up from Electric)
John Caulfield just guided Cork City FC to the 2017 league and cup double. Here he is in a new take on the iconic photograph of the famous embrace between Muhammad Ali and Péle in 1977. 'Bem-Vindo a Cork' is Portuguese for 'Welcome to Cork'.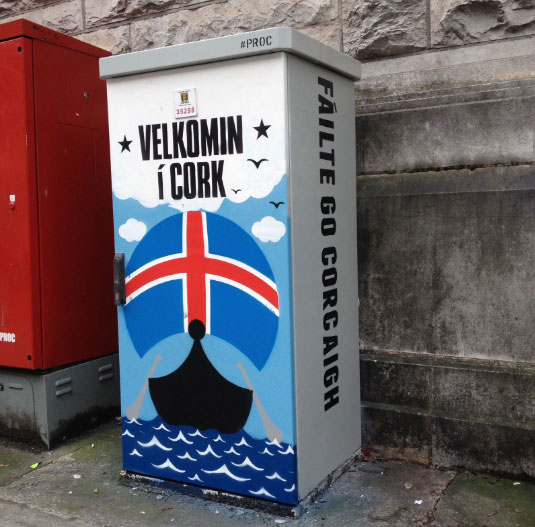 Iceland
Washington St. (side of St. Augustines Church)
Those who say Cork is too small to become an independent nation should take note that Iceland has a smaller population than the People's Republic. With a common grá for the sea it's great that Cork and Iceland now have a direct flight. We look forward to their invasions – this time they won't be robbin' our wimin folk or our golden chalices though. Just gattin' on.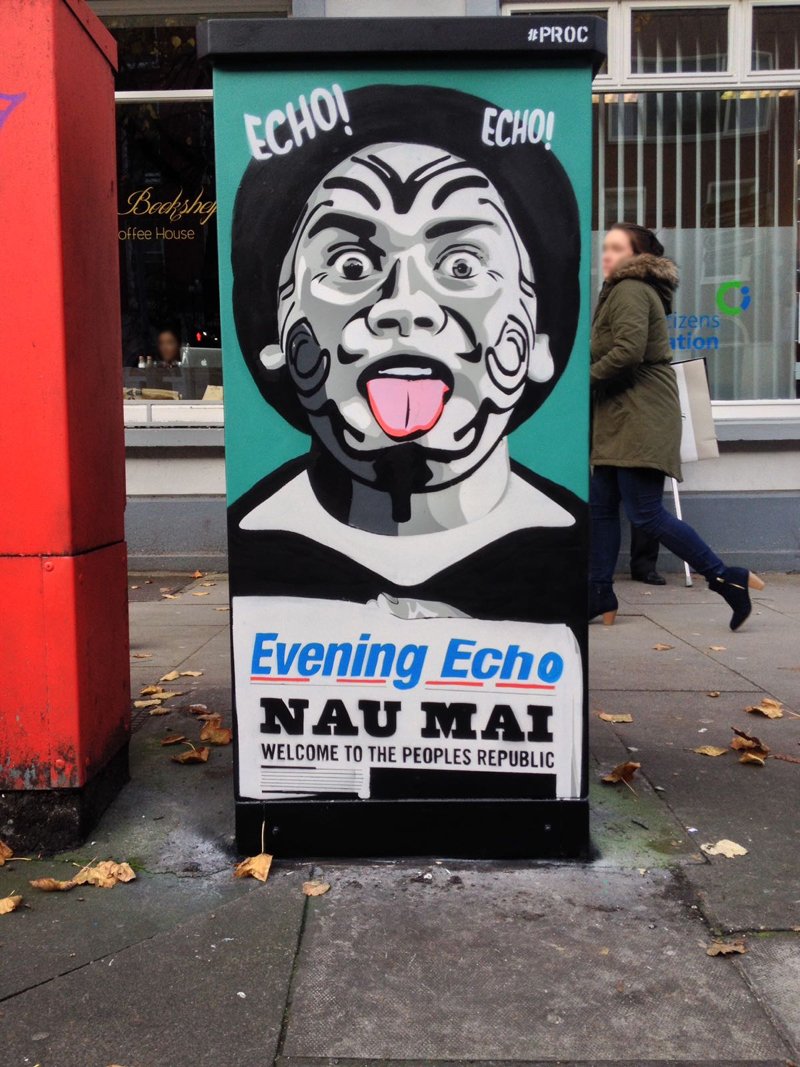 New Zealand
South Mall (at Pembroke St. junction)
We thought they might coming for the Rugby World Cup in 2023 but the Dubs, Leo and Drico are after making a bags of it. Still though, we send enough Corkonians out there that we ought to welcome any Kiwis here with open arms. "Nau Mai" means 'Welcome' in Maori.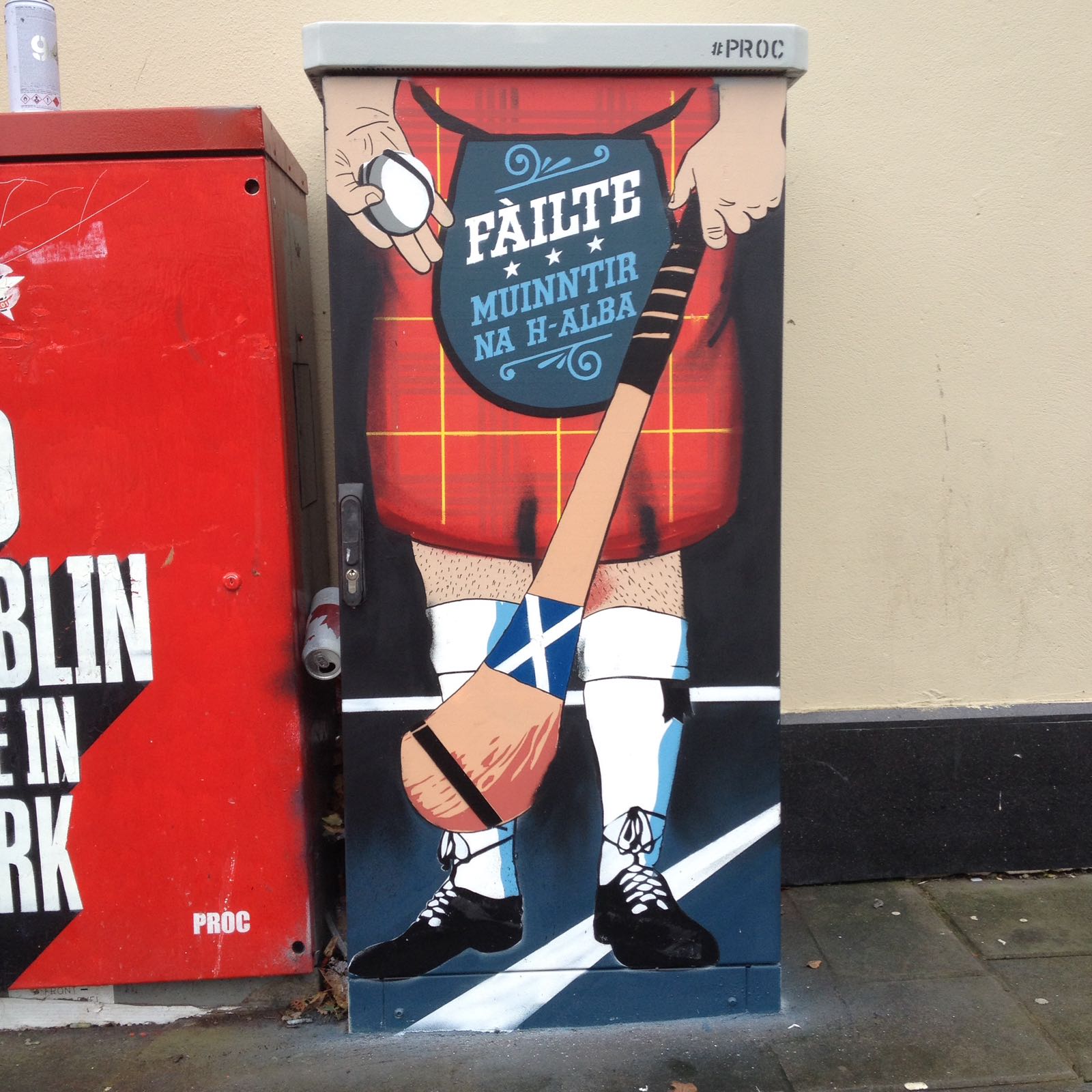 Scotland
North Gate Bridge (outside Super Macs)
C'mere don't be tellin' us the fada is the wrong way on the Fáilte! That's how they do it in Scotland. Fáilte Muinntir na h-Alba is Scots-Gallic for 'Welcome, People of Scotland'. Pure sound the Scots, like – mad for the craic.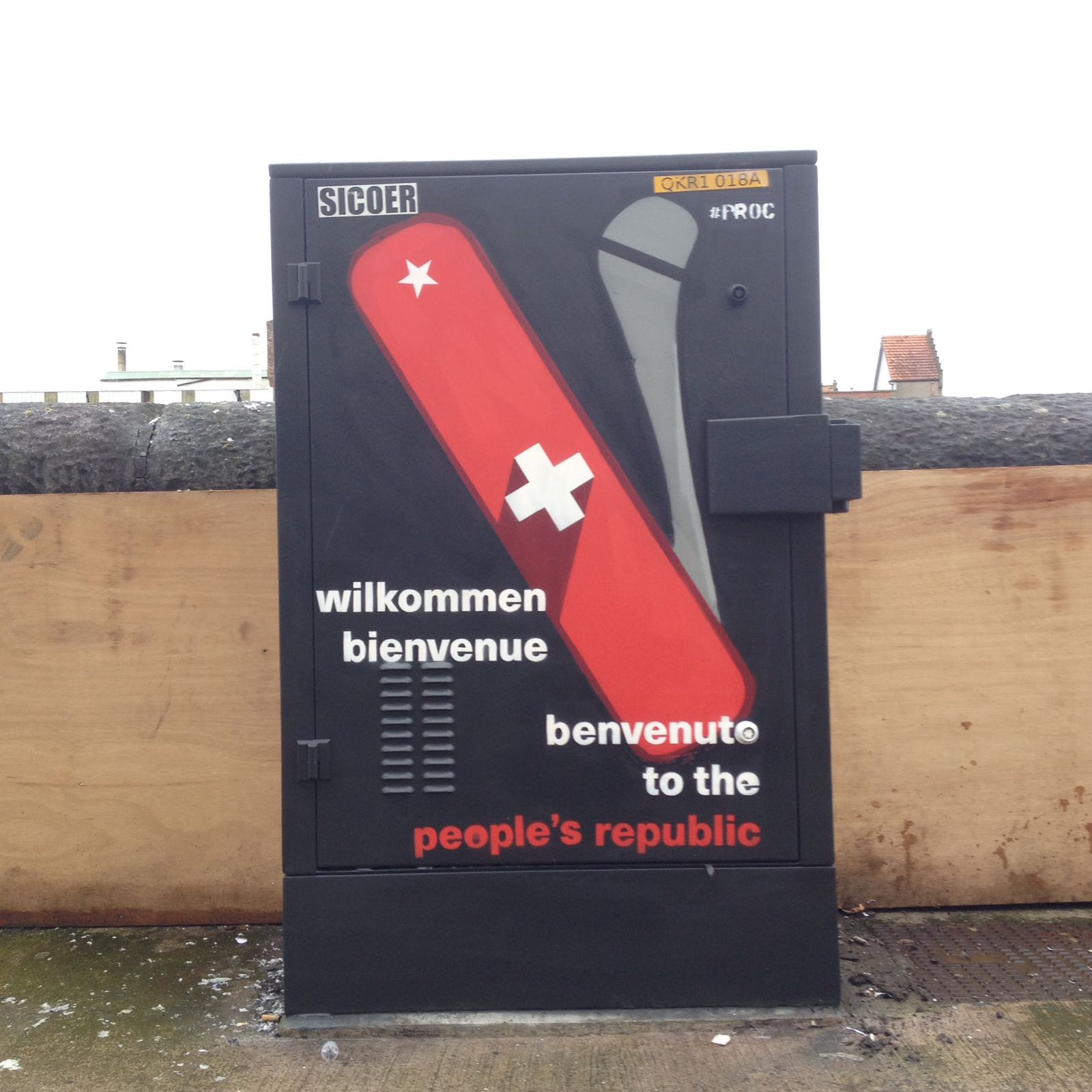 Switzerland
French's Quay
What Cork young fella worth his salt didn't have or desire a beautiful Swiss army knife when they were growing up? Hurley in one hand, penknife in the pocket – total security against scobes! We love the independent, almost contrary, attitude of the Swiss – they've no interest in joining any economic club or common currency. They are trying to learn how to have the craic though – lucky they've direct flight to Cork from Zurich then!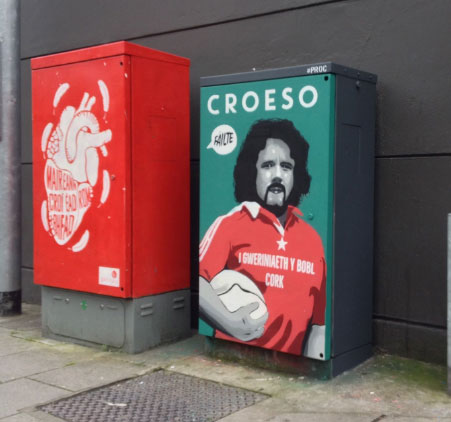 Wales
MacCurtain St. (outside the Colla Bolla)
Two things come to mind when you think of our near neighbours on the other side of the Irish 'Wee' - rugby and a language with the longest vowel-free words you've ever seen. Who better than one of the most respected and recognisable Welsh rugby players than Adam Jones to attract the eye of our Welsh visitors then. His geansaí says "The People's Republic of Cork" and Croeso means 'Welcome'.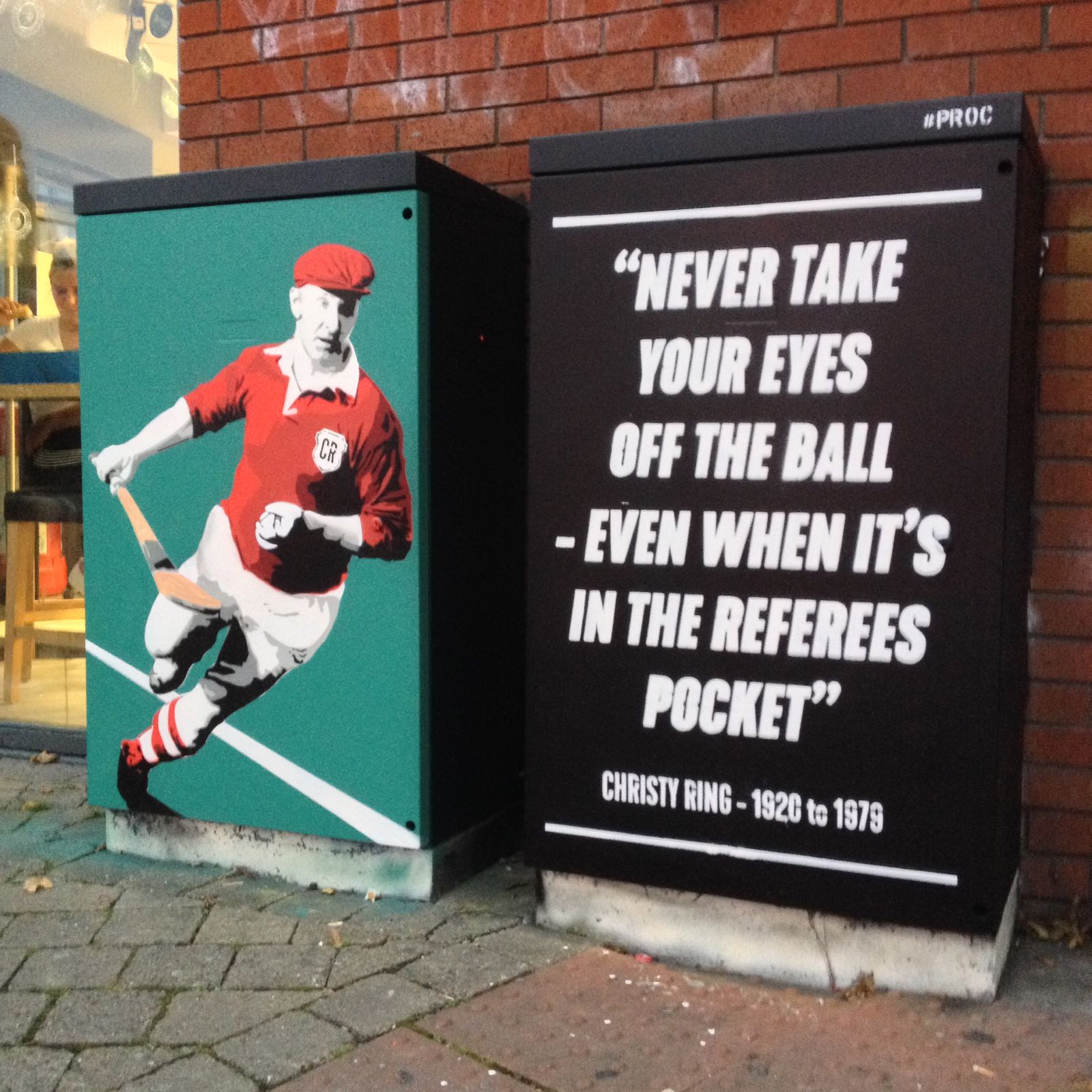 Christy Ring – The Greatest Hurler That Ever Lived
Christy Ring Bridge (Pope's Quay)
He won eight All-Ireland medals with Cork and this was long before there was a championship backdoor. There are dedications to many Cork heroes around the city streets but we needed to honour this Cloyne and Glen Rovers legend. Where better to place this homage to Christy than next to the bridge that bears his name.
Posted on Jul 16th, 2018
It's time to hand the event centre tender over to the Peeple'a'Cork. Just give us 100 Saturdays and we'll knock it together. Anyone have a spare trowel?
Posted on Jul 2nd, 2018
It has been very dry over the last few weeks and things are tough all over the country but did you hear about how bad the drought is up in Clare? They haven't won a Munster title now in 20 years.
Posted on Jun 29th, 2018
We have the weather so now all we need is to drive like lunatics, make siestas legal and look a lot more philosophical whilst smoking....
Posted on Jun 19th, 2018
We turn the slightest, most tenuous Cork connections to other countries and their players into blind loyalty so you have a reason to scream 'C'MON ON D'REBELS!' at your telly every night for the next month...
Posted on Jun 12th, 2018
Read our guide to holding up traffic, driving at terrifying speeds through villages and sleeping in your tractor....all so Chinese women can give up breastfeeding...