We Can Manipulate the Weather
It's time we put our heads together and did something about this awful weather Mother nature is forcing down our throats (and the backs of our necks).
Weather experts are saying the cause of such a drab summer so far is that the "jet stream" which is the long strip of air between the cold low fronts to the north and the warm highs to the south (and not those long white clouds coming out the back of high flying jets that kids call 'Santys farts') is pushing good weather too far south and we're missing out on a real summer.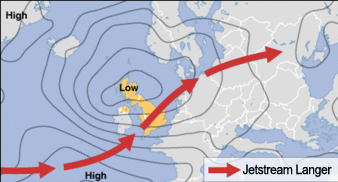 The low is pressing south stopping the high coming up: the whole bloody time like.
Corkonians, sick of hearing about global warming, assume nothing can be done except to keep recycling their tanora bottles and consider voting for Dan Boyle. Until now.

Blue Sky Thinking
We propose to set up a new office at the top of the Elysian over looking the city called The People's Republic of Cork Weather Modification Bureau which will dictate weather policy for the county. From now on there'll be no such thing as trying to predict the weather – we'll just tell you what it's going to be.
How cloud seeding works. Put away your umbrellas fellas!

Modelled on the Chinese we-couldn't-give-a-hoot-once-it-suits-us version in Bejing which ensured that it never rained at the 2008 Olympics the new bureau will have a number of tools at its disposal to make sure the weather on Leeside gets a lot better.

'Cloud seeding' involves spraying clouds with silver iodine from a small plane to induce rain. This will be performed off the coast of the Beara Peninsula so that all clouds are rained out before they hit the Cork coast. The Chinese have been at this for years but it's not talked about in Europe in case the the continents' sunny summers might be affected – meanwhile our beaches and parks are deserted.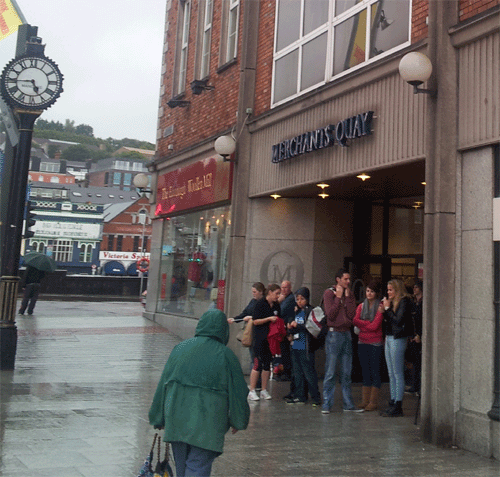 Midsummer me hole. Time to put cloud seeding on the political agenda.
Winds of Change
Did you ever leave Cork airport on a manky cloudy day and within minutes find yourself a few hundred feet above the city in glorious sunshine? A seemingly childish thought pops into your head: if only we could blow those bloody clouds away it'd be gauwrgisssss.

Before the Wright Brothers went airborne how many people had similar "childish" thoughts about humans flying like birds?

Our proposal is to reverse all those wind turbines around the county by hooking them up to huge diesel generators. We'll point the blades up at an angle and then blow the clouds away to reveal bright blue skies, lifting the spirits of Corkonians and thoroughly drying out soggy suburbs like Douglas and Ballyvolane.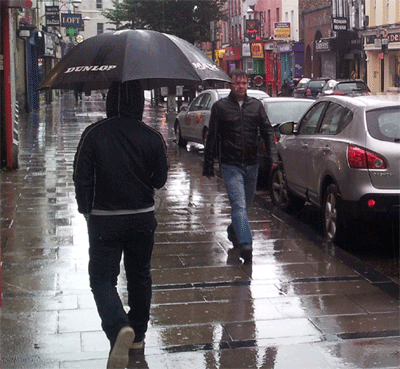 North Drain Street
Sunshine on Demand
The budget will be limited so we won't be able to ensure sunshine all year round but the bureau will receive submissions directly from Corkonians who will be able to write emails and letters to the chief explaining why they need particularly good weather on a given weekend.

For example a west Cork town might be hosting an open-air organic sustainable pesto festival or JBM might need dry weather for the Pairc if he is planning a fast paced game. As long as Cork farmers are ok with it and there's enough moola to power the technology then HQ will give the thumbs up for a fine weekend. Huzzah!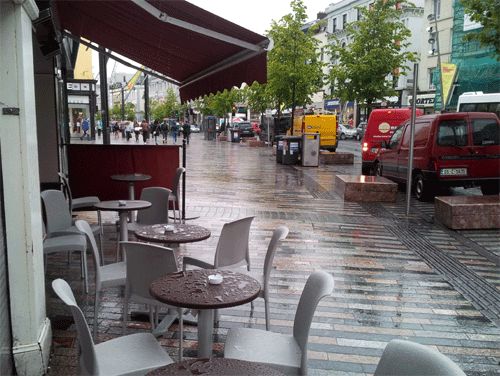 A sodden Gloria Jeans this morning (July 3rd). The PROC weather bureau would burst rain clouds over Kerry and the Atlantic so you can enjoy a tae in the morning sun.
Parents will be assured of good dry weather for summer days to ensure smallies can practice their hurling and football skills outdoors instead of pigging out in front of TV screens and piling on the pounds while their folks stare longingly through foggy windows at the barely-used wooden garden furniture wilting in the grey downpours outside.

The positive mood it will generate among Corkonians will be amazing.
Red Sky At Night: Rebels Delight
To get the bureau up and running we are looking for a few big favours. If anyone has a spare Cesna Centurion 200 out their back garden or eh, knows-someone-who-knows-someone up in the airport who would allow us borrow one without us getting tazered then please get in touch.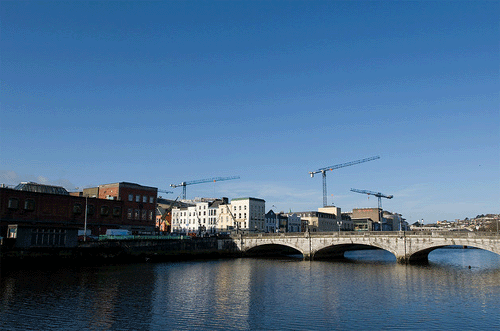 Corkonians will love the blue skies especially when they know it is raining in Kerry

We also need a few fellas who got honours in the leaving cert chemistry exam to knock up the silver iodine required to burst the rain clouds.

Naysayers might say that silver is expensive but we've got that one covered too. We'll open a new shop on North Main Street called "Cash for Silver" (with appropriately gaudy glittery signs) to offer desperately broke people single figure sums for precious jewellery that cost hundreds of euro.
The pilot's licenses will be expensive so we'll need someone with a bit of 'pull' to sort us out there and hopefully spending a lot of time up on Funderland's big wheel in the showgrounds admiring the city will count for something too.

Cloud Nine
You'll start seeing collection boxes around town soon so please give generously. We're hoping for some corporate sponsorship from the sun cream industry and we're owed a few bob from a number of ice cream van operators after mediating in a recent northside turf war so that could mean another few litres of fuel for the Cesna and another hour or two of sunshine.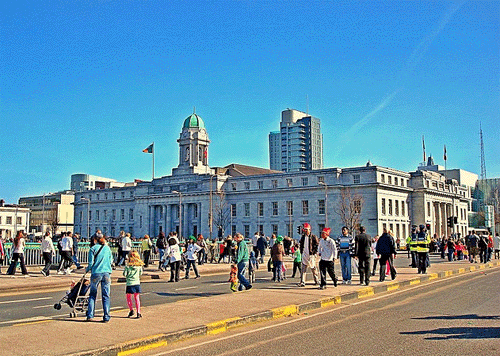 Every weekend will be sunny if we get funding for our weather manipulation bureau.
Anyone for a choc ice and a balm out in the peace park?
Convincing mainstream media and politicians that weather manipulation will make us far happier than shady deals with bankers and Brussels won't be easy but doing so under glorious golden sunshine will certainly help the case.

Keep the faith Cork friends, we can do this. Don't throw the outdoor garden set on the fire just yet.
China's at the cloud seeding craic wholesale:
http://www.theepochtimes.com/n2/china-news/olympic-weather-rocket-science-beijing-2454.html
Posted on May 10th, 2013
As Bus Éireann drivers contemplate strike action here are another five common characters you wish you didn't see regularly on Cork city buses...
Posted on May 2nd, 2013
With such low fares these days, buses to Cork are getting packed out and the chances of you having to sit next to some langball gets higher. Here's our top 5...
Posted on May 1st, 2013
Murphy's are bringing Seasick Steve and a load of heads to Cork for a big hooley in the old Beamish & Crawford Brewery on the June Weekend May 31st-June 2nd...
Posted on Apr 23rd, 2013
It's a blistering nuclear warm 18 degrees and there are feens in t-shirts on Pana. The official end of the longest winter of all time is finally here...
Posted on Apr 23rd, 2013
Out of the last ten games six have had VERY late goals by the opposition to cost the Rebel Army dearly including a draw last Friday and Monday. Woss de story?