Waterford to Blame for Cold Snap Not Russia
Russia is getting the blame for this week's intense cold snap as air temperatures dip slightly below the temperature of Vladamir Putin's body. The wind blasting in from the east is more bitter than Arlene Foster in a barrel of lemon juice - spend five minutes outside without the right clothing for a second and your shivering jaw makes you sound like a skipping Sultan's of Ping CD – W-w-w-w-where's me (big thick woollen) jumper?

They might be to blame for everything from civil wars and election interference to oil prices and the lack of progress at the event centre but we feel the Russians have been unfairly treated this time round.

As far as any real Corkonian is concerned that easterly wind searing its way into Cork from over the beautiful Blackwater river in Youghal is coming from Waterford not Russia. That's right, Rebels, this easterly wind and the sub-zero weather is to be blamed fairly and squarely on the Deise.

Thanks a lot, lads. Some neighbours you are.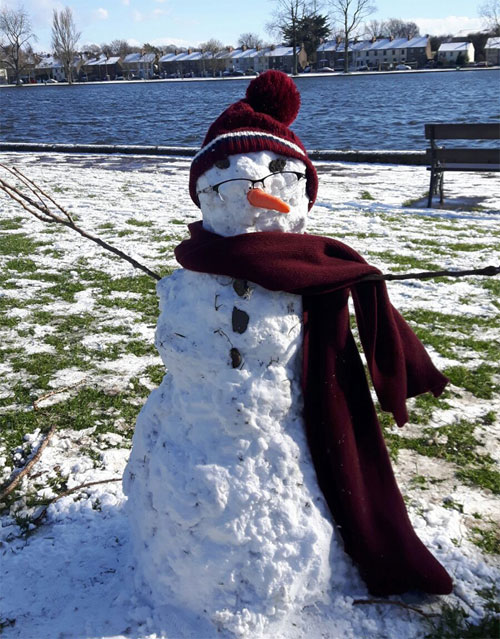 A Bishopstown GAA fan at the Lough yesterday (Pic: K-dog)

Their hurling fans brought it with them to Páirc Uí Chaoimh on Sunday. You could feel it arriving around midday too carrying the pungent smell of chips, burgers and mouldy blaas over the border. No matter how well you wrap up and no matter where you sit in the stadium that kind of bitterness finds its way into your Cork soul.

It even affected our footballers. They lost badly to a team called Cavan – a townland somewhere north west of Dublin masquerading as a county. It has a population roughly equivalent to the population of EMC-Dell in Ballincollig - if you take out all the male staff, the canteen staff and all the female staff who aren't called Assumpta. But that's where we are with football these days.

Admittedly, all teams had to play the same conditions but here in the deep south our fellas wouldn't be used to these conditions whereas yeti-men from Cavan would consider these conditions to be a normal working environment. Optimum operating temperatures, if you will.

Cork were certainly not a well-oiled machine. Chief mechanic Ronan McCarthy has some serious diagnostics to run before he begins work on reassembling the county's footballing engine.

This is not a blown head gasket catastrophe that means your beloved bone shaker is on a one way trip to the breaker's yard – the national league is like a main dealer warranty – no matter how much you mess it up you get to go back to reset the damage in May.

However, if your vehicle keeps experiencing one problem after another, week after week, then both the drivers and the passengers begin to lose faith - and that's hard to reverse.

If Sunday's 'hard shoulder' performance has you more troubled than the fear of Lough Mahon freezing over this week then just keep repeating the words 'the double is still on' and try to vision yourself melting in the blistering July heat of a victorious Munster final against Kerry in the Páirc (and would it be so bad if we all got to have a bash off 'Mahon on Ice' for free at the weekend?!)

The hope was the 'small ball' main act would help us thaw out after the footballers froze. It wasn't as chilling as watching the football but it was far from the soothing relief of the roaring winter log fire we so desired. A five point loss to Waterford with fourteen men, a new midfield pairing and a green horn centre back isn't the end of the world.

Nobody likes to shout about the aggregate score directly after the match but it's important to point it out to your gloating Waterford 'friends' that they actually lost the weekend overall.

Yes, at Turner's Cross on Friday night Waterford United were beaten 2-0 by a rampant Cork City FC – Gearóid Morrissey and Garry Buckley providing the damage. Even George Hook would know that's worth six points and the Deise's hurlers could only manage a margin of five on Sunday.

You don't have to be a genius Russian computer hacker to know that means Cork won the weekend by a point. And as for that bitterly easterly wind –what Corkonian wouldn't be in favour of building a border wall with Waterford now?

Posted on Jan 7th, 2019
Stick in your headphones, turn off your bike lights and throw away your helmet - everyone knows you can't die if you're under 25...
Posted on Jan 1st, 2019
Just what you needed to make you feel worse about your dizzying hangover and your half-baked new year's resolutions to get fit....
Posted on Dec 30th, 2018
Our recommendations to improve the pure purity of your pure Corkness in pure 2019...
Posted on Dec 20th, 2018
From toasted specials and hot ports to big wheels and seeing the real Santy...
Posted on Dec 10th, 2018
Fancy yourself as a Cork bus driver? Can you whistle the same tune over and over again for hours on end whilst trying not to turn crazed cyclists into oily sandwiches?