Uninsured Driving Lessons

With rising insurance costs reducing both the posh and madeee factor of your vehicle will put you outside the law which forces you to give your wages to the posh langers who run insurance companies so they can afford a landrover and RCYC membership. Langers.
The velocity you are traveling at will not allow you to read signs accurately. Indicate to traffic that you intend to pull in from the main carrigeway for a thorough sconse at them.
No white things, no bikes, no travellers on pieballs and no walking with mad gatches. Road signs like this state the law which is valid everday except on Sunday mornings.
Caution and astute road awareness are essential while at the helm of your new vehicle especially with the increased number of poshies around driving unnecessarily big landrovers.
A firm grip on the wheel will give you full control of your road eater although it is not clear what exactly Bin Murphy is grabbing here.


Murphy begins to indicate that he will be merging with traffic approaching from his rear.
Occasionally your vehicle will suffer minor damage like wheel loss (front left in this case). Altering your propulsion technique is all that is required to maintain full speed.
Bin Murphy demonstrates the practicalities of driving a smaller vehicle here in Douglas Court Shopping Centre with perfect parallel parking technique. No insurance to pay means more grade to buy stuff.
Leaving your vehicle unattended is unwise as you are not insured for theft. Stalling on until some feen you know comes along who'll go into Dunnes for you is the job while you get a well earned rest.

Also take a sconse at today's articles on Avoiding Insurance andReducing Premiums
Posted on May 3rd, 2007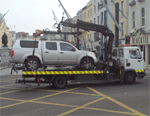 The right to silence in a taxi, magic keys for all checkout girls and the end of gammy looking buildings..
Posted on Apr 26th, 2007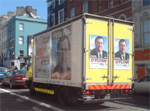 Noelies truck might be booming around town but can he match the PROC's election promises..
Posted on Apr 3rd, 2003
Could Bob Marley's music be the answer to reducing insurance premiums for young drivers?
Posted on Apr 3rd, 2003
Driving a low cost vehicle is essential for young drivers being ridden by the insurance industry....
Posted on Nov 26th, 2002
There's mayhem on Maylor Street as an attempted invasion of Cork by the FAI is taking place. Its time for you to go into action against the enemy in our New† Shoot 'Em Up Game.