Toddler Emailing Mam's Boss While She Blacks Out on Couch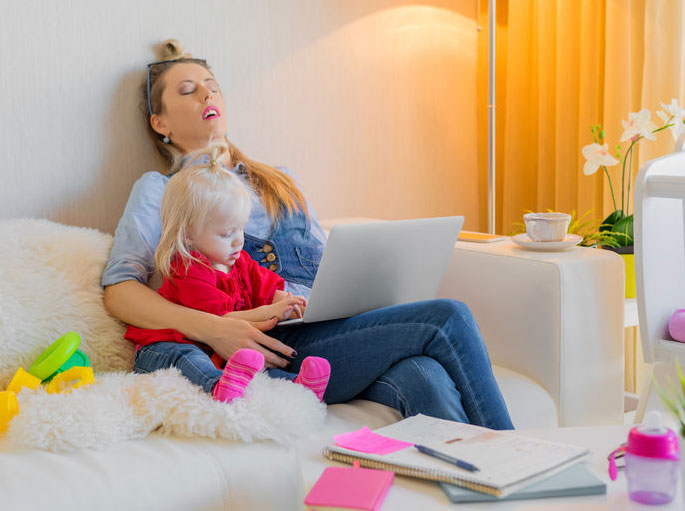 Wendy Buttimer, age 2 and one quarter, from Blarney has decided to send an important work email on behalf of her mam while she nodded off on the couch.

Cornetta Concepta Burke, 33, who works for a Cork tech company, has been asked to work from home in light of the national lockdown and is under pressure to send a quarterly report on the company's EU cash flow ledger by close of business tomorrow.

With Wendy's creche closed indefinitely, her mother must also care for her daughter around the clock and has averaged four hours sleep over the last week due to a severe bout of teething.

Finally collapsing into semi-coma on the family sofa this afternoon, the deadline for Cornetta's report looked to be in jeopardy – possibly being the last straw in an already fraught relationship with her boss.

However, young Wendy has decided to help by finishing and sending the email her mam was writing to her boss's boss by bashing the laptop keys repeatedly until the email sent and the screen went black..

Mummy will be so pleased when she wakes up.

Posted on Sep 21st, 2020
Our low-key 20 year celebrations begin with a flyover of the city centre by the PROC air force and a military parade...
Posted on Sep 14th, 2020
With ten times more covid in Dublin than in Cork, public health officials should try to communicate with Dubs in a language they understand...
Posted on Sep 3rd, 2020
Military drone will detect suspected student parties by searching for clusters of tik tok app users and cross referencing it with the smell of bedsit mould and puke...
Posted on Aug 3rd, 2020
And beours too, obviously, like. A few words about our new traffic box art piece on South Mall...
Posted on Jul 31st, 2020
Rule no.1 if you're coming down from the NTMA in Dublin to show your street train plans: don't photoshop a Dublin LUAS on to Cork streets. We are better than that, feen..