Time for Murphy to Go

Should Murphy Go?
Gareth Williams

In a month that has seen the resignation of two of the most senior figures in Irish soccer Gareth Williams decides there is one more on his hit list. Let the rant begin...

Well, I for one have come to the end of my tether. Rumours have been
abound for the last few weeks regarding Jimmy Mulligans future, both
with City and his private life. Well one of those rumours was today was
confirmed as being true. His private life is only his business. But
today it was revealed that James Mulligan has been released by Cork
City manager Liam "Gunther" Murphy, on a free transfer, and seeing as
the transfer window is closed, Mulligan cannot play again until at
least next season.

Mulligan was Derek Mountfield's first signing as City manager a little
over two years ago. He was signed from Finn Harps as a partner for the
previous season's top scorer, Pat Morley. Mulligan's record was a good
one, actually finishing second to Morley in the scoring charts.
However, his career with City started ingloriously, in keeping with
Mountfield's short stint as City boss. One thing which was never in
doubt though, was Mulligans work rate. When Gunther finally shafted
Mountfield out of his position, things, you may have thought, would
have picked up for Jimmy. He was signed after all, by Mountfield, on
Murphy's advice. But no, Murphy choose to re-sign Noel Hartigan as his
main striker, and chose to play horrible route one football to the
front players, a style of play which totally didn't suit the diminutive
Mulligan.

Unfortunately for Mulligan, things didn't get much better. For all his
work and effort, it was Hartigan who benefited and hit the net more, so
some fickle fans started getting on his back, and his form dipped,
eventually losing his place in the starting X1. Things took a further
turn for the worse for Jimmy with the signings, and subsequent form, of
George O'Callaghan and John O'Flynn. And as if things weren't bad
enough already, he had to go for a hernia operation which sidelined him
for 12 weeks just before the start of the season. Many thought we would
never see him again. However, Mulligan proved that he is made of
sterner stuff and made a great comeback, being the catalyst for the
mighty comeback against Shams in September. I'm sure you will agree
that was a great performance. What a way to mark your come back. That
night the Cross (and later the nearby pubs) rang out with the song
of "hes got no hair, but we don't care, its Jimmy Jimmy Mull". On
Tuesday Nov 12th he was released on a free.

Liam Murphy, you are systematically destroying CCFC. If you have any
bit of humility you will walk away. We, the fans, do not want you
anymore. Even your most hardened supporters have now turned on you.
Your players, by and large, do not want you. So please, get the
message, your weren't wanted in the first place, and you most certainly
aren't wanted now. How many more players do you have annoy before you
realise that there is one common denominator, YOU! So do us all a
favour and do the honourable thing, and GO.

Murphy OUT!!!!!!!!!!!!!!!!!!!!!!!!!!

Gareth Williams

below....

Posted on Jul 28th, 2009
If CCFC lose their appeal on Friday the club will be forced to close for good and be removed from the League of Ireland..
Posted on Aug 19th, 2008
Cork City FC is on the brink of collapse as it applies for Examinership at the High Court. If Kevin Doyle goes from Reading to Villa there's hope....
Posted on May 16th, 2007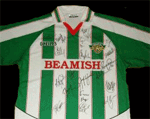 A bunch of loyal and dedicated Cork City FC fans are raising sponosrship funds with an online auction of a signed jersey. Get your hands on it now...
Posted on Feb 6th, 2003

The ever popular CCFC fanzine FourFiveOne present their awards for the end of season....
Posted on Feb 3rd, 2003
No cup this season, no europe next season and Murphy resigns. Gareth Williams sums up the first transition season at Turners Cross....