The Coming of Romanthony
The Coming of Romanthony
Savoy Theatre / Saturday July 17th
Are you queuing up yet? A gig in Cork that makes a mention of the Ball and Chain on its promotional material is off to a winning start straight away.
One of the most attractive features of the July 17th event at the Savoy is that all punters can be safe in the knowledge that the DJ will in fact, for absolute certainty, have a copy of the Ball and Chain. That is beyond confirmed.
DJ Romanthony may even have several copies in different formats: vinyl, CD, DAT, mp3, mp4, wmv, ringtone and Maxell blank tape - enough to make a feen weep with joy.
Not only will Romanthony definitely have the Ball and Chain but he is also extremely likely to play it too. From start to finish.
He may even play it twice or three times if you're lucky.
The other possibility is that for the first time in your life you may actually see and hear the vocals performed live.

This may be a knicker-throwing swooning moment for some Corkonians and who would blame them?

Paramedics will be on stand-by at the event with defibrillators to charge up any fella who is overcome with emotion to get him back out on the floor raving as soon as possible.
Whether you sit entirely among the head shakers, baffled at the perpetual popularity of the track or a fully paid up member of the Balla Appreciation Society or its Irish Language counterpart Cumann Bhalla Chorcaí (who have, with the aid of government funding of course, translated the entire lyrics into a seanós classic called Caid agus Slabhra*) cherishing every kick, hi-hat and snare of this five and a half minute musical tirade this gig is still of monumental importance to the city.
THAT INTRO
The disjointed flurry of kicks and hi-hats before the tune begins, the swirly phaser intro with the "and now…the adventure continues" sample before Mr. Romanthony delivers his high pitched gravely vocal wisdom raises heartbeats and brings a smile to every Cork clubbers face.
Smiles of derision as well as joy of course. That random set of sounds has been provoking howls on Cork dancefloors for almost 17 years.
"I want to get higher and higher, soaring through the sky"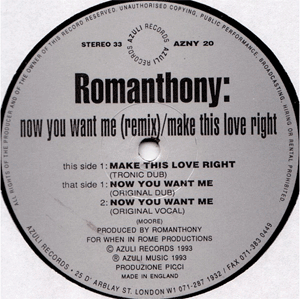 Oil, banks and property may be bad investments but the unwaivering value of the Balla provides financial security for many Cork homes who bought in early.
Few people doubt that this original line was a subtle nod to Northsiders ascending Shandon Street and Summer Hill after a night out in Sir Henry's thus raising suspicions that this supposedly exotic Romanthony character was actually from somewhere a bit closer to home.
RUMOURS
For years many people believed Romanthony might actually have been somebody from Cork
One Mayfield resident and part time disc jockey whose first name was Anthony, was allegedly forced to place a sign outside his house denying he was Romanthony in 1996 when local youths held vigils outside the man's home chanting 'Balla! Balla!" through out the night.
The rumours surfaced as the good looking Corkonian was previously known was known locally as "Romantic Ant-ney" after a controversial incident involving a flah, the Tank field and the lights of a Ford Mondeo.
Suspicions that someone local was masquerading under a pseudonym were not unreasonable. Surely only somebody working night and day to promote the record within the confines of The Marsh could actually drum up such a phenomenal appetite for one, confusingly unremarkable, tune among the piles of new records filling Cork's music stores every month.

Although the promoters claim the star is based overseas suspicions still remain that a local will be unveiled on Saturday July 17th - one of the biggest music events in Cork since Michael Jackson leaped around the Pairc in 1988.
Demand for a 'Ball and Chain' only night where a single track is repeated for four hours will be high after what's likely to be the gig of the decade and no doubt promoters around Cork will be looking into the possibility after punters come down from this particular high.
Organisers are currently remaining tight lipped about the Balla after party for which there will be huge demand. All we're saying is Pairc Úi Rinn is free that night.
The adventure continues.


Click here for more details and tickets

Click here for more info about the Balla and download

* There was a bitter stand off between members as to the translation of the word 'ball'. While modernists wanted liathróid, purists preferred the older word caid that refers to a pigs bladder or a silly person (as in the Hiberno-English term 'go away you aul cad'. The more fitting term won out in the end.

Posted on Feb 1st, 2013
A new look video for a new season - check out a rake of pure daycint live music coming your way this month...
Posted on Jan 1st, 2013
A documentary in Irish about Corkman Jack Lyons and his relationship with the hugely successful 1960's English rock band The Who....
Posted on Aug 2nd, 2011
Stacks of live music coming for Cork in August including Retarded Cop, Kodakid, Jake Levinson, Fred, grammy award winning Tom OBrien and Emigra...
Posted on Jun 30th, 2011
Hypnotic Brass Ensemble are among some of the top live music gigs in Cork during July. Take a sconce at our preview video for the low down...
Posted on May 31st, 2011
As the weather takes a turn for better the Cork xSouth West festival kicks off a month jammed with live gigs which includes the resurrection of the much loved Spiegeltent...