Team Cork: Olympics 2012
Listening to Ireland's Olympic swimming coach talk about his trainees' hopes for the Olympics you'd really hope Roy Keane wasn't watching. The Cork man would do his nut listening to the meagre goals some Irish athletes have set themselves.

Ireland have a few young hopefuls heading to London and some of their aspirations, articulated by both mentors, officials and competitors themselves in the media, are synopsised by phrases like "looking forward to competing" and "should be fun".

After their eye-opening interview last Monday night Corkonians will be relieved to learn Ireland's swimmers are mainly Dubs and Nordies. Just as well The Boy didn't hear their happy-to-be-taking-part quotes.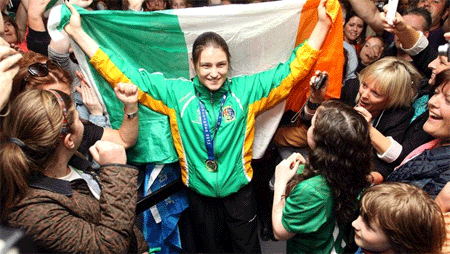 The Dubs always like a good scrap

Admittedly we are probably short a freak or two like multiple gold medallist Aussie giant Michael Phelps with his size forty feet and hands that have clearly been transplanted from the tails of blue whales but wouldn't it be better if we heard something a little more inspiring and confidence building from the boys and girls in green at these press conferences up in Dublin – particularly as so much tax payers money is ploughed into sport?
TEAM CORK
Thankfully well over ten percent of Team Ireland is Corkonian so while Ireland's chance of winning medals is predictably poor, Cork's chance of winning a medal is quite high. And sure regardless of the athlete's county, because Sonia O'Sullivan is the 'Chef de Mission' (the Olympic equivalent of 'bainisteoir' and not the person who has to cook up for all the athletes) we can automatically claim any Irish medal for Cork.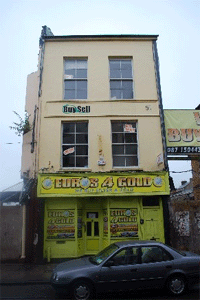 Another reason to win gold

If she wins a medal the jackeen media will be all over Dublin boxer Katie Taylor but we heard that Sonia has taught Taylor the famous 'Cobh Clout' – a secret punching technique invented by ship builders at Verolme Dockyard that is so powerful that it can actually penetrate the iron hulls of ocean going liners – so Corkonians can feel nice and smug if (and that's not a 'when') Taylor sinks those Chinese ladies.

A former track ace herself, Sonia will have plenty to mentor Derval O'Rourke with and along with sailor Peter O'Leary we think these two are Cork's, and by unwelcome association Ireland's, best chance of a podium finish.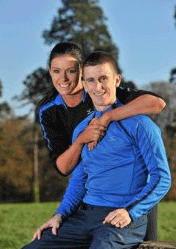 Pure Togher buzz: Rob and Marian Heffernan

Derval bagged a silver at the Europeans in Barcelona in 2010 so London should be her making and O'Leary, who has that calm steely Cork nerve required for high stakes competition, won gold at recent regatta in the UK hitting form at just the right time. We also like O'Leary's attitude – he makes no bones about his aim to win gold. Put your household charge on him.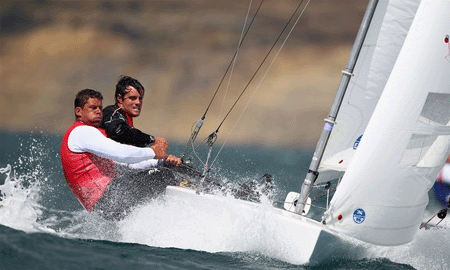 Cork's Peter O'Leary who'll have some heavy Dublin lad in his boat for weight
THE HOMECOMING
If Cork athletes and coaches are more successful than those from other counties then it is only reasonable that Team Ireland fly back into Cork International Airport and not that other place above in Dublin. We need to protect our athletes and to keep them out of harm's way – you can't go to see a band in Dublin these days without getting a knife in the gut so we'd feel far more comfortable welcoming home Derval, Peter and the rest of Team Cork on our own soil.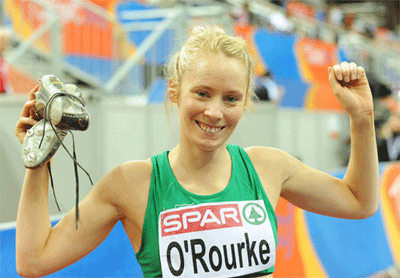 So good at running she can carry her runners in her hands and still win

The first thing that'll probably be on their minds as they step off the podium will be getting an auld cup of Barry's, a glass of Tanora or a lash of Beamish's into them to celebrate so having Buttsy, our new Lorda, presenting them with their chosen Cork beverage on the airport tarmac would be a mighty sight. Then Bishop Buckley can make a (short secular) speech, the Barracka will play the Banks and then Butsy will give all workers a half day for every gold medal bagged by a Cork athlete.

(We will also organise some cloud seeding off the coast to ensure bright sunny weather so we can get some much needed sunburn while we're outside gatting in celebration).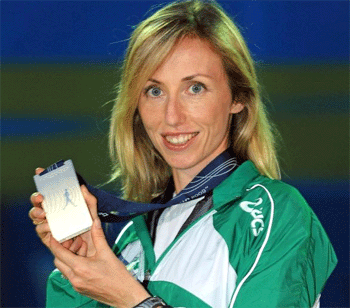 Olive: can walk Pana in 10 seconds
Right now we can only speculate as to how Team Cork will fair but at moments like this sensible predictions usually come from hard nose business professionals assessing prospective profits for their companies: we notice there's another one of those cash-for-gold places after opening in town so we assume they're expecting the same influx of precious metals into Cork that we are.

'mon the Rebels!



Team Cork
Marian Heffernan (400m relay), Rob Heffernan (20K & 50K walk), Olive Loughnane (20K walk), Ciaran Ó Lionaird (1500m), Derval O'Rourke (100m hurdles), Andrzej Jezierski (canoeing), Robert Splain (Showjumping Chef D'Equipe), Billy Twomey (show jumping) Michael Ryan (equestrian –former Limerickonian now honorary Corkonian), Adrian Cassidy (rowing coach), Peter O'Leary (sailing) and of course our all time favourite Cork old doll Sonia O'Sullivan (Chef de Mission aka Bainisteoir).



Posted on May 22nd, 2013
Are our famous sons and daughters holding on to their Cork accents or are they losing the run of themselves? Time to get out the cop-on-ometer...
Posted on May 22nd, 2013
You can't just tog out in beach shorts and cheap runners if you want to run in the affluent climes of Blackrock...
Posted on May 10th, 2013
As Bus Éireann drivers contemplate strike action here are another five common characters you wish you didn't see regularly on Cork city buses...
Posted on May 2nd, 2013
With such low fares these days, buses to Cork are getting packed out and the chances of you having to sit next to some langball gets higher. Here's our top 5...
Posted on May 1st, 2013
Murphy's are bringing Seasick Steve and a load of heads to Cork for a big hooley in the old Beamish & Crawford Brewery on the June Weekend May 31st-June 2nd...