Taoiseach Coveney to Hold Victory Rally in Cork's Event Centre That He Helped Deliver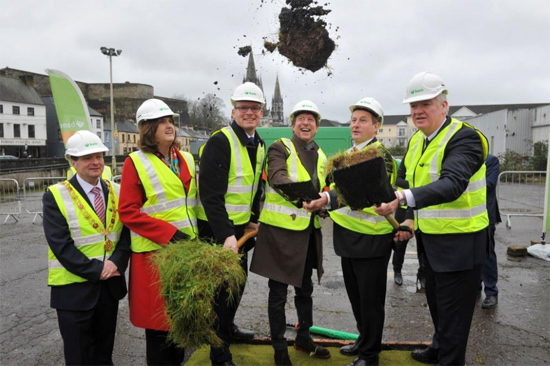 As we sat in the front row of Cork's new event centre on South Main Street last Saturday night to watch a sell-out Frank and Walters concert it did occur to us that Cork's Fine Gael leadership candidate and Cork South Central TD is due some kudos for putting his weight fully behind the development.

The pints of Beamish poured personally by Paul Lenihan and band that nestled comfortably in everyone's hands in the front row are part of a new tradition that major artists have adopted when playing their first gig in the new arena. Who wouldn't pay that bit extra to have their first drink poured by the very act they are about to see on stage?

The venue's success, like the pint pouring tradition, is a credit to the Fine Gael leadership candidate who secured the building of this wondrous temple –Mr. Coveney's influence is deep.

Coveney, who famously turned the sod on the much-needed centre during the 2016 General Election campaign, welded his political fortune to the events centre by stating that construction was about to begin.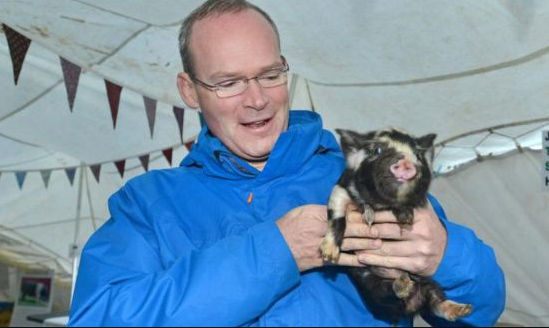 Simon with a flying pig at the Event Centre opening night

At the time his assurances were so sincere that it sounded like he was going to do some of the masonry and foundation himself. The public was promised that their ballot papers would no sooner have been pencilled with an 'x' next to his name that the concreate mixers would be roaring their way into the old Beamish site.

Looking back on the days when the site was just an ugly mess with heaps of brown soil, rocks and rows of unsightly containers it's hard to imagine South Main Street without the architecturally impressive structure now towering over the quaint old pubs across the road.

There's hardly an evening you won't see music fans hurriedly skipping up Tuckey Street to see their heroes or a pod of suited executives hot footing it over the South Gate Bridge on their way to another big-noise business conference – no arduous journeys to Dublin anymore – hurray!

If we had a criticism it would be that the event centre is nearly too good. So impressed are foreign business executives with it that many of the conferences that used to be held in Dublin have been brought to Leeside.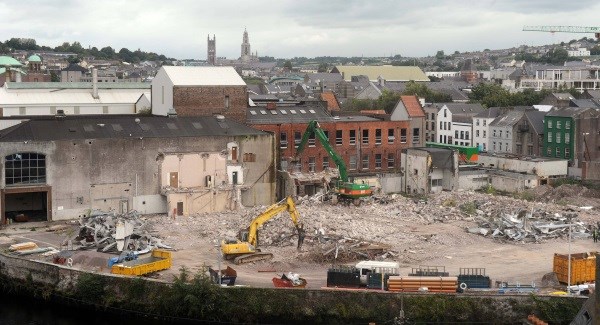 A view of the new event centre from Elizabeth Fort that Simon Coveney helped to deliver.

Its popularity means the city's coffee shops, bars, restaurants and clubs are over-crowded even on weekdays. Local business people have complained that they don't have enough room in their tils for all the cash coming their way and their staff that they've run out of things to spend their tips on.

With so many must-see big name acts rolling into the event centre these days we've hardly a cent to spare either!

Simon has shown that he is a man who gets things done for Cork and when he wins the leadership challenge next week it is only fitting that he should hold his victory rally in the splendour of the event centre he delivered.
Posted on Oct 8th, 2018
The building boom is back. Are you a hospital consultant thinking of getting into attic conversions or the CEO of a Fortune 500 company that fancies a career in roofing? Then know how proper langers treat their customers....
Posted on Oct 1st, 2018
In Europe's friendliest city more than one bicycle is stolen every..eh....several days. That's a whopping 0.05% of the population. Be careful out there....
Posted on Sep 17th, 2018
An 83 year old man foiled a three-man raid in Glanmire last Saturday evening and in the process delivered a beautiful kick up the arse to one of the humiliated raiders. Who else needs a Dinny Funt?
Posted on Aug 27th, 2018
A buskers' code agreed between buskers, traders and residents is well worth pursuing before wrapping ourselves up in legal knots and slapping low-income buskers with fines...
Posted on Aug 15th, 2018
It has been rumoured for years that Bob Marley lived in Cork...and possibly still does. Only that can explain the manic devotion to the reggae superstar on Leeside...