Sultans V The Franks
The Shootout between The Frank and Walters and Sultans of Ping
Saturday 18th December 11am
Bishopstown (Cork City Training Ground)

Like the great philosophical question of our time "Oasis or Blur?" the Cork version (naturally that bit longer cos we can take more of an intellectual challenge) is "Sultans or the Franks? Franks or the Sultans?".
Which should come first?
Pretend you're at a gig where your favourite two Cork bands of all time are playing. Which one would you want to see first? Even the promoter would have trouble settling that one.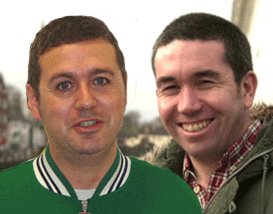 Ashley and Morty
So the conclusion was more straight forward than having another boring Facebook campaign and a plethora of pleading emails.
Well, what do you do when you have two teams who are equal after extra time? Or in this case two Cork bands that are arguably equal after more than twenty years on the go?
You have a penalty shoot out of course. The bands have decided to settle who will be the "headline" act at their 29th December showdown in the Savoy with a penalty shoot out.
Both bands have nominated their soccer mad drummers to take the penalties with Ashley Keating from the Frank and Walters and Morty McCarthy taking on Cork City FORAS Co-op keeper Marc McNulty at the club's training ground this Saturday at 11am.
The winner decides where they would like to appear on the bill.
The fact that the Sultan's full title is Sultans of Ping F.C. may seem like an unfair advantage but despite what you might think the group have never made a balls of any performance. The Franks on the other hand may be dark horses with Ashley Keating spotted training out the back of Red FM regularly including core-strength work which involves carrying other station presenters on his back.
The Reverberation Tour featuring The Frank and Walters, Sultans of Ping and Power of Dreams , The Savoy Theatre - Weds 29th December. 8.30pm

Saturday 18th December 11am - The Shootout Bishopstown ,Cork City Training Ground .
Posted on Feb 1st, 2013
A new look video for a new season - check out a rake of pure daycint live music coming your way this month...
Posted on Jan 1st, 2013
A documentary in Irish about Corkman Jack Lyons and his relationship with the hugely successful 1960's English rock band The Who....
Posted on Aug 2nd, 2011
Stacks of live music coming for Cork in August including Retarded Cop, Kodakid, Jake Levinson, Fred, grammy award winning Tom OBrien and Emigra...
Posted on Jun 30th, 2011
Hypnotic Brass Ensemble are among some of the top live music gigs in Cork during July. Take a sconce at our preview video for the low down...
Posted on May 31st, 2011
As the weather takes a turn for better the Cork xSouth West festival kicks off a month jammed with live gigs which includes the resurrection of the much loved Spiegeltent...