So Much Winning: Which double are you on about, bah?
There are so many trophies making their way to Leeside at the moment that there should be a special delivery service laid on to meet the demand and it's not unreasonable to think a permanent stage should be built at the top of South Mall such are the number of homecoming parties for cork teams at the moment. We are living in a golden era in a golden age in a golden place.

There's so much winning going on at the moment that punters using the phrase 'the double' can cause complete confusion. Here's our guide to Cork's doubles to help you wade through the many waves of victories coming your way this week….

The Mixed Double
C'mere like, are you talking about the FAI Cup double where both the women's and men's team won their respective knock-out championships on the same day? It's onreel!

The women beat UCD Waves 1-0 after Clare Shine's incredible winner and a few hours later they were joined by their male counterparts on the podium. This means Cork is the home of both the Kings and Queens of Irish soccer. What an achievement.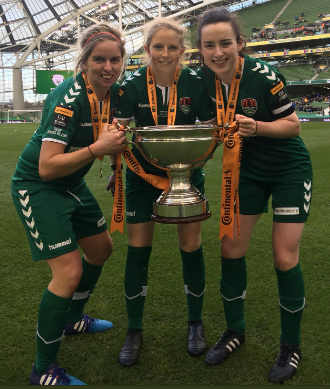 Clare Shine's goal bagged the cup for Cork City WFC

Women have actually been leading the way in the big ball game in Cork for more than a decade now. Looking across at their equivalent in the GAA women's doubles on Leeside aren't actually very common in Cork...because the minimum consecutive run tends to be about eight or nine titles in a row!

The Cup Double
Hang on. When you said 'double' maybe you were referring to the fact that Cork's men have won the FAI cup two years in a row - an incredible achievement by a club that was on its knees less than ten years ago.

Going into last year's cup final the stakes were extremely high - City had lost out again to Dundalk in the league and the desire for silverware on Leeside had reached fever pitch so the 2016 cup became the be all and end all. We simply had to win.

That's when Seanie Maguire really shot to fame on the big stage. His last minute winner was literally that – it couldn't have been more last minute. At nil-all the tie went to extra time and in injury time at the end of the second half of that extra time he slipped the ball past Gary Rogers to bring the cup home. And we all know what happened last Sunday!


The Real Double
Finally there's this one. Not since 1951 has a Cork team brought home the FAI cup and league titles in the same season. Even Cork's manager wasn't born then not to mind any of his players.

This spectacular double achievement by John Caulfield and his team will be remembered for decades and referred to by fans for as long as balls are kicked around Turners Cross.

The 'League and Cup' double will go down in the history books as a phenomenal achievement pioneered by one of the biggest legends in Cork sport who lost both his captain to injury and his top goal scorer to the U.K. during the season but still prevailed.
Posted on Jul 16th, 2018
It's time to hand the event centre tender over to the Peeple'a'Cork. Just give us 100 Saturdays and we'll knock it together. Anyone have a spare trowel?
Posted on Jul 2nd, 2018
It has been very dry over the last few weeks and things are tough all over the country but did you hear about how bad the drought is up in Clare? They haven't won a Munster title now in 20 years.
Posted on Jun 29th, 2018
We have the weather so now all we need is to drive like lunatics, make siestas legal and look a lot more philosophical whilst smoking....
Posted on Jun 19th, 2018
We turn the slightest, most tenuous Cork connections to other countries and their players into blind loyalty so you have a reason to scream 'C'MON ON D'REBELS!' at your telly every night for the next month...
Posted on Jun 12th, 2018
Read our guide to holding up traffic, driving at terrifying speeds through villages and sleeping in your tractor....all so Chinese women can give up breastfeeding...