Smug first time Mum-To-Be in Shock After Realising 'They Actually Come Out Your Vagina'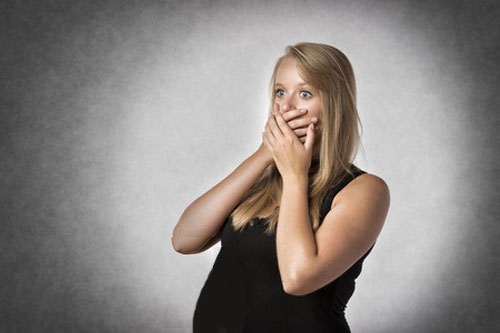 Even though she "sort of knew how it worked all along" a young expectant first-time mum is in shock this morning after the reality that she will have to force a small child out through her vagina suddenly hit her.

Edel Keyford from Forge Hill who is thirty-eight weeks pregnant has had the shock of her life this morning after the fully realising how her baby will arrive into the world.

Ms. Keyford has spent the last few months prancing around town boasting that she has been enjoying a "perfect pregnancy" and telling anyone who would listen that she has been entirely free of morning sickness.

"I never really thought this one out", she sobbed whilst sitting in a pool of her own vomit, "I mean, it's really small and the baby is really big…that can't work, can it?!"

After a trip to her G.P. this morning for a check up Ms. Keyford became aware of how the infant would be delivered when the doctor mentioned her vagina seemingly out of the blue.

"I thought it was really inappropriate for her to suddenly start talking about that area and then it hit me like the 214 in the middle of the Togher Road"

"I was fully sure that I was special and that the baby would just be in my arms once I reached my due date. I didn't really think about how that would actually happen. Jesus Christ, like. It comes out your ACTUAL fanny!!! I don't believe it."
Posted on Nov 13th, 2018
Are you spending most of your day online posting vague, anecdotal evidence to back up your assertion that the Panaban is either the best or worst thing ever? Read on, bubbila.
Posted on Nov 5th, 2018
Last weekend a Dublin newspaper published an entire supplement called "10 Big Ideas to Make Dublin Better". Unfortunately our thoughtful and well considered suggestions were omitted due to the newspaper's anti-Cork bias. Here they are...
Posted on Nov 1st, 2018
Encouraged by his single figure showing in the Presidential election, Seán Gallagher vows to return from the sea and fight the 2025 Presidential election…
Posted on Oct 23rd, 2018
No sleeping in tents, no worries about the weather, your car won't get stuck in the mud and best of all you don't even have to leave Cork...
Posted on Oct 22nd, 2018
If you're coming to Cork to show off your pentatonic scales, we're really looking forward to seeing you but don't forget to practice your banter and leave the jazz orgasm face at home...