Silage Panic - How To Drive a Tractor on 10 Minutes Sleep
After a load of winter storms, a hurricane, an abortion referendum and a string of depressing national football league results, Cork farmers have been freed from the torment of the never-ending perma-winter fodder crisis only to be catapulted, wellies first, into silage season.

For city slickers, this is basically grass cutting on an industrial scale to feed cattle when they are locked up during winter. Cattle are large black and white beasts that lay large eggs every morning filled with steaks – the more silage they have to eat the more 'well done' the steaks.

Or something like that.

When your phone alarm goes off you find that your head is already resting on the steering wheel of your tractor. You've no idea how you got here or who exactly signed you up for the job but as your eyes peel open there is a man in the cab of a combine harvester a few yards to your right gesturing at you to get cracking. Don't you know it's gone 5am already you lazy, langball?

You automatically power up the machine, shove it into gear and press the accelerator. The thundering chug of the engine vibrates right into your soul – the ferocious soundwaves penetrate deep into the dark cavernous parts of your inner self.

This is the part of you where the biggest secrets are kept like the real colour of the diesel in your tank, the 'extra' stuff you put on that EU grant application and the unmentionable thing that's at the bottom of the slurry pit over in 'The Axe' McCarthy's farm that you told yourself you'd never allow yourself to go to the Guards about. Shhhhh, you just need some coffee and it'll go away.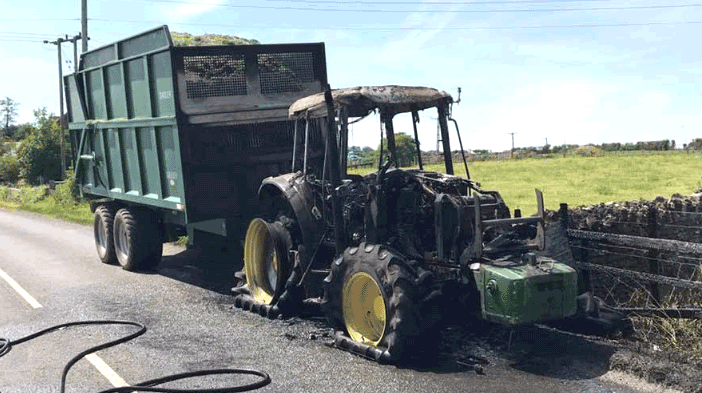 Burnout among farmers is high.

By the time you supress the inner demons and finally remember own name your trailer is already half full and there's a tricky u-turn coming up at the end of this hilly field. Your left arm is still in the process of de-numbing after spending your eighth night in a row in 'Hotel de la Tractor'.

Synchronised turning is a fundamental skill required of all silage workers. If momentum is lost and the distance from the combine pumping grass into your trailer isn't maintained there'll be hell to pay.

Luckily your jaw has now unlocked itself after a night of biting the steering wheel so your teeth help your right hand keep make the turn. Welcome to farming!

Now with your trailer full to the brim it's time to hit the public road and drive the eight miles to where you're to dump your load. At peak silage panic you need to drive the tractor at maximum speed - not so cars behind you are less frustrated but so you can get as many rounds in as possible before it either gets dark or you collapse on to the steering wheel due to exhaustion.

Getting stuck behind a tractor and trailer is the only way non-farmers become aware that it is silage season – they'll relish trundling along behind you at 28.5mph when they're already late for work or a hospital appointment in the city.

When passing through towns and villages 'silage panic' will not allow you to pay any heed to the dangers of hitting pedestrians or the fact that you are driving a vehicle with more power and weight than an army tank in the heat of a battle. And this is a do-or-die battle.

Your vehicle and its terrifyingly wobbly trailer has so much power and momentum that if you run over a line of old ladies crossing the road it won't even break your bleary-eyed concentration as you tap out Whatsapp messages on your phone or take selfies of the two mile tailback you've caused just outside Riverstick.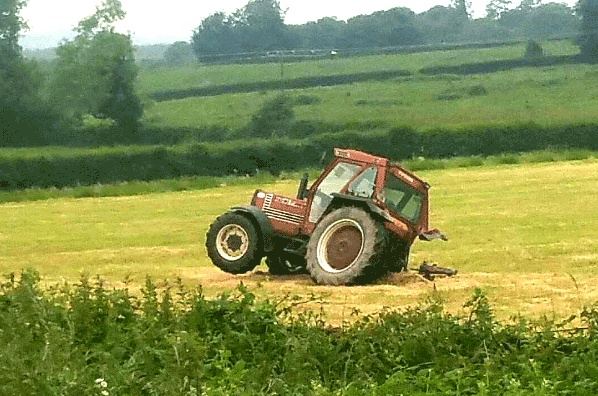 Asleep on the job

Maintain full speed at all times so that your engine sounds like a jumbo jet taking off in a thunderstorm and never waste time by pulling in to let cars overtake you.

Your overwhelming tiredness will automatically pepper your trajectory with sudden unpredictable twitches of the steering wheel - this keeps other drivers and pedestrians in a constant state of terror when you roar through a village ensuring they stay out of your way. Farming uber alles!

Gardaí know this is not a time to be bothering farmers with concerns about exhausted tractor drivers like you and why the driver you noticed keeping a very low profile has been playing U16 football all season. If these lads don't want price increases on their steaks and milk then they'll know to keep their noses out of a farmer's way in May and June.

It's worth it all though. When the job is finally over you can go to bed and slip into a week- long coma safe in the knowledge that millions of Chinese mothers are ditching natural breastfeeding for the dehydrated infant milk formula that your silage helped to produce. Just don't look at the World Health Organisation's opinion on it before you doze off!

Shhhh. Best to quietly add that fact to the bottom of The Axe McCarthy's slurry pit.
Posted on Nov 5th, 2018
Last weekend a Dublin newspaper published an entire supplement called "10 Big Ideas to Make Dublin Better". Unfortunately our thoughtful and well considered suggestions were omitted due to the newspaper's anti-Cork bias. Here they are...
Posted on Nov 1st, 2018
Encouraged by his single figure showing in the Presidential election, Seán Gallagher vows to return from the sea and fight the 2025 Presidential election…
Posted on Oct 23rd, 2018
No sleeping in tents, no worries about the weather, your car won't get stuck in the mud and best of all you don't even have to leave Cork...
Posted on Oct 22nd, 2018
If you're coming to Cork to show off your pentatonic scales, we're really looking forward to seeing you but don't forget to practice your banter and leave the jazz orgasm face at home...
Posted on Oct 8th, 2018
The building boom is back. Are you a hospital consultant thinking of getting into attic conversions or the CEO of a Fortune 500 company that fancies a career in roofing? Then know how proper langers treat their customers....