Shandon Street In My Tourism
Shandon Street Fountain in My Tourism
The Adventures of Vank Van Oofer
†After my happy time last week in the Lee Field with the river I am asking the Germans in my hostel where are the goodest places to swim. I am waking up when they are getting up at 5am ! Silly Germans, they don't know how to chill out. They tell me at the bottom of Shandon Street they are seeing a sauna that is outside on the sreet and many bubbles are often coming out of it. I am laughing out loud because I think to myself that because of the rains here it is not true. Next I am calling a cab when I am finishing my breakfast at 6am because I think a swim would be a great start to a day in which I will probably be in the Hi-B again talking crack with many of my new friends.
â€
†I am asking the taxi driver to take the photos of me while in my swimming. I have a lot of money now since more Irish people are enjoying the crack I brought with me. Now the taxi man is laughing at me when I come out of the Lee Cabs with my safety equipment. I am telling him that I am european. He is thinking I am crazy and I ask him to please join me in the swimming area. He goes quiet then because he knows that I experience the freedom of men often in Amsterdam.
†For a long time I am waiting for the foam party to start. Another taxi man who has come to look at my position is telling me that the young people sometimes are putting washing up liquid in here for fun so maybe the Germans are making a mistake. In Holland there is a saying that 'Germans must be trusted like a Dutchman in a Windmill'. Shit I would like to mill their bones in my windmill.

â€
††But hey I am in my tourism so I might as well enjoy the experiences. I am thinking that when I step in the water it will be very cold. No, as my clogs enter the water it feels warm. With my floatation equipment it feels really good. Maybe the people are putting the yellow water in here at night after the black beer and it stays warm. Then suddenely I am flapping because the cold water is coming out of the top. I am trying to make the water warmer by releasing the yellow water from myself too. Sitting down low is fun but I feel with my hand a soft lump. Maybe I have made a mistake, now I have to go to the medical doctor to have my blood changed again for the safety. Later I am checking my book and I see that this is not the place I am thinking. It was almost dark when I am leaving the hospital so I have to go to bed and that night I am trying to make good friends with the German father but he doesn't understand what I mean by freedoms. Maybe I will have more success next time and if you see me please say 'hello!'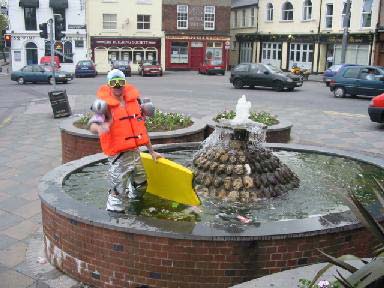 â€
â€
Posted on Nov 3rd, 2002
Dutch individual Vank Van Oofer makes his first trip into the city centre to find a place of leisure but tells us he can't be crazy everyday
Posted on Oct 31st, 2002
As if getting into that fountain on Shandon Street wasn't bad enough Dutchman Vank Van Oofer takes a trip to the Glen which is now apparently inhabited by legendary reggae star Bob Marley...
Posted on Oct 31st, 2002
Once again the tight fisted Dutchman Vank Van Oofer is determined not to part with any grade for a swim. This time residents at The Lough are subjected to his wonderings...
Posted on Oct 31st, 2002
Dutchman and Bus Station veteran Vank Van Oofer returns to his beloved Cork with a swimming fetish and where better to start than out the straight road....
Posted on Oct 30th, 2002
Tourist and freedom lover Vank Van Oofer took a trip to Cork and he found the Bus Station...