'See you in 7 Years, You Pricks' – Says Dolphin Head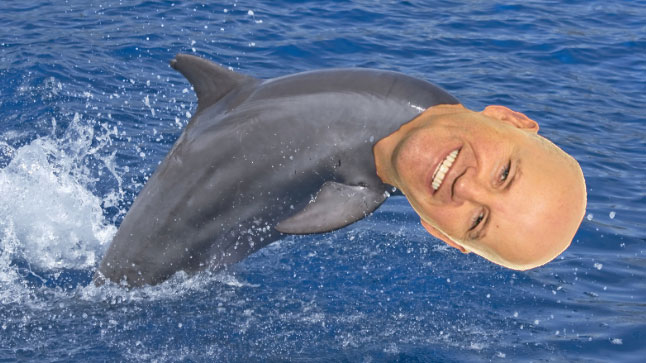 Buoyed by his massive single figure percentage share of the vote in Ireland's recent Presidential election, businessman and TV personality Seán 'Dolphin Head' Gallagher has vowed to fight every election until he is elected president of Ireland starting with the 2025 election.

Since narrowly losing the vote by almost 50% to Michael D. Higgins, Gallagher has returned to the sea as one of the actors that rotate the job of playing Fungi the Dolphin in Dingle Harbour and is said to be plotting his next campaign while being pursued by boats of tourists.

A spokesman for the amphibious Monaghanian said Gallagher was up for the fight with whoever chose to "step into the ring, jump through it or balance a ball on their nose".

"Seán will return to the race for the Áras with an impressive set of policies that are even more vague than his previous two outings and is determined that he will win it – even if that means beating the ghost of Michael D. Higgins".

2025 here we come.



Posted on Jan 7th, 2019
Stick in your headphones, turn off your bike lights and throw away your helmet - everyone knows you can't die if you're under 25...
Posted on Jan 1st, 2019
Just what you needed to make you feel worse about your dizzying hangover and your half-baked new year's resolutions to get fit....
Posted on Dec 30th, 2018
Our recommendations to improve the pure purity of your pure Corkness in pure 2019...
Posted on Dec 20th, 2018
From toasted specials and hot ports to big wheels and seeing the real Santy...
Posted on Dec 10th, 2018
Fancy yourself as a Cork bus driver? Can you whistle the same tune over and over again for hours on end whilst trying not to turn crazed cyclists into oily sandwiches?