School Admissions Policy: Parents Should Show Deep Religious Faith in Cork
There's talk this week from the Dublin government of addressing the country's ancient system of admittance to primary schools.

It is hard to believe that in 2017 a child from a non-Catholic family living next door to a Catholic school can be passed over in favour of a child from a Catholic family who lives many miles away and the Minister for Education Richard Bruton has presented four possible options for discussion to address the situation.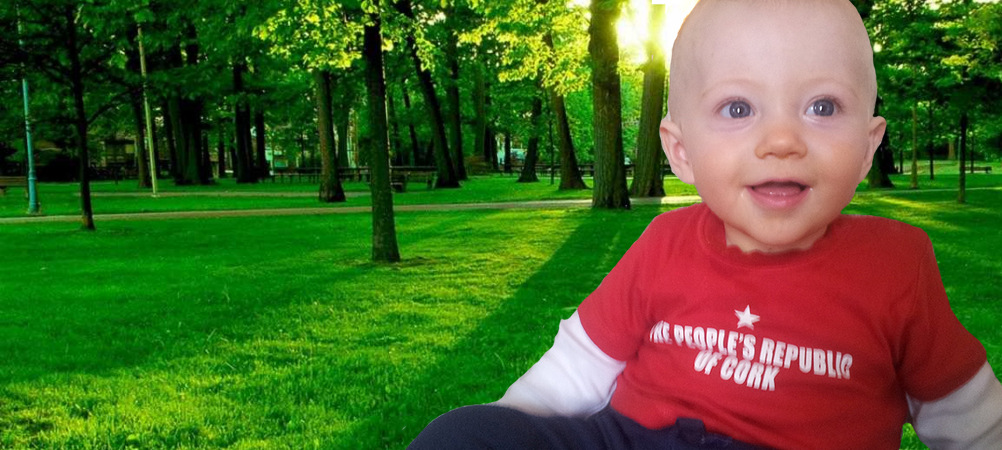 It is important to brainwash Cork children from an early age. Top tip: leaving them in Fitzy's Park overnight with just a bowl of tripe and drisheen does wonders for their faith.

Regardless of what the Dubs try to enforce on us down here, the only 'religion' that the People's Republic 'Department of Edgeimikayshin' will permit after the revolution is the Cork one. All boards of management will bare heavy responsibility to ensure the children in their school come from passionate Cork families and that respect and devotion to the Rebel County takes precedent over all other subjects.

No longer will parents need to submit baptismal certificates when trying to get their smallie into a school. Instead they will need to supply proof that they are a pure Cork family – even the many immigrants we welcome here from places like Tibilisi and Tralee will have to adopt the new faith quickly or they could be joining the children from households with Kerry parents in the hedge schools.

In attempting to get their child into a popular Cork school performance days will be held where parents bring along their children to prove to his or her future teachers that they are budding little Rebels.

Similar to Saturday night talent shows each school will hold a "C-Factor" show where parents can bring their toddlers to perform little acts that would impress the Cork school staff.

A three year old girl soloing a sliotar for two minutes without dropping it, a tot in a Cork City FC jersey singing all four verses of De Banks or a pair of twins who have remixed a children's classic nursery rhyme and called it 'The Wheels on the 208 to Lotabeg Go Round and Round' would all make a very positive impression.

Children who make it past this stage will be visited at home by a member of the board of management who will assess the house, the family and most importantly the child's room for evidence that his or her parents are properly devoted to the Cork cause.

An example of some infidels.

Items that will meet with approval from the inspector are paintings and photographs of Cork landscapes hanging in the hallway, red and white bunting running up the stairs handrail, a small area of the living room dedicated to Christy Ring or a life size portrait of John Caulfield or Dave Barry hanging in the kitchen.

To really up your chances of getting the much sought after place in your local Cork school and to impress those sent to survey your home, the young child's bedroom walls should be painted in red and white stripes, feature posters of at least one Cork All-Ireland winning team or an FAI Cup winning Cork City FC team and feature a Cork hero like Michael Collins, Sonia O'Sullivan or Rob Heffernan.

Downstairs when the children have gone to bed the inspector will sit down with mum and dad who will be examined thoroughly over the course of the night on their devotion to the Cork cause. The examination may continue until dawn as a lack of sleep will sometimes bring out any demons being hidden away – are they really dedicated to Cork or are they doing this just to get into the school?

Trick questions like "what is the worst part about living in Cork?" will be used to expose any impure thoughts that either parent might have about the county and answers to "do you think Cork should be the capital of Ireland?" must be carefully delivered by parents or their child could end up being educated in a field by Kerrymen.

In the case where one parent is deemed to be a perfect Corkonian but the other is deemed to be a perpetual unredeemable sinner who "wouldn't mind seeing Dublin doing the three-in-a-row in the football", the People's Republic will offer to facilitate fast-tracked divorce proceedings and to pair the better model-Corkonian parent up with a like-minded 'good Rebel' parent from a similarly "failed household" who get exclusive custody of their children.

The newly divorced model-parent may choose a preference for the gender of his or her new parenting partner but the People's Republic will not be able to guarantee their first choice – whatever is best for the child and for Cork will take precedent over any other minor detail like the sexuality of the parents.

Until the Dublin government gives in to this very reasonable demand the People's Republic will not renounce its threat of a revolution. Before you act Minister, just think of the children - the Cork ones anyway.




Posted on May 14th, 2018
With the concrete pillars and devoted crowds those not familiar with the area might confuse it with Mahon Point Shopping Centre but the all new Páirc Uí Chaoimh is more than a smell of coffee, big brands and long lines of traffic.
Posted on May 4th, 2018
Top 5 touristy things his nibs should do while he's in Cork. We've even worked out how to play 'Shape of You' on the Shandon Bells for him...
Posted on Apr 12th, 2018
The #Panaban on cars from 3.30pm to 6.30pm in the city centre is having a devastating effect on Cork's jaywalking community...
Posted on Mar 27th, 2018
At Shaky Bridge Analytica we throw more shapes than a Midleton dance school and more balls than a Southside driving range. We specialise in data analytics and metaphors...
Posted on Mar 27th, 2018
At Shaky Bridge Analytica we throw more shapes than a Midleton dance school and more balls than a Southside driving range. We specialise in data analytics and metaphors...