Satan Signs Up To Jobs Website After Trump Inauguration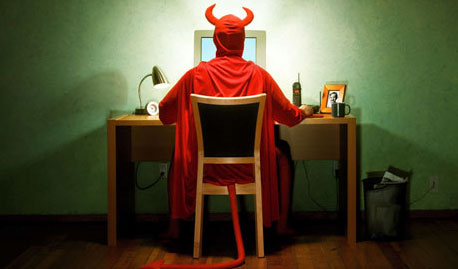 Sources have revealed that Satan is currently looking for alternative employment after being made redundant by Donald Trump's recent inauguration as president of the United States of America.

Previously, Satan provided a steady stream of evil for the planet to contend with but his position has become redundant by Trump's presidency.

"I had a lot of really nasty demons around me that helped me out bigly", said the beast nostalgically, "we did a lot of really great stuff over the centuries like genocide, famine, Ebola and so on that made people's lives miserable but looking at Donald's cabinet I couldn't possibly have come up with more bad bastards than him so I've decided to move on".

'You're All Fucked'

Satan is now considering morphing into a human form again by taking over someone else's body and finding a job that will eventually see him regain his power from Donald Trump.

"I did this a lot in Ireland before their economy collapsed", he cackled, "I possessed a lot of people there like Bertie, Seánie and Fingers who kept up the lies and money flowing into my pockets for years. "

"They've all got their problems now and obviously I've abandoned them as any purveyor of evil would".
Speculation that Lucifer will join the marketing team of a big global brand is also rife with many in the industry who have already sold their souls to him, secretly hoping to benefit from his terrifying skills of deception and deceit.

Satan is said to be particularly interested in becoming involved with large multinationals companies that pay little or no tax to ensure they continue to make mind boggling profits without having to contribute anything meaningful to society.

"It is the unfairness of it all that attracts him because he believes he invented it", said a friend, "but Trump has shown himself to be capable of outdoing the master of all evil on that front so Satan will have to reinvent himself".

Posted on May 22nd, 2017
It is only fitting that the winner of the Fine Gael leadership contest and Ireland's new Taoiseach will hold his victory rally in the Event Centre he assured us would be built...
Posted on May 22nd, 2017
Rebel supporter Michael O'Driscoll has been day dreaming about Cork being in the All-Ireland final all day when he should have been ringing wedding DJs…
Posted on May 10th, 2017
It's exam time and there's no end to the temptations luring Cork's college students away from the books...
Posted on May 3rd, 2017
Learn how to make a killing and set up your own digital marketing conference full of bluffers, wafflers and bullshitters...
Posted on Apr 13th, 2017
From the never ending bus strike and the Wall of Shame to the event centre shamble-a-thon and our airport's shorter runway there's so much to be grateful for...