Pull The Other One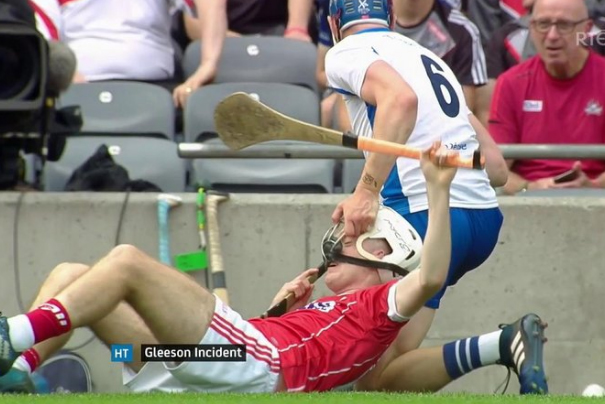 Kieran Kingston was massively magnanimous in defeat after last weekend's All Ireland hurling semi-final. The temptation to publically vent about another critical refereeing decision that beheaded our chances of winning Liam McCarthy must have been like holding the ringing rope for the bells of Shandon and letting go without making a sound.

He is the bigger man for not going down the Davy Fitzgerald route – the moody teenager, the swinging hips and snippy tongue have mortified counties he has represented. Kingston did a great job this season and despite being knocked out Cork fans are still hugely positive about the progress and very proud of the bainisteoir and his players.

If they bounced back from a drubbing by Wexford in last year's qualifiers they can bounce back from a semi final defeat peppered with injustice. What doesn't kill you makes you stronger and all that.

Taking the defeat on the chin is what most counties have to do and Cork's hurlers will do that and return next year with a new steeliness about them.

That said we are not 'most counties' and while fans were understandably deflated immediately after the game – fully aware that their heroes were not flawless on the day - as the week stretches out a less defeatist analysis has been doing the rounds.
Waterford were far from flawless themselves. For those who didn't see it, Deise star Austin Gleeson blatantly pulled Luke Meade's helmet off him early in the first half – a clear and concise red card should have been issued. The referee apparently missed it from 20 yards away. The linesman incredibly missed it from 2 yards away. The cameras didn't. Yet Gleeson didn't just escape scot free – his team were awarded a free too.

The talk now is that Austin Gleeson will be banned in retrospect from playing in the All-Ireland final for the offence. Think about that for a minute.

That means that the GAA will be openly admitting that Gleeson should have been red carded and Cork should have been playing against 14 men for the rest of the game.

With Gleeson gone even the most ardent Waterford fan sitting in a giant bubble of blaas and pint bottles wearing blue tinted shades would admit the game would have inevitably turned in the Rebels favour. Look what Damien Cahalane's sending off did for the Deise.

Without their talisman is it fair to say the Deise would have won the game anyway? Don't be ridiculous.

Those who witnessed the recent Mayo versus Cork football qualifier will recall the match went to extra time and the game was blown up at least thirty seconds early with Cork just one point down. One Cork official was so furious he had to be held back by a Cork player as the referee left the field.

Who will forget the 2013 All-Ireland hurling final when Pat Horgan scored what looked to be the winning point? For reasons that were quickly swept under the carpet because of the prospect of another bonanza revenue generating replay, the referee played an extra unscheduled minute which allowed Clare corner back to score the winner and they went on to bag the replay.

There seems to be an increasing tendency for Corkonians to take this stuff lying down and to say 'ah sure just get on with it'. But we can't use the excuse that Waterford were the better team on the day to make the referee's brutal mistake an irrelevance.

That failure to implement the rules instantly changes the future outcome. Even worse is using the eleven points separating the teams at the final whistle as some sort of proof that it would have ended up like that anyway.

Pointing to other bad decisions, some of which were made in Cork's favour, such the non-free awarded for a non-push to Michael Cahalane on Sunday, does not balance things out as some suggest. That mistake, and others, by the referee didn't have anything near the impact that the sending off of Gleeson would have had.

Other silly justifications for taking our beating are that Waterford have been banging on the door for several years, haven't won an All Ireland in about 100 years and a top player like Gleeson "deserves" to play in a final. Tell that to Roy Keane when he picked up a second yellow against Juventus in 1999 and missed the Champions League final!

Being very irritated or even angry about this is important because it might spur the GAA into using video footage in massively important games where significant injustices like this have a huge impact on a county. Had the referee been shown what TV audiences could see as he spoke with his linesman he would have had no choice but to send Gleeson off and we would most likely be out hanging up red and white bunting and flags all week for another All Ireland final.

This isn't about Waterford by the way or raining on their parade – they're a great hurling county and we genuinely wish them well in bridging the 58 year gap (what stone hearted Cork hurling fan would begrudge their fans third All Ireland title?).

This is about Cork and the terrible refereeing decisions afflicted on us that have ended seasons that were in touching distance of glory. We have to be allowed to express our frustration at these huge mistakes in some way without it slighting those who benefit them - like Waterford.

There's a big difference between being 'sour grapes' and being a rebel willing to make a bit of noise about major sporting injustices perpetrated against your beloved county!

Up the Rebels. And video technology!
Posted on Oct 8th, 2018
The building boom is back. Are you a hospital consultant thinking of getting into attic conversions or the CEO of a Fortune 500 company that fancies a career in roofing? Then know how proper langers treat their customers....
Posted on Oct 1st, 2018
In Europe's friendliest city more than one bicycle is stolen every..eh....several days. That's a whopping 0.05% of the population. Be careful out there....
Posted on Sep 17th, 2018
An 83 year old man foiled a three-man raid in Glanmire last Saturday evening and in the process delivered a beautiful kick up the arse to one of the humiliated raiders. Who else needs a Dinny Funt?
Posted on Aug 27th, 2018
A buskers' code agreed between buskers, traders and residents is well worth pursuing before wrapping ourselves up in legal knots and slapping low-income buskers with fines...
Posted on Aug 15th, 2018
It has been rumoured for years that Bob Marley lived in Cork...and possibly still does. Only that can explain the manic devotion to the reggae superstar on Leeside...