Protestant Hurling Victory For Corkman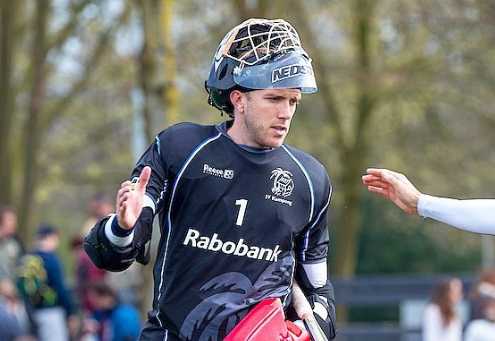 Goalkeeping ace and Ireland hockey captain David Harte from Kinsale has captained Dutch side Kampong to victory in the country's top league. The former Bandon Grammar student and six foot five giant has played the game professionally in both Holland and India where supporters turn out in their thousands to see the Cork man and his team play.

Named as the world's top hockey goalkeeper for the last two years in a row the Kinsale colossus has to be seen in action to be believed.

Most Corkonians will point to Anthony Nash as the county's top rocket stopper - and the Kanturk man was on fire in the Rebels recent victory over Tipperary in Thurles with several scintillating saves - but Harte's lightning reflexes are every bit as impressive – some of his finest work has been compiled into a video uploaded to Youtube and it is compulsory viewing for any Cork sports fans.

Anthony Nash would be proud of these ones.

Looking at them in slow motion (click on the 'settings' cog wheel on the video to change the speed) there's so little time between his opponents' sizzling shots and Harte's reactions that you'd have to wonder if he hones his skills by trying to stop shotgun bullets. The only thing we can think of that's faster than that is Roy Keane reacting to a journalist's silly question - and nobody would dare to try to defend The Boy's ballhops when he shoots from the lip.

Hockey goalkeepers have a smaller goal than their hurling counterparts to defend but the proximity from which shots at over 120 km/h can be taken at them is closer and every bit as frightening.

Known as 'The Irish Wall' the 29 year old Corkonian regularly heads to India in the off season to play with Mumbai where thousands more fans line terraces to see him play but Harte's main achievement has been getting Ireland into its highest ranking of all time. Their recent victories over a host of countries in Belfast such as Wales and France bumped the Irish up to ninth with captain David and his twin brother Conor heading up the defence.

Don't be afraid of hockey, Rebels. It's one of the most entertaining games around and according to a Vatican edict entitled 'Parva pila sit amet' ('Small balls are fun') hurling fans are permitted to watch hockey matches as long as they attend confession with a priest that has trained a hurling team within the previous 48 hours.

It also says holding a hockey stick requires absolution from a bishop who has lined out at senior intercounty level while playing the game of hockey itself and enjoying it unfortunately requires self crucifixion - but start with a few Youtube clips of Cork's hockey hero David Harte and take it from there!
Posted on Nov 27th, 2018
With much of the area due to become part of the city in the next few years, Glanmire has confirmed it was just trying to impress the rest of the northside with the "mass brawl" that took place in Riverstown last Saturday morning.
Posted on Nov 20th, 2018
A video taken in Bishopstown of a UFO has been dismissed with a seemingly rational explanation about the sun and the international space station. Fuck that though...
Posted on Nov 13th, 2018
Are you spending most of your day online posting vague, anecdotal evidence to back up your assertion that the Panaban is either the best or worst thing ever? Read on, bubbila.
Posted on Nov 5th, 2018
Last weekend a Dublin newspaper published an entire supplement called "10 Big Ideas to Make Dublin Better". Unfortunately our thoughtful and well considered suggestions were omitted due to the newspaper's anti-Cork bias. Here they are...
Posted on Nov 1st, 2018
Encouraged by his single figure showing in the Presidential election, Seán Gallagher vows to return from the sea and fight the 2025 Presidential election…