PROC Official West Cork Holiday Part 2
After Baltimore and Lough Hyne we decided to cross something off our list that had been on it for a while: spend a day on Sheep's Head – West Cork's low key, off-the-beaten-track, peninsula.
For any scobes reading a 'peninsula' sounds like something you would be injected with if you had diabetes, but it is in fact a long strip of land jutting out into the sea.

Sheep's Head feels like an island – it is undoubtedly one of the most remotest places in our county and if you consider that a negative then that's the last of those for a while because we're about to start raving about it. It must be for that reason why so few people venture down there from the city. Luckily for us, we chose one of those recent scorching days to visit it.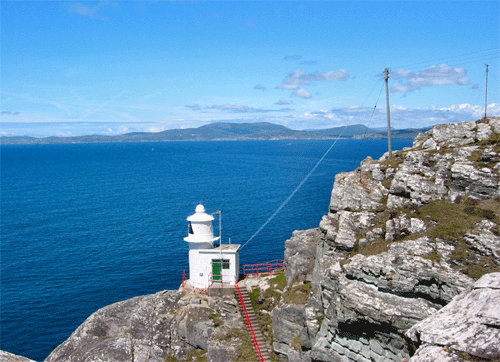 Sheeps Head looking wescht at the Beara Penninsula. We are happy to fight anyone who says that Cork can't compete at Senior Intercountry Scenery Championship level
It's a Cork cliché but when you get good weather in west Cork you really feel like it is the best place in the world. Why would you bother with your Santa Ponzas, busy airports and 'quare' languages when you can drive an hour and half west of the city and find yourself somewhere vastly superior.

When you get those warm blue skies with only the occasional cloudy stream from jets stuffed with fat Americans on it, it makes everything look so much better.
Durrus is the provincial capital of Sheep's Head. The only other places that can be considered urban settlements are the villages of Ahakista and Kilcrohane but we're talking proper villages now – not 'Douglas Village'.
Even 5,000 years ago Douglas was bigger than all the towns on Sheep's Head combined.
For some reason it still maintains that it is a 'village'.
These are proper rural middle-of-nowhere villages where it is possible to shout something from one end of the village to the other and whose establishments only need 'the' before them to identify them: The Shop; The Pub; The School – in the city you'll hear people say things like 'no, I mean the other skin and laser clinic in Douglas village' or 'I couldn't find parking in Douglas village'. Not here.

We stopped off for a bite to eat in the Bay View Inn which forms about a quarter of Kilcrohane's city centre. We were greeted by Tootsie, a feisty Scottish lady, furiously mopping the floor. Two lads who had been cutting trees had been in for lunch and their boots had dragged some mud around the floor so she was up the walls (the place looked grand to us - there's definitely a gene in many Brits that makes them annoyingly fussy about the tidiness of their abodes).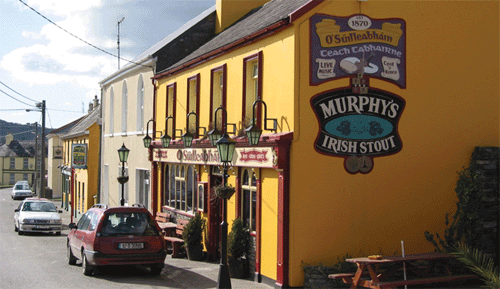 West Cork has pubs that are easily as good as any in Cork city - which happens to have the best pubs in Ireland - which happens to have the best pubs in the world.
When she caught her breath and stopped giving out about them we ordered a rake of Tootie's Triple Decker Toasted Specials. Good God. Sitting out the back with a great view east towards Bantry, tae in hand, gobs full of tomato, ham and cheese – we were in Heaven.
Arriving at the car park for Sheep's Head lighthouse you're already convinced that you're buying a summer house there when you finally 'make it' – like Graham Norton who spent the whole of the summer chilling out in Ahakista. So by the time you scramble over the two kilometre pathway from the car park to the maritime strobe light you're well sold on the spectacular unspoilt beauty of the place.

We balmed out on the cliffs for a while and soaked up the stunning views across to Bere Island and up to Hungry Hill and Adrigole.

A brochure told us it's a great spot for whale watching. We didn't spot any but we did see an enormous amount of long white foamy streaks in the water – they were either the result of waves bashing the cliffs below or, as one of the gang pointed out, whale snot. Fáilte Ireland need to get on that one pretty quickly.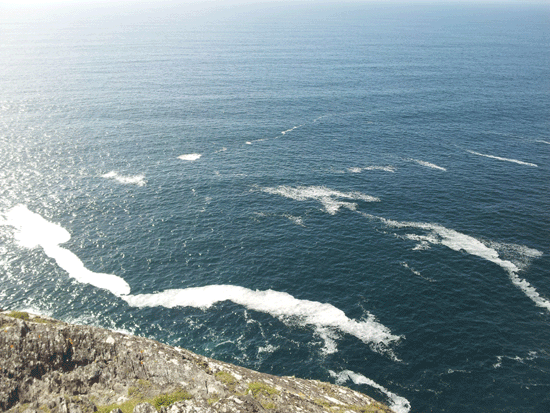 Whale snots gathering off Sheep's Head in Cork. It has been chilly thi summer so the big fellas could be forgiven for spraying the sea off the Cork coast in nasal whale dribble. OR the whales may be producing a lot of snot from grieving for the 6 ton lad who beached himself in Baltimore over the summer. He was said to be very popular among Cork whales and was involved in a number of underwater community groups.
Sheep's Head and lots of west Cork is noticeably less affected by the bungalow blight that has destroyed many scenic areas in Kerry and Donegal – this part of the country is also spared the giant tour buses full of the European and American rich searching for meaning and heritage - or just toilets and a bit of gift shop tat.

When you visit a peninsula the plan is usually to circumnavigate it. The three villages are all on the eastern side so we thought it would be the berries to complete the circle and end up in Bantry by taking the road around the western side of the peninsula for the way back. It's not a road. In fact it would barely qualify as a path, not to mind a boreen. The latter type have grass up the middle. This 'road', was mainly grass.
Your biggest fear might be meeting another car and having to reverse for two miles. This is Sheep's Head: you won't meet anyone.
Even the sunbathing sheep we passed looked at us like we were a new brand of dozy langers for taking the scenic way home, as the car scraped off briars and branches and made sudden unannounced drops in altitude – like the ones that makes everyone go 'ooooh' on a turbulent flight – there was a brief debate as to whether it would be better to turn back especially now that both the engine and the brakes were becoming smelly and hot from dragging us up and down the endless undulating, but undoubtedly gorgeous countryside.
After about eight miles we finally saw our first house. A few miles later we had mixed feelings about sighting our first human in nearly an hour - a fella driving a jeep so fast that it was also providing a ditch cutting service – either this was an astonishing new level of public sector efficiency or he had a pressing date with a yacht carrying a 'special' cargo from South America.

By the time we saw the "Bantry – 1km" sign we were back oohing and ahhing about Cork again: Bantry Bay, Garnish island, the muscle farms and Whiddy all looking poetic in the sinking sunlight.

Put Sheep's Head on your "must do before I die" list bubbila.


Posted on May 22nd, 2013
Are our famous sons and daughters holding on to their Cork accents or are they losing the run of themselves? Time to get out the cop-on-ometer...
Posted on May 22nd, 2013
You can't just tog out in beach shorts and cheap runners if you want to run in the affluent climes of Blackrock...
Posted on May 20th, 2013
We keep an ear on Cillian Murphy, Kat-ill-een Lynch, John Creedon, Fianna Fail apologist Michéal Martin, Camogie Goddess Anna Geary and alleged north African immigrant Niall Prendeville...
Posted on May 10th, 2013
As Bus Éireann drivers contemplate strike action here are another five common characters you wish you didn't see regularly on Cork city buses...
Posted on May 2nd, 2013
With such low fares these days, buses to Cork are getting packed out and the chances of you having to sit next to some langball gets higher. Here's our top 5...