PROC Guide to Pairc Ui Rinn
The hurling season officially starts on Saturday night in Pairc Úi Rinn at 7pm when Cork take on Tipperary in what will be another interesting transition season for the Rebels. Rumours of discontent are unsurprisingly doing the rounds – this is Cork GAA after all.

The loss of Darren Sweetnam and Seán Óg were more or less unavoidable. The much admired John Gardiner and football bound Eoin Cadogan's departures are disappointing for fans, maybe they could have been avoided but it's too late now so on we go.
Many of us fans were shocked when JBM and his selectors dropped Donal Óg Cusack from the league squad. It's a high stakes call by the Cork management and any balanced fan would say that the three times All-Ireland winning All star legend would surely be better off inside the camp rather than outside of it. All we can do as fans is trust the man with four All Ireland medals and see what happens.
Conor Lehane was on fire in last year's league opener at Pairc Ui Rinn
Thankfully on Saturday night the talking and speculation will be cast aside, temporarily at least, as we'll finally get down to some actual competitive and meaningful hurling.
Pairc Úi Rinn is a grand old place and arguably more comfortable than Pairc Úi Chaoimh and its seating made for dwarves. While the main stand and seating gives the ground a modern feel, it is the 80's looking three-bed-semi dressing rooms at the edge of the pitch that let's those watching on TV know that this is definitely the league.

Telling smallies that the dressing room 'house' is where all the Cork players live is easily believed: when Pa Cronin emerges on Saturday night you'd almost expect him to be holding a cup of tea and a TV remote control as if to say.
'Oh there's a big crowd out in the back garden lads, let's get our gear and go hurling'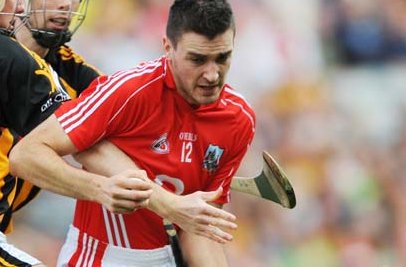 Captain Cronin: a rare glimpse of him without the helmet and the not-so rare sight of a player being fouled by Kilkenny
Not that we're expecting a tropical summer or anything but the temperature at Pairc Úi Rinn on Saturday is likely to be at least ten or twelve degrees colder than when our hurlers line out against Clare or the Blahs on June 23rd so bring more woolly gear than you think you'll need and a few bob for a half-time tae.

The number 202 bus will drop you fairly close to Pairc Úi Rinn saving you the torture of trying to find a parking space near the stadium and being "de numbur tooo" there's usually a bit of triple-stripe tracksuit action on board to entertain you on the way out.

This isn't Dublin though – drivers aren't seated behind anti-heroin addict jail bars and will give you change for your fare. You'll usually get a bit of craic out of them too although on weekend shifts they can be a bit cross (dealing with the onslaught of Saturday night booze hounds is no joke).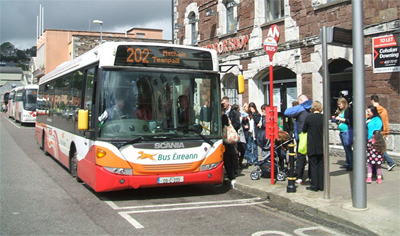 The number two, feen.
If they're any good they'll have the C103FM pre and post match commentary booming out with the lads on the mic bringing the latest results from the most obscure depths of the county's GAA action like the latest from Ballykillfitz versus Lúdramán Rovers in the Danny-Joe Morgan O'Callaghan junior challenge shield third round once removed replay attended by 27 people, eight dogs and a goat.

Whether you're on the bus or in a car, chart music on the way to any GAA match just doesn't seem right. Who wants to hear Rihanna's latest tearful collaboration with Mikky Ekko or that equally downbeat melancholic Passenger tripe en route to the first competitive hurling match of the year?

Bus drivers take note.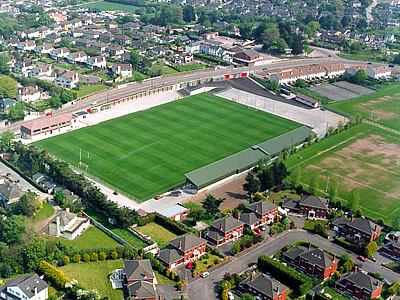 Pairc Úi Rinn pictured from the space shuttle Endeavour
Speaking of audio, at this time of year headphones and a radio are essential accompaniments to league games. Now that all hurlers wear helmets with faceguards it can be hard to even identify well known heroes.

John Gardiner's broad shoulder bounce, Seán Óg's distinctive gait or Pebbles O'Sullivan's amazingly low centre of gravity are what we have relied on from the stands in recent championship matches to distinguish the boys from each other.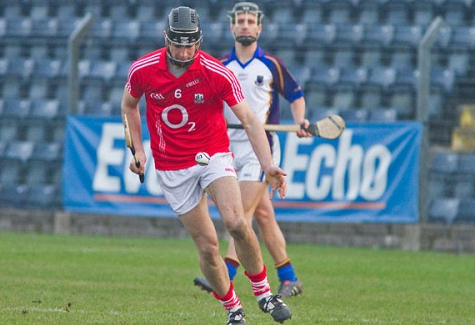 Mark Ellis: has looked tidy at full back so far
But for the league with so many new names like 'Cormac Murphy' and 'Mark Ellis' to cope with you not only need a team sheet but the commentary to go with it when you can't see player's numbers or are too glued to the action to look down at the list.

No Cork match is complete without the sub commentary of Finbarr 'Never Happy' McCarthy. His unrestrained crankiness when a Cork forward wastes an opportunity makes for humourous listening while you're watching the game.
'Again John, another AWFUL AWFUL aimless ball into the full forward line with NO sense of purpose or direction whatsoever. Very frustrating to watch'.

Dowtcha Finny boy.

The league is far from that summer sandwiches and warm flasks of tea at the back of the car in Thurles image but the action can be as good if not better than championship at times. Enjoy it for what it is. And if we don't come up trumps on Saturday night, you know the line: sure tiz only the league.

Posted on May 22nd, 2017
It is only fitting that the winner of the Fine Gael leadership contest and Ireland's new Taoiseach will hold his victory rally in the Event Centre he assured us would be built...
Posted on May 22nd, 2017
Rebel supporter Michael O'Driscoll has been day dreaming about Cork being in the All-Ireland final all day when he should have been ringing wedding DJs…
Posted on May 10th, 2017
It's exam time and there's no end to the temptations luring Cork's college students away from the books...
Posted on May 3rd, 2017
Learn how to make a killing and set up your own digital marketing conference full of bluffers, wafflers and bullshitters...
Posted on Apr 13th, 2017
From the never ending bus strike and the Wall of Shame to the event centre shamble-a-thon and our airport's shorter runway there's so much to be grateful for...