PROC Guide to Builder's Bluff
With so much house building underway and skip-loads of middle class moolah to be spent on renovations, trying to get a tradesman to pimp your gaf is like trying to find a hurler in Skibbereen. Well, a reliable, skilful hurler that'll turn up to play, anyway!

Just like during the heydays of the Celtic Tiger, the building bandwagon is back in full swing with mega bucks to be made in the trades.

If you're a hospital consultant thinking of doing attic conversions or the chief executive of a Fortune 500 company who fancies a bit of roofing read our guide to acting the langer and getting rich quick…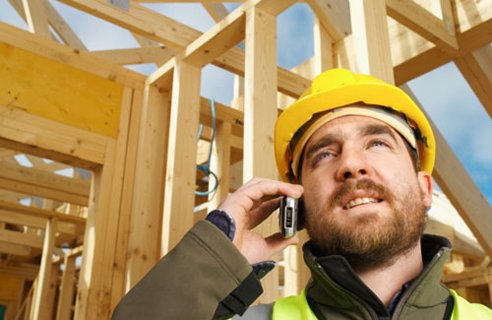 "Yeah, sorry about this morning. I'll definitely be there....before 2020"


Never call anyone back
First rule. The boom times are back and builders, plumbers, chippies and sparkies are worth their weight in gold. Ring a builder today and you won't get a call back for at least a month not to mind a price. Returning a call is a sign of weakness – it makes it looks like you mightn't be as up the walls as you claim to be. When you do decide to answer their call always sound insanely busy so quoting 15 grand to install a goldfish pond in a back garden sounds like a good deal.

Answer the phone out of breath
Even if you're plonked on the couch watching Daithí Ó Sé on a Monday afternoon make sure you pop outside if you're going to answer any call. If it's the old biddy from Quaker's Road whose extension you half finished two months ago wondering when she'll have a roof, then you better sound like you're busy on a windy building site. Jog up and down on the spot and tell them you're so far up the walls that you think you might turn into a daddy longlegs. Then saunter back to your web to watch the Kerryman trying to boil an egg.

Could be July when I get to you
People are desperate so always make it sound like your diary is rammed full. You've got a bathroom to tart up in Durrus, a foundation to pour in Youghal and an extension to plaster in Midleton - and that's just today. Tell them you've taken out your 2021 diary and that you'll have to write in the page margins to squeeze in their job. By then you hope to have a few robots working for you so you might be able to sort them out.

You could be talking another grand
After a job has started, any additional work no matter how small is always another thousand euro minimum. What's that? You want another pair of sockets near where the washing machine is going? You could be talking another grand.

Oh and you want us to sweep up afterwards and take away the empty crisp packets and fag butts that we've sprinkled around your gaf? You could be talking another grand.

In fact, you're so busy at the moment that if they keep you on the phone any longer you could be talking another grand.

You're getting married this week
You are in your Christy Ring but it's one of the best excuses in the book. You've been married for twenty five years but you "lost" the wedding ring in Vegas a few years back. Getting hitched is the best excuse ever – nobody's going to ask you to give up your honeymoon to finish an extension and it buys you two weeks to push on other jobs on the sly.

Got delayed on another job
Of course you did. Turning up for a job after lunch when you swore on your mother's life that you'd be there before dawn is grand once you're armed with the right excuse. The 'job' that delayed you was ducking into the bookies for a flutter on the 12:45 Duke of Brexit Chase at Doncaster but how would they know?

Hide that winning smile on your face as well. Backstop Boy came in at 10/1 so you'll probably put the feet up tomorrow as well.

Not a hope. Not a hope. No way. Not a hope. No chance that I'll get near you this week.
Don't even let them speak on the phone before you hang up. You're so popular now you don't even need an excuse.

When we opened it up, it was a complete mess
See you told them that you couldn't give them a proper price until you saw the condition of the stud partition in the bathroom after you took off all the tiles and the slabs. Damp? You've never seen the like of it. It's like the Atlantic Pond back there.

This could delay the job for months and you'll have to ring your carpenter friend to see how much a full rebuild of the entire house will cost. And sorry about the rubble all over the jacks. Didn't have time to turn on the water either. Had to get to another job. Will get back to you in the next month or two. Soz.


Posted on Nov 27th, 2018
With much of the area due to become part of the city in the next few years, Glanmire has confirmed it was just trying to impress the rest of the northside with the "mass brawl" that took place in Riverstown last Saturday morning.
Posted on Nov 20th, 2018
A video taken in Bishopstown of a UFO has been dismissed with a seemingly rational explanation about the sun and the international space station. Fuck that though...
Posted on Nov 13th, 2018
Are you spending most of your day online posting vague, anecdotal evidence to back up your assertion that the Panaban is either the best or worst thing ever? Read on, bubbila.
Posted on Nov 5th, 2018
Last weekend a Dublin newspaper published an entire supplement called "10 Big Ideas to Make Dublin Better". Unfortunately our thoughtful and well considered suggestions were omitted due to the newspaper's anti-Cork bias. Here they are...
Posted on Nov 1st, 2018
Encouraged by his single figure showing in the Presidential election, Seán Gallagher vows to return from the sea and fight the 2025 Presidential election…