PROC Gallery Update - May 2007
PROC Gallery Update - May 2007
The Peoples Republic and the message of Corkonian revolution excludes nobody. Feens, beours and bobas are all welcome to embrace the doctrine of independence and greatness that has been bestowed on our nation, be they foreign, half-breeds or blow-ins.
Here's proud Cork man Paul Frost bringing the PROC message to the Taj Mahal in India with his friend Rory Dempsey. Comrade Frost, a trombone player on tour with an orchestra in India, was treated to a civic reception and an audience with the mayor of Agra with whom he discussed plans for Corkonian autonomy. Both exchanged views over disputed territories Kashmir and the Beara Peninsula.

To win favour with locals, unimpressed with English speakers, Paul communicated his views on the Kashmir crisis through Irish. Talk about blowing your own horn....

Here's a photo of Jenna Hickman and Jessie Armstead-Loges of Tallahassee, Florida sent in by Cork man Eoin O'Shea. We have no other information which suggests Eoin is working as an undercover PROC agent somewhere deep in enemy territory.

Gaining valuable rest! Oh how it warms us inside to see Cork's 2023 hurling corner forward and half back all star pairing before they become famous. Dad and proud Corkonian Liam " Suilleabhain has decided to raise Oscar and Conor in the hot climate of Dubai to permanently acclimatise them for the humidity that global warming will bring to the 2023 championship ensuring a Cork victory.
Lining out in their county colours at just six months is a sure sign that these boys will be able to sing De Banks before they can walk. No doubt they'll also be hooking and blocking before they can hold a pencil or batter a camel.
"Although born out foreign their make-up", according to their dad, "is 99% Cork and 1% Swedish'
Posted on Mar 19th, 2009
Corkonians of all shapes, colours and creeds nearly melted in the sweltering 13 degree heat...
Posted on Oct 6th, 2008
Comrade Aaron Scott has been busy capturing last week's final visit of the QE2 to Cobh among other great shots....
Posted on Jun 12th, 2008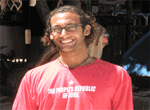 Jon Heller from New York hasn't even been to Cork yet but he's so excited about it he's already got the shirt..
Posted on Feb 11th, 2008
Images from last Sunday's march in support of the Cork hurlers and footballers...
Posted on Nov 26th, 2007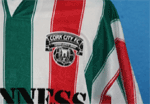 A comprehensive lamp at every home, away and special city jersey produced since the club's conception..