PROC Gallery Update


PROC Gallery Update
Expert percussionist Stephen Kelly from Turners Cross paid a visit to Cuba recently to help local drummers with some complex poly rhythms they had been having trouble with. Naturally the Corkonian was happy to help out and showed some of those so-called rhythm players a thing or two about banging a few pots.
His delighted Cuban students were so grateful for the Cork man's tuition that they decided to honour him and his country by renaming their cabs after Cork's most famous highway: Pana. Proper order too. Click here to visit the t-shirt gallery




Meanwhile, Micheal Dymet has been busy taking photos around town. Mesmerised by the staggering beauty of the Beautiful City, this time he has focussed his work on the south quays including the spanking new School of Music. Here's a sample of his new shots:


Click here to visit his PROC Gallery
If you would like to submit photos please email them with some accompanying words to.(JavaScript must be enabled to view this email address)

Posted on Mar 19th, 2009
Corkonians of all shapes, colours and creeds nearly melted in the sweltering 13 degree heat...
Posted on Oct 6th, 2008
Comrade Aaron Scott has been busy capturing last week's final visit of the QE2 to Cobh among other great shots....
Posted on Jun 12th, 2008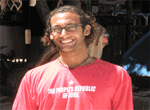 Jon Heller from New York hasn't even been to Cork yet but he's so excited about it he's already got the shirt..
Posted on Feb 11th, 2008
Images from last Sunday's march in support of the Cork hurlers and footballers...
Posted on Nov 26th, 2007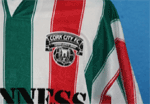 A comprehensive lamp at every home, away and special city jersey produced since the club's conception..