PROC Election Manifesto II
PROC Election Manifesto II


The Key
Under PROC rule every single cash register in the county and all their operators will be issued with a copy of the magic key. This illustrious object in the possession of a supervisor is called for every few minutes by till operators in supermarkets when a transaction goes wrong or a bar code scans incorrectly and their register needs to be reset.
The current system is employed to give supermarket supervisors a childish superiority complex over till operators who, like pet dogs, are forced to track down their supervisor every time their register acts up.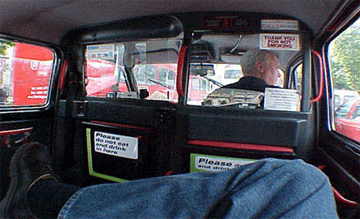 Perspex partitions: the right to silence
These tiresome drawn out inquiries between staff as to the location of the supervisor and the magic key really twists customers' nipples as they stand motionless waiting for the trumpeted arrival of a simple piece of metal that could be copied multiple times for a few euro. Never again under a PROC government will you have to endure this pain!
The Right to Silence in a Taxi
Cork wouldn't be the same without them but PROC will introduce legislation to make it mandatory for cab drivers to keep their mouth shut for the entire journey should their passengers require.
If you've had a bad night out, been dumped by the old doll, got fleeced for late drinks, lost your coat and got soaked waiting for a cab, the very last thing you want to hear about on the way home is a conspiracy theory involving the driver's stifled soccer career in the north of England, a disagreement with the chairman of his local club, an incident in a bar in Durham and an angry plane journey home.
Glass separating the driver from the passenger behind, like black cabs in Belfast, will be mandatory and can be used to cut off taxi driver ramblings if necessary. This will also allow taxi drivers much more time to focus on things like using their indicators when lane-hopping.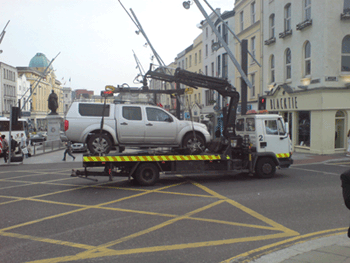 Wouldn't you just love to see the langer's face...
SUV Terror
Everyone respects the right of an individual to drive an obnoxiously large vehicle and while it might be more a case of car-envy than genuine concern about the environment that gets under Corkonians skin the Montenotte Tractors are hugely intimidating on many narrow Cork streets.
If put in power, PROC will ban all vehicles of "stupid size" from the city centre. While there's no doubt that at times making your way down certain narrow streets, particularly on a weekend night might require some heavy armour, SUVs are totally unnecessary for urban transit.
Meeting an SUV commandeered by a midget mother caked in fake-tan on Douglas St, Blarney St or Barracka is a torturous event as they struggle, nose aloft, to peer over the steering wheel, cautiously inching their way along the street - leaving a two foot gap on the kerbside for fear of dirtying the tyres against the kerb. If you wanna come to town for some shopping it's back to your starlets, fiestas and puntos ladies!
Green on Red
God forbid we'd steal the clothes of the Green Party with our SUV proposal but the rebel red policies of the PROC also have some solutions for the lack of viable and reliable public transport in Cork.
While we hear mumblings about LUAS for Cork every few months and the more recent startlingly "narnian" suggestion of putting San Francisco style trams on Patrick's Hill, it's unlikely you'll step on a train to Carrigaline or Ballincollig before 2030 so we'll focus on buses.
Now that the present government has legalised casinos this is surely an obvious way to attract punters on to the public transport system whilst collecting much needed revenue for reinvestment in posher buses.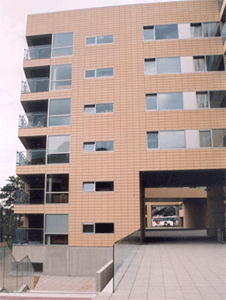 Eye sore: Victoria Mills
Poker tournaments down the back, fruit machines up the front and maggot racing in the buggy compartments will attract tens of thousands of extra Cork commuters onto public transport each day. Certain city buses will have on-board bookies who will take bets on the chances of the bus making it to the end of the line without breaking down or being attacked with stones. The temptation of winning a fortune every time you step on a bus will be unbearable and drastically reduce carbon emissions in this bowl shaped city.

Laws Against Crap Buildings
Such is the frantic rate of development on Leeisde these days that on your way to work one morning you could pass an empty overgrown field only to find on your way home it has an eight storey tower block with apartments and offices built on it. It's great as long as we're not left with a legacy of crap buildings to look at down the line.
Highly paid foreign architects with multi-coloured framed glasses and expensive pink shirts might think a giant ostrich egg shaped office block is positively post-modern ironic chic-nouveux but the ordinary feen on the street has to be on side too. The legend of the "award winning" student accommodation in Victoria Cross that looks like a 1960's mental asylum, comes to mind.

PROC will reform planning departments to include panels of Corkonians from all walks of life who will when showed plans from developers, comment on planned monstrosities answering the simple question "whacha tinka dat dere lah?". Developers will be forced to take into account the ridiculous opinions of various know-it-alls before turning a sod. Panel participants will not be required to be sober so as to encourage honesty.
Posted on Apr 26th, 2007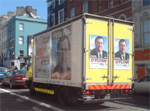 Noelies truck might be booming around town but can he match the PROC's election promises..
Posted on Apr 3rd, 2003
Could Bob Marley's music be the answer to reducing insurance premiums for young drivers?
Posted on Apr 3rd, 2003
Osama Bin Murphy gives a few instructions on manning a new uninsured vehicle and shows the positives by far outweigh the negatives.....
Posted on Apr 3rd, 2003
Driving a low cost vehicle is essential for young drivers being ridden by the insurance industry....
Posted on Nov 26th, 2002
There's mayhem on Maylor Street as an attempted invasion of Cork by the FAI is taking place. Its time for you to go into action against the enemy in our New† Shoot 'Em Up Game.