Pope Found in Horse Burger
Pope Benedict's surprise resignation last week is linked to the horse meat scandal which broke in Ireland over a month ago which is now engulfing the European Union and may result in the End of the World.

Test results conducted by the European Institute for Food Safety have revealed that a number of horse burgers sold by major Irish and UK retailers contain more than 30% Pope meat. How the Pope's DNA ended up in the food chain is being described by the Vatican as a "divine mystery" - a phrase used by the Church when faced with empirical evidence contrary to their beliefs.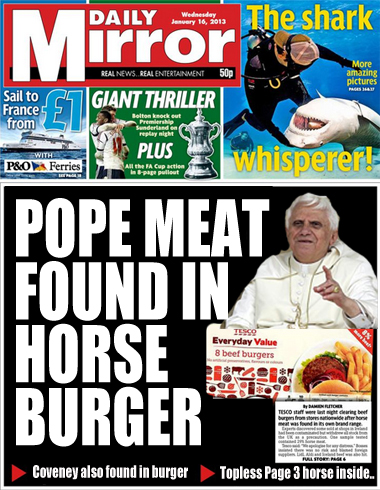 Mane news: The Brit newspapers know how
to stirrup the controversy
A Vatican spokesman (in fairness, it was hardly going to be a woman) said that the Catholic phenomenon of 'transubstantiation' may explain the findings. This is the miraculous conversion of food such as communion wafer, into the actual flesh and blood of a Holy individual such as Jesus Christ.
"A young trainee priest may have accidentally said the Catholic 'Prayer of the Eucharist' in front of a meat processing plant while walking past or passing in his car thus turning the nearest source of food into the flesh and blood of God's representative here on Earth ".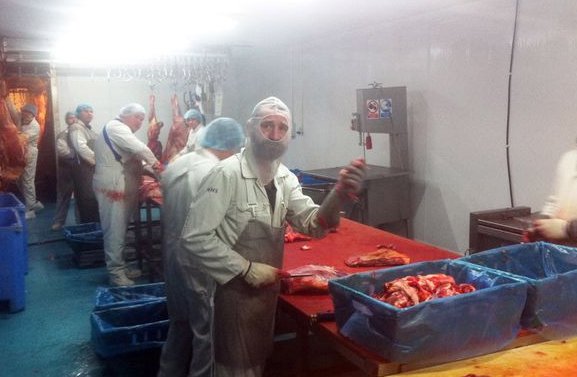 A worker at a meat plant finds a piece of the Pope's hat and a pro-life flyer
Ratzinger was unavailable for comment when we called the Vatican as he was busy packing his suitcases with the free underpants he got as Pontiff. He resigned early last week after hearing that his DNA turned up in several tests.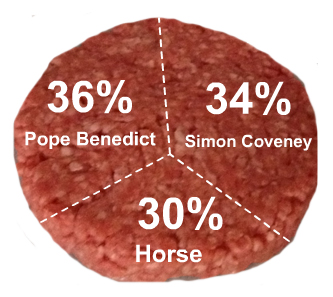 Coveney has some explaining to do
Posted on Feb 20th, 2017
If you have a Cork fetish like us then this will get you off big time...
Posted on Feb 20th, 2017
Emergency Weather Committee seek €500 million relief fund as incredible mildness sets in over the country...
Posted on Feb 19th, 2017
A Corkman and emigrant has made a series of phone calls home again to let his family and friends know that the weather is better in Australia....
Posted on Feb 13th, 2017
Courier Jason 'Short Puc' Lawlor from Ballyphehane has admitted he doesn't even bother getting out of the van to see if people are at home anymore when delivering packages...
Posted on Feb 6th, 2017
Even though she "sort of knew how it worked all along" a young expectant first-time mum is in shock this morning after the reality that she will have to force a small child out through her vagina suddenly hit her.