Pope Found in Horse Burger
Pope Benedict's surprise resignation last week is linked to the horse meat scandal which broke in Ireland over a month ago which is now engulfing the European Union and may result in the End of the World.

Test results conducted by the European Institute for Food Safety have revealed that a number of horse burgers sold by major Irish and UK retailers contain more than 30% Pope meat. How the Pope's DNA ended up in the food chain is being described by the Vatican as a "divine mystery" - a phrase used by the Church when faced with empirical evidence contrary to their beliefs.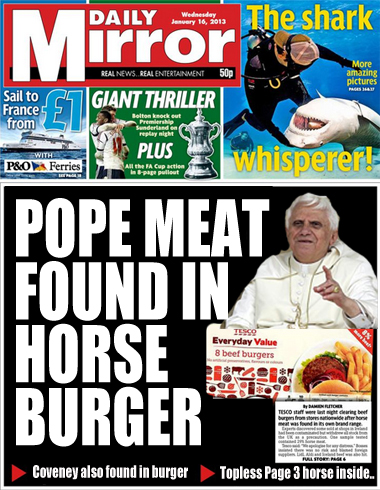 Mane news: The Brit newspapers know how
to stirrup the controversy
A Vatican spokesman (in fairness, it was hardly going to be a woman) said that the Catholic phenomenon of 'transubstantiation' may explain the findings. This is the miraculous conversion of food such as communion wafer, into the actual flesh and blood of a Holy individual such as Jesus Christ.
"A young trainee priest may have accidentally said the Catholic 'Prayer of the Eucharist' in front of a meat processing plant while walking past or passing in his car thus turning the nearest source of food into the flesh and blood of God's representative here on Earth ".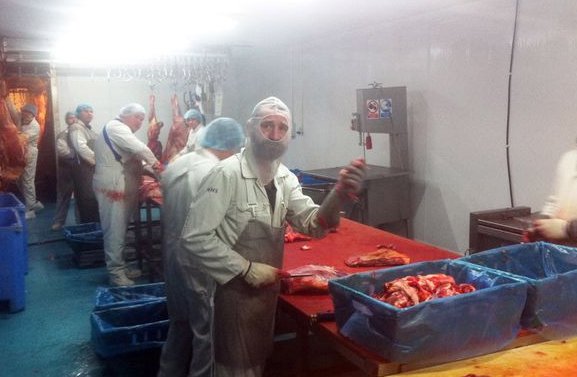 A worker at a meat plant finds a piece of the Pope's hat and a pro-life flyer
Ratzinger was unavailable for comment when we called the Vatican as he was busy packing his suitcases with the free underpants he got as Pontiff. He resigned early last week after hearing that his DNA turned up in several tests.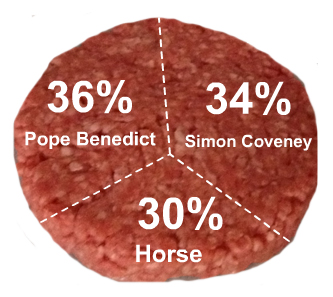 Coveney has some explaining to do
Posted on Oct 26th, 2016
Amazing scenes in Iceland as WOW airlines announces a new direct flight to Cork. When a feen lands in Reykjavik you can ball on to New York as well...
Posted on Oct 25th, 2016
As Cork city council panics over just €1.6 million quid the Pale wants more of our money for trains, airport terminals and another M50 upgrade. The most capital centric city in Europe is inflating like a morbidly obese self-hating supernova and its going to explode and defecate on us all...
Posted on Oct 11th, 2016
Only one of Cork's bridges is named after a woman. We should name the new Harley Street bridge after Cork's Mother Jones - a Cork Rebel, an American immigrant and strong woman that Donald Trump would hate...
Posted on Sep 29th, 2016
The folk festival and jazz festivals bookend this month with top international acts as well as a fine smattering of great gigs in between from the likes of Michael Kiwanuka, Cathy Davey, Simone Felice, Clare Sands, The Art Crimes Band and lots more.
Posted on Sep 28th, 2016
The city's jaywalkers feel they will be hit hardest by the ban on private vehicles on Patrick Street....