Pana Marauders Guide - Part 2
Would you like to be accepted as one of Patrick Street's notorious teenage marauders? Then listen up and follow the second of our two part guide to acting the langer in public….

PUNISHMENT
Most groups of humans need internal discipline to ensure harmony. In some states there are penalties like prison, solitary confinement, torture and even execution to keep citizens in line. However with your new status on Pana the biggest sanction you could suffer is to be unfriended on Facebook.

This is the most baddest and worst-est thing that could happen in your life. Even worserer than running out of credit because at least your 'friends' can send you smilies and LOLs when you've no credit.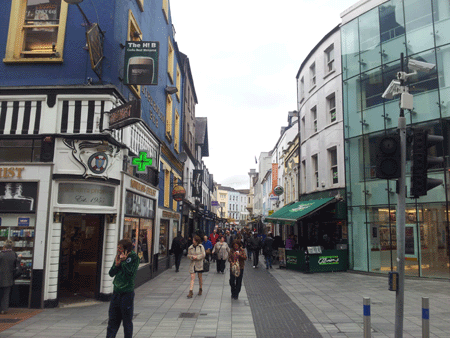 Between lines of chuggers, that out-of-tune busker wan with the amplifier and groups of marauders Winthrop Street is becoming a little bit mental
Without permission to post on someone's FB page or even read it you are in the dog house big time – immediately seek counselling, go into hiding and consider writing a novel about this brutal treatment you have been subjected to.

PROTEST SIT-INS
Although teenagers have very little to protest about aside from running out of mobile credit you may still need to take on the demeanour of a really pissed off young buck to fit in. This involves taking up stress positions that cause passers-by to wince and think 'why on earth would you sit there?' but as a Pana teenager the last thing you want to be is rational.
One of the top sit-down spots is outside the windows of Brown Thomas where you can lay out on the ground – and by 'ground' we mean the damp, cold pavement that has probably seen all manner of unpleasant liquids and solids thrown on it since the last shower of rain.

This is done in large groups and may indicate some sort of downtime or rest period in the afternoon after a lot of marauding, screaming, hugging and Facebooking has been done. A bit like a pride of lions grazing on a plain after a big kill.

RUBBISHING RITUALS
An important part of fitting in at your new hang out spot on the Winthrop Street/Pana junction is to engage in behaviours that become normalised within the group. We've already mentioned screaming and shrieking however one of the most important actions you will perform is lobbing anything you don't want from your pockets or hands onto the street.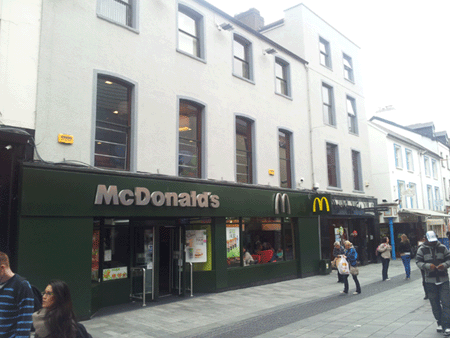 McDonald's is now, like, ssooo environmentally friendly with its green walls and the gentle sidelining of Ronny McDonny. Winthrop Street marauders get all their vitamins from here, carefully placing all waste paper on the street.
Unfortunately for the hard working and tenacious Cork City Council litter pickers putting drink cans, bottles, fast food and sweet wrappers in the bin is considered by marauders to be anti-social and in many cases having a social conscience falls under the catch-all adjective 'ghey'.

OMG, like, why put your papers in the bin when you can just drop them at your feet?


GATTING ON
All those soft drink bottles you see scattered around Winthrop Street on a Saturday evening or on the night of a teenage disco in town are far from attributable to a childishly innocent sugar-lust. It's the oldest trick in the book but the Irish genetically built-in obsession with getting drunk as a young teenager requires that you put cheap vodka or another manky spirit into a plastic bottle and then find some nook in town in which to consume it.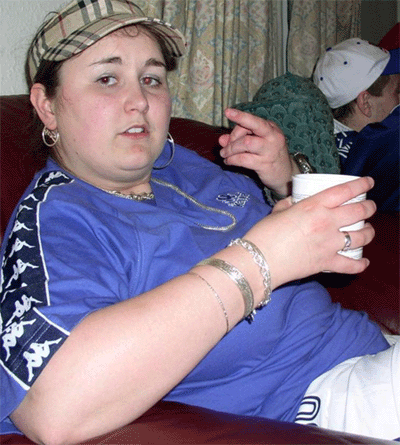 Gattin' on at a free gaf after a hard day marauding
This should preferably be the darkest and most miserable place possible far away from the venue in case someone's mam spots you and the gang. The predictable inexperience with drink inevitably leads to a catastrophic failure of limbs, vomiting and three hours walking around town crying to yourself because you didn't think the bouncers with years of experience at spotting silly teenage twats like you who shouldn't be left near cidona not to mind cider, would spot you.

There's a sliver lining after the lining of your stomach has repaired itself: you can update your Facebook status in the morning with the much respected phrase "OMG…ssoooo hungover". It's nice to be able to say something cool about yourself every now and then without lying.

FIGHT! FIGHT! FIGHT!
Already primed for mass hysteria at the slightest whiff of drama, as a Pana marauder you're adrenaline will really start pumping when a fight kicks off. This is your chance to use all that pent up teenage energy by finally doing something really exciting: running away from a thing that is frightening.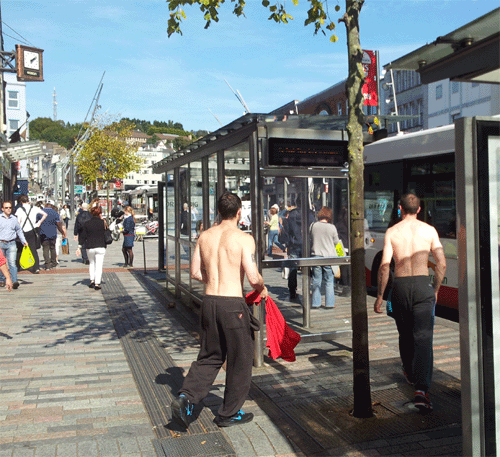 When you've been involved in a fight every marauder knows the first thing you do is to take off your top so the law can't identify you from reports from other marauders.
The next step in escaping the law is to get on the bus home. Jawb.
In such big groups of wild untethered testosterone and hyperactive screaming oestrogen it is inevitable that the mass collective irrationality will eventually produce tension that results in 'slaps being thrown'.

The funny thing about schmozzles and 'handbags' in that triangle of space at the top of Winthrop Street is not just the group hysteria they provoke but how it results in streams of teenagers legging it in different directions shouting 'SCATTER!' when the law arrive in screaming Paddywagons.

It must be the easiest thing in the world to find the culprits. They are the ones at the end of the two hundred and fifty long human train powering its way up Patrick Street and down Merchant's Quay.

Scattered along the way are the weak, the unfit and overweight marauders - puffing or sobbing in the shelter of department store doorways up the street while the fitter marauders power on into the damp early evening air. Charles Darwin would have loved the scene.

It's tough being a marauder but you now have the basics so go forth and act the langer. Please let us know if you have any questions and we'll post the answer on your facebook profile.
Posted on Oct 8th, 2018
The building boom is back. Are you a hospital consultant thinking of getting into attic conversions or the CEO of a Fortune 500 company that fancies a career in roofing? Then know how proper langers treat their customers....
Posted on Oct 1st, 2018
In Europe's friendliest city more than one bicycle is stolen every..eh....several days. That's a whopping 0.05% of the population. Be careful out there....
Posted on Sep 17th, 2018
An 83 year old man foiled a three-man raid in Glanmire last Saturday evening and in the process delivered a beautiful kick up the arse to one of the humiliated raiders. Who else needs a Dinny Funt?
Posted on Aug 27th, 2018
A buskers' code agreed between buskers, traders and residents is well worth pursuing before wrapping ourselves up in legal knots and slapping low-income buskers with fines...
Posted on Aug 15th, 2018
It has been rumoured for years that Bob Marley lived in Cork...and possibly still does. Only that can explain the manic devotion to the reggae superstar on Leeside...