Ode to Reena Buckley: Cork's All Time Great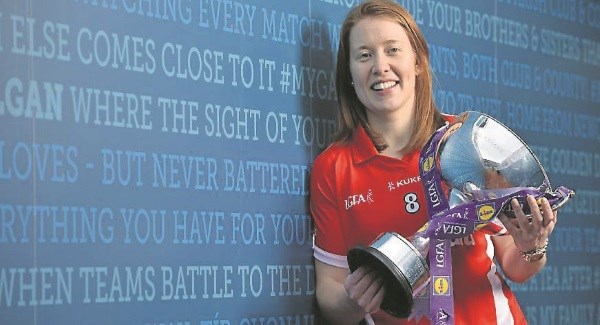 At the tender age of thirty one, Reena has decided to hang up her boots,
Was there ever a Cork player, like her that was so connected to her roots?

With eighteen All-Ireland medals, in the ball both big and small,
It turns out she is the most decorated GAA player of them all.

When future generations hear the stories, it'll knock them to the floor,
The haul of medals won by Cork's hero from Donoughmore.

More medals than Henry Shefflin (with ten they call him the king,
And we all know when it comes to hurling the real King is Christy Ring).

Combine the haul of those two men and you'd come up with eighteen,
And imagine if they had played together, now that would be some team.

But Reena still can match them, she's got that many too.
And she's just one single person, it's hard to believe it could be true.

'05 was a very special year for Cork, one of the best there's ever been,
The European Capital of Culture, and Reena was still just a teen.

City won the Eircom League and the hurlers brought Liam back,
Who could forget Séan Óg's speech to put Cork pride back on track.

A few weeks later to top it off, camogie was centre stage,
If Cork could win this too it would really give The Cats the rage.

The Rebelettes were down by five when the second half kicked off,
But keeping Tipp to just three scores, Cork hauled themselves out of a trough,

The way they grounded out that victory was a sign they were a special team,
And among them in her first winning final was Reena, our Rebel Queen.

At that time we didn't know how really special she would be,
We had so many heroes in '05 we couldn't clearly see.

We had the O'Connor's from Netownshandrum, John Allen our hurling boss,
Damien Richardson's return and George O'Callaghan out at the 'Cross.

When success dried up in following years and the hurlers went on strike,
We saw a win in ladies football that wasn't just a random spike.

A pattern started to emerge as the years went thundering by,
There was an outstanding set of players who really caught our eye.

An exclusive club emerged with strict criteria to be a member,
Being a part of it meant you had to win an All-Ireland every September.

But within that club were the dual star Rebels - they would win not one but two.
Once in a lifetime would be amazing, but in the same year…could it be true?

Reena Buckley made sporting history like no one who came before her,
And when she lost her way she never complained, or became a moaner.

Ever humble, unassuming, never stormy, brash or breezy,
She always claimed it was the other players who made it all so easy.

Strict on quashing praise, claiming there were misconceptions,
She refused to take credit for her well timed tackles or crucial interceptions.

But the evidence against her humble claims really starts to mount,
When her All Star wins are laid out for all to see and the jury starts to count.

Ten times she has been crowned so for the verdict you don't have to wait.
This PROC court finds Reena 'guilty' of being Cork's All-Time Great.

Posted on Jul 16th, 2018
It's time to hand the event centre tender over to the Peeple'a'Cork. Just give us 100 Saturdays and we'll knock it together. Anyone have a spare trowel?
Posted on Jul 2nd, 2018
It has been very dry over the last few weeks and things are tough all over the country but did you hear about how bad the drought is up in Clare? They haven't won a Munster title now in 20 years.
Posted on Jun 29th, 2018
We have the weather so now all we need is to drive like lunatics, make siestas legal and look a lot more philosophical whilst smoking....
Posted on Jun 19th, 2018
We turn the slightest, most tenuous Cork connections to other countries and their players into blind loyalty so you have a reason to scream 'C'MON ON D'REBELS!' at your telly every night for the next month...
Posted on Jun 12th, 2018
Read our guide to holding up traffic, driving at terrifying speeds through villages and sleeping in your tractor....all so Chinese women can give up breastfeeding...