Obama Urged to Press The Button And Be Done With It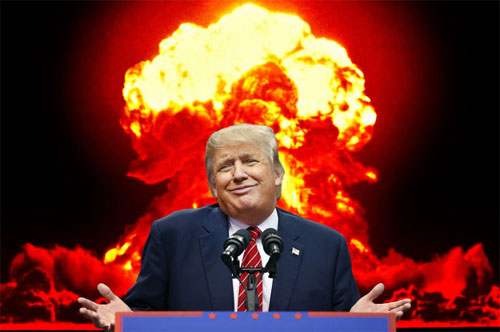 As most of the world poops its pants after the victory of Donald Trump in the U.S. presidential election many despairing onlookers around the world have been urging the outgoing White House administration to launch a global nuclear war as soon as possible so we can just be done with it.
Citing the absolute certainty that Donald Trump is going to cause an atomic war anyway people believe Barrack Obama should mark his last day in the Oval Office by inputing the secret codes that send orders to his military commanders to launch the nation's entire nuclear arsenal.

"I'd much rather have my face melted off by an Obama bomb than a Trump one", said Donnelly Morrison, a New York Times reader and 'twitterazi metropreneur', "I would hate my last thought to be that Trump got me and my liberal beliefs".

Trump's election is likely to see a new wave of northern European hippies moving to west Cork – the first wave in the 1970s descended on the Rebel county when it was advised that the area would be one of the safest if the world experienced a nuclear winter.

The unexpected period of immigration resulted in an explosion of incense fuelled healing circles, demand for gluten free organic marmalade and clapped-out volkswagon camper vans with peace signs on them.

It also made it much easier to get a bit of smoke down west. So on that note: Dowtcha Trumpy, boy!
Posted on Feb 20th, 2017
If you have a Cork fetish like us then this will get you off big time...
Posted on Feb 20th, 2017
Emergency Weather Committee seek €500 million relief fund as incredible mildness sets in over the country...
Posted on Feb 19th, 2017
A Corkman and emigrant has made a series of phone calls home again to let his family and friends know that the weather is better in Australia....
Posted on Feb 13th, 2017
Courier Jason 'Short Puc' Lawlor from Ballyphehane has admitted he doesn't even bother getting out of the van to see if people are at home anymore when delivering packages...
Posted on Feb 6th, 2017
Even though she "sort of knew how it worked all along" a young expectant first-time mum is in shock this morning after the reality that she will have to force a small child out through her vagina suddenly hit her.