Obama Urged to Press The Button And Be Done With It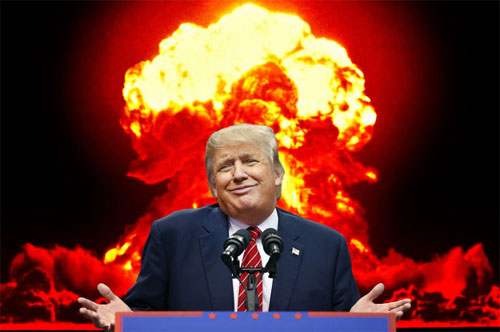 As most of the world poops its pants after the victory of Donald Trump in the U.S. presidential election many despairing onlookers around the world have been urging the outgoing White House administration to launch a global nuclear war as soon as possible so we can just be done with it.
Citing the absolute certainty that Donald Trump is going to cause an atomic war anyway people believe Barrack Obama should mark his last day in the Oval Office by inputing the secret codes that send orders to his military commanders to launch the nation's entire nuclear arsenal.

"I'd much rather have my face melted off by an Obama bomb than a Trump one", said Donnelly Morrison, a New York Times reader and 'twitterazi metropreneur', "I would hate my last thought to be that Trump got me and my liberal beliefs".

Trump's election is likely to see a new wave of northern European hippies moving to west Cork – the first wave in the 1970s descended on the Rebel county when it was advised that the area would be one of the safest if the world experienced a nuclear winter.

The unexpected period of immigration resulted in an explosion of incense fuelled healing circles, demand for gluten free organic marmalade and clapped-out volkswagon camper vans with peace signs on them.

It also made it much easier to get a bit of smoke down west. So on that note: Dowtcha Trumpy, boy!
Posted on Jun 19th, 2018
We turn the slightest, most tenuous Cork connections to other countries and their players into blind loyalty so you have a reason to scream 'C'MON ON D'REBELS!' at your telly every night for the next month...
Posted on Jun 12th, 2018
Read our guide to holding up traffic, driving at terrifying speeds through villages and sleeping in your tractor....all so Chinese women can give up breastfeeding...
Posted on May 25th, 2018
With 18 All-Ireland medals and 10 All-Stars Rebel Reena Buckley has retired. Resident PROC poet John Paul Valentino has been spending soime quality time in his poetry isolation chamber...
Posted on May 14th, 2018
With the concrete pillars and devoted crowds those not familiar with the area might confuse it with Mahon Point Shopping Centre but the all new Páirc Uí Chaoimh is more than a smell of coffee, big brands and long lines of traffic.
Posted on May 4th, 2018
Top 5 touristy things his nibs should do while he's in Cork. We've even worked out how to play 'Shape of You' on the Shandon Bells for him...