Saturday DIY Enthusiasts Would Have Built Event Centre By Now
The never-ending saga of the event centre continued this week with an announcement that there may be an announcement soon about when there'll be a final announcement on the announcement of a start date. And of course 'start date' could just mean that engineers will start planning the construction, ordering the steel and blocks at which point they'll make an announcement that they need to apply for more tax payers money.

Cork politicians in the main parties have been quiet, outside of publishing tepid statements that they'd "like to see construction start soon". To be fair, Sinn Fein TDs have put questions to Minister Simon Coveney in the Dáil but that's really about as as hard Cork's Dáil contingent have pressed.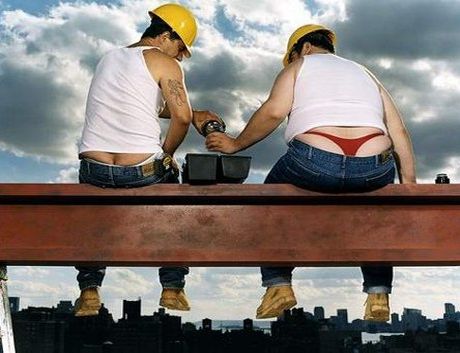 Lofty and The Brick Murphy will do the steel work. No bother to them - they did a bit of construction on their J1 a few years back.

The very least they could have done is to chain themselves to the gates of Leinster House for a few days, shout the lyrics of De Banks in the Dáil during leader's questions until they are forcibly removed or do a bit of streaking at the World Cup to gain some international attention for the cause. But not a bare bum Rebel in sight.

Looking back, had some land around the showgrounds near Páirc Uí Chaoimh been allocated by City Council when the event centre was first mooted and if ten or fifteen amateur DIY enthusiasts had been tipping away at it every dry Saturday for the last ten years then we'd all have gone to a few gigs down there at this stage.

With this in mind, if the events centre goes back out to tender, then the PROC is making an announcement of it's own : we will be submitting an application on behalf of the Cork public to build it ourselves.

OK, stall the beans a second, we hear you say, how in the name of Honka Honka Man will we be able to get the workers to complete this job.

Well, feen, we're glad you asked.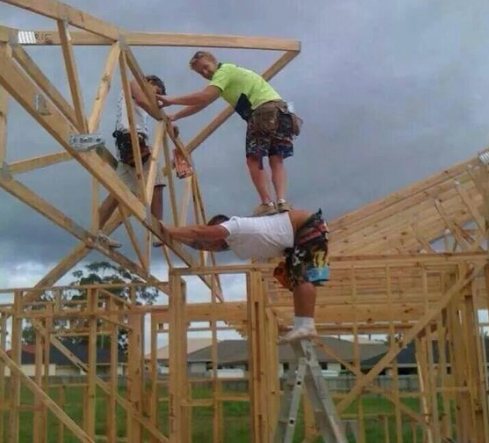 If anyone has a spare full length ladder give us a shout, bubbila.

We're just giving you a heads up that your name will be on the list of people who are going to build it. That's right, we're all going to build it together, sham – the PROC Men's Shed. And that includes handy old dolls too.

So yeah, you might want to get all the small jobs you've been meaning to do your gaf soon enough because once we are successful, your "DIY Saturday's" are going to be taken up building this, Godforsaken, event centre for the next year or so.

Putting up a new cabinet in your bathroom are going to have to take a backseat for a bit – the likes of Madonna and Beyonce are going to need some serious cupboards in their event centre dressing room to put all their Tanora bottles. Those dance routines are thirsty work.

Anyone deemed to be "handy" will have their names added to the list if they haven't already volunteered but don't think of it as conscription though - this is what we at the PROC are calling 'compulsory volunteering'.

And there's no physical punishment if you don't show up on a Saturday either – just a lifetime of being ball-hopped about being a yellow bellied, stay-at-home coward. Plus, in true Cork style, you'll be assigned a nickname based on your excuse like 'Sister's Wedding' or a sarcastic 'Up The Walls' which will follow you forever and be written on your headstone.

But we know there will be thousands of Corkonians ready to sign up to build this for their beloved city.
As far as the application is concerned we've been working flat out on it in anticipation of the event centre going back out to tender. It's amazing the creative ideas and how clear and simple everything becomes after a feed of gat as well – something the major construction companies, who will lose out to us, should note.

So far our list says "foundations, four walls, a roof, a stage, a few thousand seats, coupl'a speakers, a tuck shop, a ticket desk and a 'Gatteria'" (a posh sounding pub with a Cork twist that'll really impress the judges and swing the tender in our favour). Easy.

Everything else, like wallpaper and carpets we'll pick up in town (we're actually thinking of decking the whole place out in Cork City FC wallpaper but we're open to suggestions).

And of course as the event centre will be built by volunteers, the bulk of the €30 million of tax payers money requested by the current construction company, can then go into other worthwhile and genuinely complicated Cork projects like the Cork Monorail System, the Ballyphehane-Togher Teleporter and the Farranree Proton Accelerator.

Now, does anyone have Beyoncé's mobile number?
Posted on May 18th, 2019
In part deux we look at ways we can all help make Cork's Huguenot Quarter become a little more French by changing our accents, taking up chain smoking and having multiple affairs with beours we don't even like...
Posted on May 11th, 2019
With our insatiable appetite for tourists, maybe it is now time to ramp it up and go all-singing-all-dancing frogs legs, onion necklaces and stinky cheese...
Posted on May 4th, 2019
Even though we are a notch above the rest, Cork people aren't all the same – perfection doesn't mean we are homogeneous.Travel around the city and county and you'll find some quirky traits that make each of the jewels in Cork's crown unique
Posted on Apr 4th, 2019
The relentlessly repetitive single word script and leave-whenever-you-want audience policy is sure to be a hit in theatres from Buttevant to Barnet and Brixton to Broadway....
Posted on Mar 13th, 2019
When minority languages try to recover from historical oppression, it is the death-by-a-hundred-thousand cuts inflicted by the native population themselves that properly ensures a language is extinguished..