New Cork Toys for Christmas
With Santy's trip to Cork imminent we imagine what the perfect toys for Corkonians…

Rebel County Train Set
Model railway enthusiasts like to build their own little world around their tracks and trains but Corkonians would prefer a set that is modelled on Cork: if you have seen perfection even once then there's no point trying to create something better.
It would be tough to fit such magnificence into one room but what a sight it would be. Imagine the majestic rolling hills of the Lee Valley, the tunnel under the Northside and Shandon rising above the morning fog as trains arrive into 'Cork'. Toy passengers of course would be seen on the platform of 'Kent Station' kissing the ground.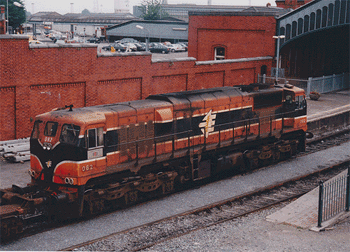 The Cork model railway would come with pre-worn engines with dirt mashed into them
It would be fun lining up all the toy people at the ticket kiosks at 'Kent Station' very closely to indicate their collective franticness – in fairness it wouldn't be right for a Corkonian to actually be on time for a train.
For a true reflection of the Rebel County's railway system however the tracks would have to be a series of a few straight lines of track and not in a circle as our railway network consists of a line to Cobh, Tralee and, of course, that other place above.

Cork Selection Box
For the full effect this Christmas treat would have to include a full set of meals for one of those long lazy days after Christmas when you only get up whenever you're hungry. Start with some traditional Tripe and Drisheen for brunch from the market. Then a half pint of Murphy's to take the edge off a loud the afternoon kids' movie, a Hoggie Burger for dinner washed down with Tanora and when you come back from the pub you'd finish off the box with a breast in a bun from Hillbilly's.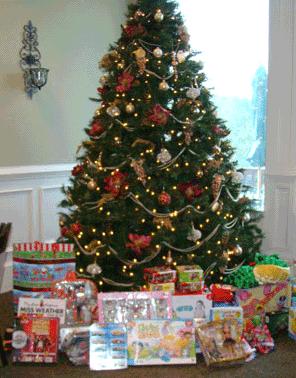 Definitely a southside tree
Just when you're about to file away the packaging with your other precious Cork memorabilia like the Clár from the All-Ireland final in 2010 and your vinyl copy of the Ball and Chain, you find some delightful bonus rattling underneath. What a daycint surprise! A tube of traditional boiled sweets from Linehan's up in Shandon. Mmm mmm.

Cork Airport Lego Set
If the Danish toy giant ever decide to produce a lego airport based on the best airport in the world it will be the first of their aviation products to have two separate terminals: one dusty old hulk and one shiny bright glass palace that always smells of the full Irish.
A drunken figurine emerges from a flight at Cork Airport
For accuracy a small smoke machine would have to be included to produce the mist and fog effect that regularly envelopes Cork Airport. Furthermore, the lego fence surrounding the structure would be quite flimsy and one of the vehicles included with this exciting new toy would be a Garda jeep which can be driven over said fence and crazily close to aircraft to liven up an otherwise boring taxi from the runway to the terminal.
Unlike most lego airports however the runway layout will be shortened to ensure that all trans-Atlantic air traffic goes to Shannon so that the Dublin Airport Authority who control our airport can attempt to keep Cork in its place.
[website only] Air hostesses inside the lego aeroplane that comes with the set will be seen holding an unusual sized spray can instead of the usual coffee mug or air-meal in other lego sets. This is a more modern depiction of the work of cabin crew – a cylinder of pepper spray for any passengers that have taken a Guinness and Nurofen plus cocktail.
Cork Playstation Pack
In the same way FIFA repackage their famous football game to suit different seasons, tournaments and countries – the most popular Playstation and X-box games could be vastly improved by changing all background graphics to places in Cork.

For a start all 'FIFA 12' matches should take place at Turners Cross, the sound track should allow us to have proper Shed songs like 'You Are a Jackeen" booming out on our surround sound systems and of course a small scent-generator device to deliver that reassuring smell of chips that drives on every CCFC player would be a real bonus.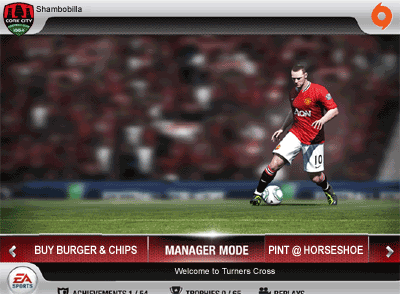 Playstation 9: Rooney warming up in front of the Shed at Turners Cross
As well as that who wouldn't love a Cork take on other popular computer games: steer Tony Hawkes on his skateboard down Patrick's Hill, send Mario and his cart into early morning traffic at the Magic Roundabout and battle against evil Dublin forces in "Call of Duty – Croke Park Mayhem"

Then strictly for adults there'd be 'Grand Theft Blotto' where you have to get to the Kerry border to crash your everything-proof jeep into hordes of swaying vehicles driven by of drunk drivers.

Cork Action Man
Every little sham would love this impressive specimen in his Christmas stocking.
This menacing looking toy soldier is ready to take on anyone who slights Cork in the least way. Any dismissive uncomplimentary words about the county, a throwaway comment regarding the 2011 GAA championship or even the slightest hint of criticism of Roy Keane: the Cork Action Man's bionic ears will alert him.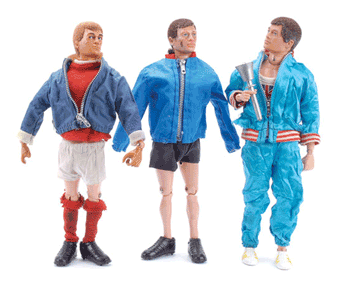 Among new action figures this year is the Jimmy Barry Murphy toy (left) as well as the 'Short Pants Sham' and the 'West Brit'

Vengeance will be swift and humiliating. While a hurley will come as standard with every toy the punishment will not be physical. Press the 'ball hop' button on Cork Action Man's back and he will immediately output some embarrassing statistics about other counties to put the victim in his or her place.
All action men toys usually come with extra props: guns, hatchets, grenades and first aid kits. The Cork Action Man will come with plenty clothing to make sure he can survive any given day on Leeside: warm coat, sunglasses, anorak, sunglasses, togs and wellies.
Posted on Jul 2nd, 2018
It has been very dry over the last few weeks and things are tough all over the country but did you hear about how bad the drought is up in Clare? They haven't won a Munster title now in 20 years.
Posted on Jun 29th, 2018
We have the weather so now all we need is to drive like lunatics, make siestas legal and look a lot more philosophical whilst smoking....
Posted on Jun 19th, 2018
We turn the slightest, most tenuous Cork connections to other countries and their players into blind loyalty so you have a reason to scream 'C'MON ON D'REBELS!' at your telly every night for the next month...
Posted on Jun 12th, 2018
Read our guide to holding up traffic, driving at terrifying speeds through villages and sleeping in your tractor....all so Chinese women can give up breastfeeding...
Posted on May 25th, 2018
With 18 All-Ireland medals and 10 All-Stars Rebel Reena Buckley has retired. Resident PROC poet John Paul Valentino has been spending soime quality time in his poetry isolation chamber...